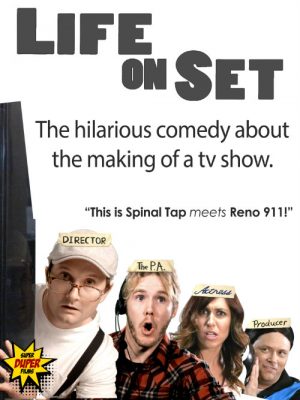 Director: Russell Robertson
Production Company: The Robertson Company
Genre: Comedy
Running Time: 33 min.
Budget: $9000
Expected TV Rating: TV-14 (parents strongly cautioned)
Website:  lifeonsetseries.com
Trailer: Click Here
Online Rent/Purchase: TBA
Reviewer: Manuel Crosby
Final Score:  6.2 (out of 10)
What really goes on behind the scenes of a film set- that extravagant, well-oiled machine where the greatest of blockbusters are produced?  According to the pilot episode of Russell Robertson's web series, Life on Set- you'll find a whole lot of absurdity, plenty of comedy, and very little work getting done.  In this web series. Paul (Ben Campbell), a goofy PA, schemes and struggles to get face time with the egotistical yet incompetent director, Rod (Todd Gaebe) and hopes to eventually call the shots on set.  Meanwhile, Catalina (Lauren Chapman), a cheery yet hopelessly naive actress, struggles to gain notoriety and get on the good side of the film's producers- including a clueless, crazy-haired Hoop (Jason Carr).  And as you might imagine, hijinks abound.
Story
Overall, the pilot's simple setup leads to a series of sketches, with some bits of creatively-constructed comedy gold (one Bluetooth headset bit really had me laughing, as did an Instagram filter gag later on).  This isn't to say all of the humor works as effectively. The humor leans on over-the-top dialogue and delivery, and this style doesn't always work for everyone.  
On the character side, Catalina comes across as endearing and funny.  Paul and Rod work well in scenes together, but do get a little repetitive on their own.  On this note- the characters overall are quite one dimensional, which may work for short broad comedy but does get a little excessive after a 30 minute episode- not to mention the potential throughout a full series. (Obviously, they could also flourish in later episodes, as many shows take a few episodes to hit their stride, but we can only comment on the pilot.)  I wish this pilot episode hinted at multi-dimensionality to the characters a little more (at least for one or two of the characters). Furthermore, the absence of a straight character with a more balanced perspective on the crazy world does prevent some of the absurd performances from being as funny as they could be.  
Oddly, the pilot doesn't fully deliver on the promise of the show's title, Life on Set, because it doesn't really show much of an in-depth look at film production.  We don't get to see much footage that sells the characters being on a real set (likely for budget reasons). And when elements were brought in, it almost felt half-hearted.  Similar examples, like The Office and Parks and Recreation, tend to paint a clearer picture of what life is like in their respective environments (a failing paper company and a local government office).  Hopefully the possibility of a deeper dive into the production's inner workings will be considered for future episodes.
Watchability
This piece contains decent production values, yet some feel weaker than others.  Dialogue was clear, well-recorded and well-mixed, with the exception of one brief moment near the end.  The visuals mostly worked–yet, this is where the micro-budget became apparent. Instead of shooting in real locations, it appears that the majority of the talking-head interviews were shot in front of a green screen to simulate different locations.  Sometimes, this works well. But when the filmmakers attempt to add camera movement or zooms to these interview shots, the perspective on the background changes in unnatural ways and gives away the technique. This feels especially jarring in what is supposed to be a documentary style piece, where realism is highly important.  Aside from that, most of the lighting and photography works. It feels pedestrian but I think this fits with the faux-documentary style. An occasional harshly-lit shot doesn't detract too much from the final product.
Unfortunately, I feel that the editing pace weighs down this pilot quite a bit.  There are a number of attempts at humor that don't work simply because they take too long to get to the joke, or don't cut away after the punch line hits.  Also, some jokes that don't land at all could simply be removed, which would strengthen the ones that really work. From my perspective, a punchy, fast-paced treatment could really heighten the comedy here.
How Far Did you Watch Through It:
100%
Why?
The episode was interesting enough to get me in the door, and short enough that I felt like I could make it through even as my interest started to wane.  I did check the clock a few times during slow scenes. However, a few great gags recaptured my interest throughout the episode. This got me to the end.
Closing Thoughts
Life On Set has some promise as a series, and a few excellent laughs. However, I feel like the filmmakers could speed up the pacing substantially and add more depth to their characters in order to make it a success.  Coupled with a more in-depth look at life on a film set, along with a careful selection of visuals to support their "documentary" approach, they could have enough for a fun, entertaining full series.
Final Score:

6.2
–
Worth checking out online, for filmmakers or fans of mockumentary.