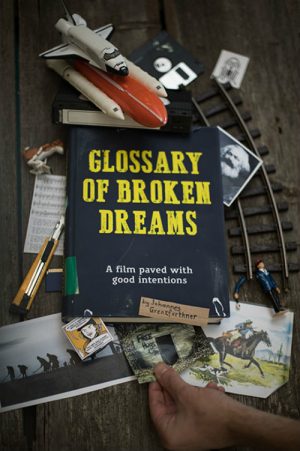 Director: Johannes Grenzfurthner
Distributor: Pace Films
Genre: Political Documentary
Running Time: 97 min 40 sec
Budget: $15,000
Expected Rating: PG
Website: Click Here
Trailer: Click Here
Online Rent: TBD
Online Purchase: TBD
Reviewer: Manuel Crosby
Final Score: 5.2 – Worthwhile for existing fans, challenging for general public.
Johannes Grenzfurthner has grown tired of ignorance in political discourse. Armed with cameras, animation, a two-piece acoustic band, and a very unique sense of humor, he hopes to educate the rest of us on some key topics of political discourse, like "Capitalism", "Freedom", "Privacy", "Identity", "Resistance", and "The Market". The result: A kinda-sorta-documentary called Glossary of Broken Dreams.
Story
Right off the bat, I felt unsure about what this film intended to do. The opening titles didn't help, with the creator introducing the film as "a cinematic shitfest". While I always appreciate comedy, especially in typically-dry documentary format, I also wish I'd had a clearer roadmap of what to expect. It felt as if Grenzfurthner and his team wished to utilize real history (played out in staged, embellished cut scenes with hired actors) and also hypothetical scenarios that could occur today in order to make points about modern political ideas and discourse.
Is it a narrative film? Is it a documentary? Is it both?
I feel that the creators wanted their project to be unclassifiable. However, this ambiguity hurt the film because it prevented a solid structure from ever materializing. In the beginning, the movie seemed headed towards the documentary camp. However, Grenzfurthner seemed to pick and choose historical facts and figures to back up the various political arguments he was making. There was very little clear citation involved in these facts. No real-world interviews were conducted on camera, which surprised me since these are the bread and butter of many documentaries. The separation between facts, generalizations, and opinions seemed murky. Therefore, I felt that I was being asked as a viewer to have complete trust in Grenzfurthner's word alone, and it seemed that his own political biases were heavily influencing the content of the film to the point where I was unable to really learn anything. When Grenzfurthner presented solutions to aspects of society he felt were problematic, I could not follow his thinking. The logic behind his solutions was not laid out clearly enough. I felt as if I was witnessing someone's personal political rantings, not observing information gathered in a documentary fashion and forming conclusions based on that. And while I do understand that every documentary has a biased point-of-view, I feel that the bias was far too strong here to really produce anything of educational value.
On the other hand, there are certainly many moments that feel like narrative, scripted comedy. Several skits involving hypothetical situations could easily classify as fiction with a "message", if you will. However, these moments come off as, again, incredibly biased. The flourishes of comedy in these segments work fine on their own, but the over-saturation of unclear explanations for the director's ideals weighs down any entertainment factor and results in a misfire.
Watchability
By and large, good production values helped keep the film afloat for part of its running time. The camerawork and lighting always felt well-executed. Additionally, several animated segments appear in the film, and all were visually striking and polished. The sound recording all worked very well. I have no fault with these technical elements, and they added a lot of watchability.
In terms of the editing of the visuals against the audio, the quirkiness kept me interested at first. It added a sense of humor to the proceedings, and gave it a very individual feel. However, many of the visual gags were reused multiple times, or extended for long periods of time over lengthy segments of dialogue. As the film progressed, I started to feel a greater disconnect between the visuals themselves, and the content at the center. I understand that this was part of the artist's intent, but in my opinion, it often went a step too far and made the film feel unfocused.
How Far Did you Watch Through It:
100%
Why?
On principle, I stick with films until completion. Sometimes, the payoff can be worth a slow start. However, I must honestly admit that my interest began to wane after 15 minutes in this film, and it was very difficult for me to make it through to the end. This was largely due to the lack of a solid narrative, for reasons outlined above.
Closing Thoughts
Glossary of Broken Dreams contains plenty of quirkiness and unusual visuals. The director certainly has a unique taste, a strong grasp on technical values, and an uncompromising attitude toward the creation of this film. However, as a general audience member, I found the project quite hard to access. I wish the film had been better able to bring me into Grenzfurthner's headspace as an outsider who does not already live there. On the other hand, pre-existing fans of Grenzfurthner's film work and his societal opinions may find a lot to enjoy here.
Final Score:

5.2
–
Worthwhile for existing fans, challenging for the general public.