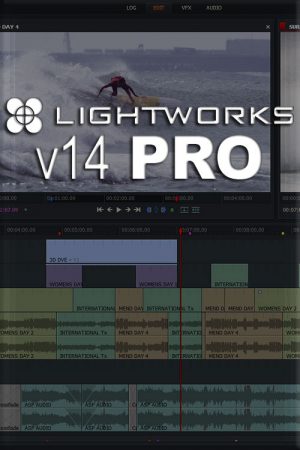 Publisher:  EditShare
Website:  www.lwks.com
Platform: Windows, Mac OS X, Linux
x32/x64: x32/x64
Description:  Professional Non-Linear Editing Software
Purchase/Rent: Both
Pricing:  $24.99/month; $149.99/year; $437.99/purchase outright
Download Demo: Click Here
Expected Release: Available Now
Review Issue:
Reviewed By: Manuel Crosby
Final Score:  6.8 (out of 10)
Every editor looks for something different in their software of choice.  Some prioritize a low learning curve, others look for keyboard shortcuts instead of mouse-driven interfaces, and still others simply seek out budget-friendly options.  Fortunately, today's market has a style for everyone.  I will discuss one option from EditShare: Lightworks v14 Pro.
As the latest update to the Lightworks line, how does it stack up to other popular editing options?  And which types of editing needs can it fulfill?
Ease of Use
Many popular editing softwares–including Adobe Premiere, Final Cut, Sony Vegas, and even iMovie or Windows Movie Maker–utilize a click-based, drag-and-drop timeline editing interface.  Users can use the mouse to select and use most tools needed to cut on the timeline.  Of course, these programs also have keyboard-based commands–which, once memorized, allow for faster editing.  However, I find the incorporation of the mouse makes the programs easier to learn on.
While Lightworks follows this trend somewhat, its click-commands are less intuitive.  For example, users can reposition a clip on the timeline by clicking and dragging.  However, when one attempts to trim the head or tail of a clip by simply clicking the edge of the clip and dragging in towards the center, it actually lengthens the clip in the opposite direction.  Additionally, unlike other programs, there is no way to manually select what the cursor does.  You cannot turn it into a razor, slip edit tool, or trim tool using any commands.  Instead, you have to already know where to click on the clip to get it to react in the way you want.  This results in a much higher learning curve than the competing softwares.  With that said, on the plus side, once commands are memorized, fewer steps are necessary to achieve results.
One control that proves useful is the right-click function, which brings up unique menus in each window.  Everything from importing clips, adding LUTs, and exporting can be done through a simple right-click.  However, if the cursor is near the bottom of your editing window, the popup menu will be cut off by the edge of the screen, instead of auto-positioning to stay in the viewable window.
I highly recommend that interested users download the user manual from the website when you download the demo to try itout.  Without it, learning the key commands will prove extremely difficult because the keyboard menu cannot be accessed from within the editing project.  It can only be opened from the project selection window upon startup.
Depth of Options
Once you learn your way around, Lightworks includes a wide array of options for picture editing, video effects, color, and audio work.  The video effects and export options meet today's pro video editing suite standards.  However, the audio options lack depth–even though they include some nice features. (More on that later.)
Great export options come with the program, including the ability to export in 4K UHD (Ultra High Definition) and upload straight to Youtube or Vimeo.  One very helpful tool is the ability to export unedited clips from your bins in a variety of formats.  This is a great way to create proxy files when editing more system-intensive content, like Cinema DNG (Digital Negative) files.  Lightworks does also include an option to create proxies within the program and render in the background; however, I found this option to be less effective than hoped for (as elaborated on later in the "Performance" section).  Furthermore, unlinking the proxies and returning to the master files after editing will require file structure rearrangement within your hard drive, because Lightworks does not include an option to unlink or relink media.
In the VFX tab, users can color correct their footage, add 3D LUTs (Look-Up Tables), work with titles, and apply keying effects.  There are many useful presets and customizable parameters.  In addition to color wheels, curves, RGB, and HSV controls under the "Colour" tab, Lightworks includes some premade "looks".  Furthermore, one can use a 3D LUT that they have stored in any location on their computer to adjust their grade.  As an added bonus for Technicolor Cinestyle users, an S-Curve LUT for translating the Cinestyle footage is included in the 3D LUT effect.  Finally, a wide range of default title layouts will save time when adding text.
I'll admit that I'm not an audio expert, but personally, I found the options in the audio tab somewhat frustrating.  Here, the only FX options are EQ and Crossfade.  While some may argue that this should cover all of the audio bases, I struggled because there were no options for adjusting Reverb, Pitch Shift, Pan L-R, or Custom De-Noising, which are the non-EQ audio effects that I use often.  (While de-noising is definitely related to EQ, I find it much easier to use the built-in waveform analyzers to do this for me)  Additionally, effects like Flange, Delay, Distortion, Volume (to further increase gain on clips already maxed out with initial volume control) and Compression were absent, and I find these options in other programs like Premiere.
Maybe there are ways to do a lot of the above with the controls that Lightworks offers.  However, as a new user, I cannot locate those options or figure them out, so I think that is something they could improve on.  Adding these options to their Audio FX panel would streamline everything.  But on this note, there are some helpful EQ presets within the software.  "Mic Wind Reduction", "Plosive Reduction", "50Hz Mains Hum Removal" and "60Hz Mains Hum Removal" are just a few of the easily-labeled options Lightworks contains.  I wish the program designers had invested as much though in really fleshing out the audio editing parameters beyond EQ.
Users of stock footage and music will be pleased to discover that Lightworks includes the ability to search and purchase content from both Pond5 and AudioNetwork, all without leaving the program.  This feature will save a few steps for many editors.
Performance
The software seems to perform reasonably well during basic editing, but begins showing weaknesses when more tracks or complex effects are added.  In addition to confirming that my system met the requirements listed in the Lightworks documentation, I used the included GPU Test tool (accessible on the home menu screen) and passed.  When cutting H.264 files from my Canon 60D on two video tracks, I experienced no issues.  However, once I pushed the software by adding 7 more video tracks, it slowed down..
Another challenge I threw at the program was testing its ability to playback Cinema DNG raw files from my Blackmagic Pocket camera.  As expected, they did not play back smoothly- few programs I have encountered using my hardware have this ability.  As mentioned earlier, one semi-helpful workaround was to create proxies from any clip during editing using a built-in Lightworks function.  This did allow me to work with the Cinema DNG files a little easier.  However, playback issues still occurred after proxy creation.  The video would start to lag after 2 or 3 clips had played, even though the proxy render had finished.  If you have the time, I would highly recommend creating proxies as independent files when working with system-intensive footage, using the method I described in the "Depth of Options" section above.
Rendering occurs at a decent speed and runs in the background, allowing users to keep editing.  This ability will greatly help editors who don't want to take breaks while outputting files.  I greatly appreciated the ability to do background exporting without leaving the Lightworks program, and it added a lot to the final performance score.
Value
Users have several payment options for Lightworks Pro.  Much like Adobe Premiere CC, choices include a monthly subscription rate of $24.99, or a yearly rate of $149.99.  These prices are slightly higher than Premiere, so the value isn't quite as good.  However, unlike Adobe, there is also a third option to buy the program outright for the fairly-competitive price of $437.99.  This adds to the value in my opinion because it prevents users from being trapped in a subscription loop.  Additionally, the availability of versions for Windows, Mac OS X, and Linux makes it very accessible.  Unfortunately, for me, the absence of powerful audio tools is the one large oversight that drives the value down.
For those who simply want to get started with this software with more basic editing, a Basic version of Lightworks can be used for free.  Many export options and other capabilities are severely limited, but this can be a great way to try the software before committing.
Final Comments
Lightworks is a curious program.  For those willing to study the user manual, it includes many useful features and even improves in a few areas that editing softwares often lack.  However, its uniquely high learning curve and the fact that it neglects other features that users commonly expect in professional editing suites detracts from these positives. 
My best recommendation would be for editors to try it out for themselves for a month, and decide if the different layout and user experience works for them.

| | |
| --- | --- |
| | |
| | 6.0 |
| | 7.0 |
| | 7.0 |
| | 7.0 |
| Overall Score | 6.8 |