Software Review
Alloy 2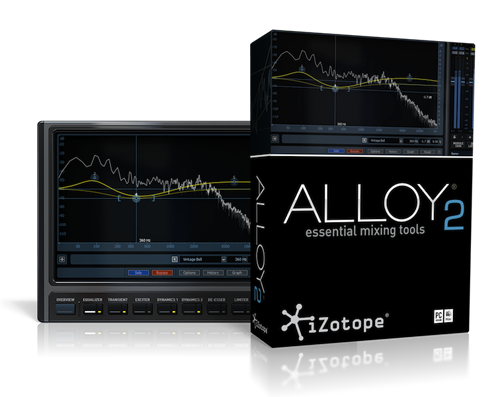 Publisher:
iZotope
Platforms:
PC & Mac
Description:
Audio Mixing Plugin
MSRP:
$199 New, $79 Upgrade
Expected Release:
Available Now
Official Website:
http://www.izotope.com
Samples:
Click Here
Demo:
Click Here
Special Discount:
Click Here
Review Issue:
Issue #86 (04/13)
Review By:
Gabe Gibitz
Final Score:
9.3
Nothing sticks out worse in a film than bad audio. Unfortunately, many filmmakers think little of this step and, in so doing, fail to clearly communicate the story woven throughout their film. Though the world of audio can be daunting, iZotope Alloy 2 provides filmmakers and sound designers with key mixing tools needed to shape a film into a professionally-sounding piece of art.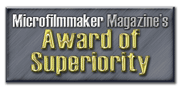 Alloy 2 offers users seven mixing tools in one audio plugin–EQ, Transient Shaper, Exciter, Dynamics 1 & 2 (compression/gating), De-Esser and Limiter. This is nearly everything you need (a nice reverb would round out the set) to mix your next film. Simply plug this mixing tool into any audio track on your digital audio workstation (DAW) or non linear editor (NLE) and start mixing. Each audio effect is accessible by the press of a virtual button at the bottom of the plugin's console, and Alloy even offers users an overview button, which highlights multiple effects in one window — a bird's eye view of how the plugin is processing your sound.
With a redesigned interface, revamped audio algorithms and 64-bit support, Alloy 2 is a stellar mixing solution with a great value for both beginning and seasoned mixers.
Ease of Use
In order to harness the mixing power of Alloy 2, users must have a basic knowledge of how to mix audio. Once these basics are grasped, Alloy's redesigned interface, larger viewing area and overhauled selection buttons make the mixing experience even easier. With numerous workflow enhancements and over 200 more presets than the previous version, you will be able to capture your desired sound quickly and efficiently.
Alloy sports a clever new feature referred to as Internal Meter Tap. When connected, Alloy sends audio information to iZotope Ozone 5 Advanced and/or iZotope Insight (both part of iZotope's mastering suite) so that, in the final step of mastering, users are able to visually see how each "stem" — or layer of audio (i.e. dialogue, sound effects, soundtrack, etc). — pieces together with the others to form a cohesive audio bedrock for the film.
Depth of Options
Alloy 2 houses seven professionally-crafted audio effects in one plugin, with each separate effect coming with its own individual settings. For instance, within Dynamics, users can take advantage of multi-band and parallel compression as well as choose from different types of compressions settings (Vintage, Digital, etc.). And within EQ, users can choose from several different filtering options, one of which is reminiscent of the popular Pultec EQ, an analog EQ from the eighties that was known for its smooth sound when EQing a vocal or instrument. Alloy 2 continues to make it very simple to rearrange the order of the effects chain if the default order doesn't suit your fancy.
Each distinct effect has direct application to the world of film. Here is a quick run-through of how each effect might be used:
Shape dialogue and sound effects with EQ.
Add grit, girth and punch to your sound effects with Transient Shaper and Exciter.
Fit each of your audio stems tightly together with Dynamics as it compresses each piece.
Take harshness out of dialogue and sound effects with De-Esser.
Place a "ceiling" on any of your audio stems with Limiter, which prevents selected tracks get louder than the limit set by the user.
Performance
Alloy 2 is a heavy-hitting plugin that delivers solid performance to its users. I found absolutely no problems with its performance, and it is designed in such a way as to not suck the life out of your processor. The audio processing abilities will outdo most stock plugins that come with your mixing software (whether it be Ableton Live, Audition, ProTools or Cubase), and it will hold its own against most third-party effects on the market.
Performing even better than its previous version, iZotope has added numerous enhancements including 64-bit support along with new technology within some of the individual effects. I especially enjoyed the new technology within Transient Shaper and Exciter. Transient Shaper allows users to have full control over the attack of a certain sound (whether a sound effect, for example, is punchy or subdued) while Exciter can add warmth, grit or all-out distortion. iZotope has placed even more power and options into these effects with this release, giving users even more control over the final output. One of many other additions is a Zero Latency button if latency problems – that annoying part of recording where you hear the sound in your headphones a split second after you hear it in real life – arise when working within certain digital audio workstations.
Value
The value of this product far exceeded my expectations. For just at $200, users can take advantage of multiple audio effects in one package. When purchased with iZotope Ozone 5, you will have everything you need to begin mixing and mastering your next film at an even lower bundled price.
There are many situations where stock plugins do the job just fine. In fact, I know professionally-sounding films and music albums that have been mixed on stock plugins Of course, there have also been nationally distributed films that were edited on Apple's iMovie, but that doesn't mean it's probably the way you want to go if you have a choice. Alloy 2 will simply do a better job and offer you more options than stock plugins will so, if you have the money, this is definitely a great investment!
Final Comment
Alloy 2 gives filmmakers and sound designers six stellar tools to shape and form audio, arguably one of the most important and yet most ignored parts of a film. Assuming a basic knowledge of mixing, users will love Alloy's user-friendly interface, wallet-friendly price tag and reliable performance. If you take Alloy 2 for a test run, be sure to pair it with a trial of Ozone 5 and let these products speak for themselves.
| | |
| --- | --- |
| | |
| | 9.0 |
| | 9.0 |
| | 9.0 |
| | 10.0 |
| Overall Score | 9.3 |