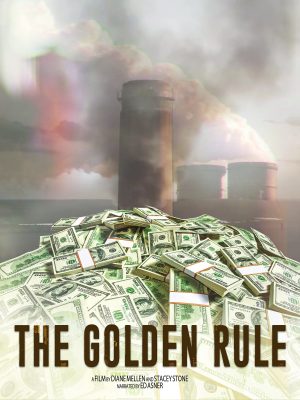 Director:  Stacey Stone
Production Company:  Pace Films
Genre: Documentary
Running Time: 70min
Budget: 30,000
Expected/Actual Rating: PG
Website:  peacejam.org
Trailer:  Click Here
Online Rent/Purchase:  TBD
Reviewer:  Natalia Filson
Final Score:  7.0
The Golden Rule is the principle of treating others as one wants to be treated. It is a maxim that dates as far back as early Confucian times, and is found in most world religions and cultures. Stacy Stone, however, bases her documentary on the common satirical spin of this maxim: Those Who Have the Gold, Rule.
Story
The Golden Rule is an emotionally charged documentary about the effects of environmental pollution on health and well-being of citizens who reside in communities near facilities that process and dispose of highly toxic or radioactive materials. The film also attempts to expose corporate greed as a driving force behind numerous violations of health and safety codes by large companies, such as Boeing and NASA. The filmmakers tried to bring the Environmental Protection Agency into the spotlight as an agency that fails in its obligations to ensure public safety.
This documentary discloses not only dangers of toxic and radioactive waste, but also warns general public about dangers of blind reliance on government agencies such as EPA. Through numerous testimonials, interviews and archival footage, the film invites the viewer to feel empathetic toward victims of the incompetent government agencies and greedy corporations. Footage of adults and children suffering from horrendous health issues are extremely moving and sad.
Although the film excels at examining the emotional side of this issue, it does lack strong focus on factual evidence. We do not get to see many documents regarding environmental regulations (perhaps because they were not created but as an aftermath) or interviews with government officials. One major question I kept having while watching this film was "Why did you keep working when you knew it was such a bad place?" This discord between feeling empathetic and feeling skeptical was perhaps a result of not seeing quite enough clear and focused evidence that the corporations were knowingly engaging in violation of laws.  
This brings us to question what exactly is The Golden Rule? The film could have explored the ethics of the ancient maxim and its incompatibility with modern business practices. Instead, it invites us to judge the corporate entity, which has no morals, from the standpoint of morality and ethics.
Watchability
The Golden Rule is a beautifully shot and skillfully edited film. Even though it is produced on relatively small budget, it comes across as a solid, professional documentary.  The film has adequate pacing, with good ratio of interviews, general coverage, archival and b-roll footage, and animation. The subject matter is emotionally engaging and imagery is captivating. Masterful use of musical score and sound mix adds to overall positive watching experience.
How Far Did You Watch Through It?
100%
Why?
 The film was engaging enough to hold my attention.  The relatively short duration, beautiful visuals, and delightful soundtrack made the viewing experience easy and pleasant.
Closing Thoughts
The Golden Rule is a skillfully made documentary, touching on important issues such as environmental pollution, corporate greed, and government cover-ups. However, it doesn't quite reach its full potential as an expose piece, relying heavily on emotional impact of imagery and personal testimonies, instead of strong, fact-based evidence.  Yet, although a more balanced approach could appeal to wider audiences, the topic is serious enough that it cannot leave viewers unmoved.
Final Score:  7.0