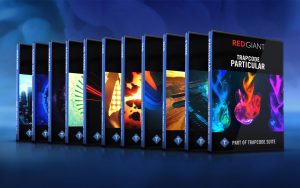 Publisher:  Red Giant
Website:  Redgiant.com
Platform: PC & Mac
x32/x64: Both
Description:  Effects Plugins
Purchase/Rent: Purchase
Pricing: $999 (Full), $199 (Upgrade)
Download Demo: Click Here
Expected Release: Available Now
Review Issue: #154 (12/18)
Reviewed By: Mark Colegrove
Final Score:  9.5 (out of 10)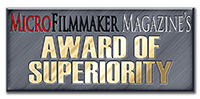 Trapcode Suite is a robust collection of 11 plugins from Red Giant that will give your 3D graphics toolkit a boost without going outside of After Effects or learning a new program (some of the products also work in additional applications). 
We previously took a look at Trapcode Suite 14 and you can read that review here, so for the sake of this review, we'll really be focus on the big three major updates in Trapcode Suite 15:
Trapcode Particular 4 – 3D Particle Effects Generator
Trapcode Form 4 – Create immortal 3D particle grids
Trapcode Mir 3 – Generate 3D terrains, objects & Wireframes
In addition, you'll also get eight other killer plugins, although there's no major update to these since Trapcode Suite 14, so feel free to jump back to our previous review for more details on any of for these products below.
Trapcode Tao 1.2 – Animate 3D Geometries along a path
Trapcode Shine 2 – 3D Light Ray Effects
Trapcode Lux 1.4 – 3D Volumetric Point and Spot Lights
Trapcode 3D Stroke 2.7 – Organic 3D Lines from Masks
Trapcode Echospace 1.1 – A Repeater/Offset Tool
Trapcode Starglow 1.7 – A shimmering glow effect
Trapcode Sound Keys 1.4 – Use audio to drive animation
Trapcode Horizon 1.1 – 360 Degree Backgrounds
Ease of Use
Trapcode Particular and Form are the real cornerstones of the suite.  Think of Particular as a much-upgraded version of After Effects' "Partical World" effect – it's designed to make particles explode through space.  Form is similar, but here the particles live forever, forming a shape that can ripple, move to music (via the included Trapcode Soundkeys) or more!  Form includes it's own Audio reaction tools. No need to use Soundkeys
It's really easy to jump in headfirst into either Particular or Form thanks to the updated Designer.  While you can edit your particle effects in the Effect Controls panel in After Effects, Designer is its own breakout window.  It makes it easy to see how your particles will fly around your frame as you tweak your work in real time.  The new version adds a progress bar and fluid block presets.
In the spirit of keeping things easy – Designer is all about it's presets.  There's 35 new presets (so 335 in total) in Particular, while Form has 20 new presets (bringing the total up to 150 there).   The presets are a great way to see what's possible and get ideas for your design before really getting wild with the customization.  The layout of the designer window is very intuitive, and if you've worked with other Red Giant products, such as "Looks," the layout should feel familiar.
Depth of Options
In addition to the killer updates to Form & Particular, there's plenty to love in the rest of the suite.  Mir is great for designing backgrounds – whether it's 3D landscapes, water, wireframes, or an endless wormhole, Mir has you covered.  The big feature in the new version is the ability to load 3D models and objects within the effect.  It comes with several preset 3D objects to get you started or you can import OBJ files.  With a few clicks, you can add multiple directional lighting and manipulate your object in real time.
The other plug-ins in the suite have a lot to offer as well.  I found myself obsessed with 3D Stroke (which is very easy to use) and used it to draw on repeating 3D shapes as the background in a music video I produced last year.
Beyond that, Tao is great for creating 3D ribbons through your frame which follow a custom path.  Soundkeys will analyze your music track and create keyframes that can then be combined with Form and other effects to make your particles move to the beat.  Additionally, you'll find that Echospace is a handy cloning tool that accomplishes a lot of things that would normally require writing an expression.  Feel free to jump back to our previous review of Trapcode Suite 14 for more information on the other products.
Performance
The biggest new feature in Trapcode Suite 15 is the "Dynamic Fluids™" physics engine, which helps create some beautiful particle effects, as if your particles are "flowing and swirling" through the air like a liquid.  You'll see this in both Particular and Form.  Just select "fluid" under the Physics tab in the designer and choose from 4 different motion presets to get your creative juices flowing.  One really cool thing in Form is that you can have 2 different sets of fluid particles interacting with one another.
As of the previous release, many of the tools in Trapcode Suite are GPU accelerated, so your graphics card can help your CPU with a lot of the heavy lifting but because you're doing some pretty intense 3D work here – the faster your machine, the better.
Value
If you're looking for an easy way to add some 3D graphics to your workflow, then Trapcode Suite is a good way to ease your way in without learning Cinema 4D or Maya.  You can impress your clients without having to learn a whole new program.  The set of 11 plugins can really add that "wow" factor, and at $999 for the full set, the price is pretty reasonable.
On the other hand, while fluid dynamics can really create some beautiful particle waves, if you're a user of the previous version and don't find it absolutely necessary, you probably won't find much else new here.  Although with an upgrade price of only $199, it may be hard to pass up.
Final Comments
Prior to taking a look at Trapcode Suite 14 last year, I was new to the product and really impressed with what it had to offer.  While this version doesn't offer a ton of new features, new users will still find a ton to unpack in Trapcode.  In my day to day work, I'm under a lot of quick deadlines, so I don't have a ton of time to produce graphics – it's great that there's a product out there that allows you create some 3D pizazz quickly and easily right within After Effects.  Check it out!

| | |
| --- | --- |
| | |
| | 10.0 |
| | 9.0 |
| | 10.0 |
| | 9.0 |
| Overall Score | 9.5 |