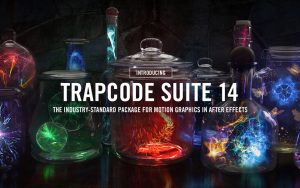 Publisher:  Red Giant
Website:  Click Here
Platform: PC, Mac
x32/x64: x64
Description:  Effects Plug-Ins
Purchase/Rent: Both
Pricing: $999 (New License), $199 (Upgrade), $499 (Academic)
Download Demo: Click Here
Expected Release: Available Now
Review Issue: Issue #149 (07/18)
Reviewed By: Mark Colegrove
Final Score: 9.5 (out of 10)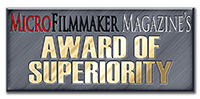 Red Giant Trapcode Suite 14  is a killer set of plugins from Red Giant that will help you take your 3D motion graphics to the next level.  Included in the bundle are 11 powerful tools that are geared towards those looking to put some slick 3D polish on a project without going outside After Effects, which is inherently a 2D program (though its 3D capabilities seem to be ever expanding all the time).
Here's what's included:
Trapcode Particular 3 – 3D Particle Effects Generator
Trapcode Form 3 – Create immortal 3D particle grids
Trapcode Tao 1.2 – Animate 3D Geometries along a path
Trapcode Mir 2.1 – Generate 3D Surfaces & Wireframes
Trapcode Shine 2.0 – 3D Light Ray Effects
Trapcode Lux 1.4 – 3D Volumetric Point and Spot Lights
Trapcode 3D Stroke 2.6 – Organic 3D Lines from Masks
Trapcode Echospace 1.1 – A Repeater/Offset Tool
Trapcode Starglow 1.7 – A shimmering glow effect
Trapcode Sound Keys 1.4 – Use audio to drive animation
Trapcode Horizon 1.1 – 360 Degree Backgrounds
Ease of Use
While everything works right in After Effects, plan on taking some time to figure out how each effect works and how best you can use it.
Two of the easiest to use are the cornerstones of the bundle, Trapcode Particular and Form.  Both effects have a designer window that allow you to browse presets to quickly get up and running.
Particular is specifically for creating particle fields, and within the Particular Designer you can choose the type of motion you want your particles to take, as well as size, color, and physics, all while previewing what the end result will look like.  The end result is a spectacular looking 3D particle burst that works great for star fields, particle showers & clouds.
Form Designer works in a much similar fashion, but here the goal is to design 3D objects and immortal particle grids.  All rotate and scale in 3D, within After Effects, and it's pretty impressive what you're able to create quickly.
Depth of Options
Other effects in Trapcode are more complex and help open new worlds of animation options for those that have the time to put into it… and this is where you can unlock some of the suite's real potential.
One example of that is Sound Keys.  Sound Keys analyzes a music or audio track and creates keyframes to the beat or on certain frequencies of music.  While it can be used in and of itself as your animation (you're given a visual readout as well that can be animated in 3D space), it can work wonders when linked to another effect from the Trapcode suite, like Stroke or Form, to create some pretty amazing animations that move to the beat of your music.
Stroke is another fun effect, allowing you to create organic lines in 3D space that taper off, glow, and repeat, perfect for running behind a logo animation.  It's a relatively simple effect, but extremely effective.
Trapcode Echospace may be just the thing you need for your next logo animation.  Here you're able to easily animate clones of an element without the need to write or track down a complex expression.  Echospace will automatically multiply layers and you'll have a nice stylized logo animation more or less ready to go with a few simple keyframes.
Performance
It's impressive what Red Giant Trapcode Suite tools will allow you to do within After Effects – and it may help fool your client into thinking that you spent days working and rendering an animation in a much more complex 3D program like Maya or Cinema 4D.  That being said, some of the render times can be a bit long, but it's to be expected given the complexity of the animation you're pulling off, and the quality of each effect is pretty impressive.  Just take a look at some of the killer 3D shapes you can animate along a path with Tao.
Value
If you do a lot of 3D work, or are looking to quickly spice up your animations by adding some 3D effects without the need to learn a whole new program, Trapcode offers a lot of bang for the buck.  The entire suite is $999 but effects may also be purchased individually starting at $99 each. Upgrading to the latest version will cost you $199, and for students and teachers qualifying for an academic license, the suite is just $499. For businesses who need multiple licenses to outfit their post facility, Red Giant offers special discounts via its Volume Program (more info here: https://www.redgiant.com/volume/).
A couple other cool effects worth noting are Shine and Horizon.  Horizon lets you to create a 360 degree infinite background, while Shine generates 3D light rays – making it easy to send your superhero flying off into an epic sunset.
Final Comments
I was pretty impressed with all Trapcode Suite has to offer.  In my day to day work, deadlines come quickly, and I don't have a ton of time to spend on individual animations.  Particular and Stroke both offer some great ways to spice up that logo or intro animation, and I see those becoming regular go-to effects in my workflow.  All in all, Trapcode is another stellar product from Red Giant!
| | |
| --- | --- |
| | |
| | 9.0 |
| | 10.0 |
| | 10.0 |
| | 9.0 |
| Overall Score | 9.5 |