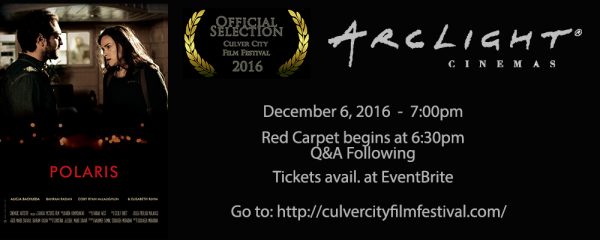 On December 6, 2016 at 7:00 p.m., Cinematic Artistry will debut its new feature film Polaris with a U.S. Premiere screening followed by Q&A at ArcLight Cinemas in Culver City, 9500 Culver Blvd, Culver City, CA, as part of the Culver City Film Festival, open to the public.
Red Carpet at 6:30pm.  Q&A to follow with the actors, Director and Producer.
Polaris is a moving drama in which a psychologically traumatized war photographer is locked in a desperate struggle to protect her secrets from her husband and escape her inevitable return to the Middle East.
"As members of the artistic community, we set out to take the lead, setting aside political differences to make a difference," said Soudabeh Moradian, Writer/Director.

"Polaris has been a uniquely challenging project. It is a rare Iranian-American collaboration, created by female filmmakers, characterizing through interpersonal relationships relevant and pressing world issues relating to universal human issues attendant to war, immigration, cultural diversity, post‐traumatic stress disorder, women's rights and children of war. This messaging is subtly woven as the film's focus is on the characters, their relationships with one another, and how their unexpressed misunderstandings and fears shape the rest of their lives," said Christina Jo'Leigh, Producer of the film and founder of Cinematic Artistry.
Peter Greene, Program Director of the Culver City Film Festival states, "Polaris is the type of quality independent film that fulfils our festival's mission.  We are proud to screen films such as Polaris to give an audience the opportunity to watch it on the big screen."
OFFICIAL TRAILER
ABOUT THE FILM
Polaris is an intimate and pivotal moment in the life of a half-Persian immigrant in Los Angeles, Baran, straddling two worlds, and attempting to cross the cultural divide.  She exemplifies the silent struggle of women who have had the strength to escape war-torn countries wrought with persecution, only to live in an aftermath of the trauma, still subject to the conventional constraints from which they came, while facing an ongoing struggle for independence and equality in the Western world that does not accept them, and in which they do not fit in.
Baran and her husband, Poorya, become stranded in a back alley of Los Angeles confronted by police barricades, unable to return home. The situation quickly spirals out of control when the lights, sirens and civil unrest trigger an episode for Baran, a psychologically traumatized war photographer, who collapses on the street. Poorya is forced to accept an offer of refuge in the home of a reclusive, enigmatic neighbor, Daniel with questionable motives. Baran awakens to find all is not as it seems and finds herself suddenly locked in a struggle to protect her secrets and escape her inevitable return to the Middle East. As the night unfolds, underlying conflict and hidden secrets emerge until the situation ultimately reaches a point of no return.
The drama stars acclaimed international stars Alicja Bachleda (Ondine, Trade) as 'Baran'; and Bahram Radan (Ice Age, The Wooden Bridge) as 'Poorya'; and American-born actor Coby Ryan McLaughlin (Parenthood, Graceland) as 'Daniel'.  The cast also includes Elisabeth Röhm (Angel, Law & Order, Heroes) as Daniel's wife, 'Christine'; and Roya Taymourian (Women's Prison, The Music Man) as Baran's mother.
Written by award-winning playwright Naghmeh Samini and Soudabeh Moradian, and scored by multi-award winning composer Karen Homayounfar.  Produced by Christina Jo'Leigh, p.g.a.
ON THE WEB
Official Site:           http://polarismovie.com/
Facebook:             https://www.facebook.com/polaristhemovie
Twitter:              https://twitter.com/PolarisTheMovie
Instagram:             https://instagram.com/polaristhemovie/
Hashtag:              #PolarisTheMovie
ABOUT THE CULVER CITY FILM FESTIVAL
Located in Culver City, the festival is in the heart of Los Angeles, home to Sony Pictures and a burgeoning restaurant and nightlife scene. The event is organized by Jon Gursha and Peter Greene together with Sandie West.
The Culver City Film Festival brings together a diverse group of filmmakers to share recent work and recognize talent from around the globe.
For more information, visit http://culvercityfilmfestival.com/
TICKETS  Available on EventBrite at:
https://www.eventbrite.com/e/culver-city-film-festival-tickets-29368296365