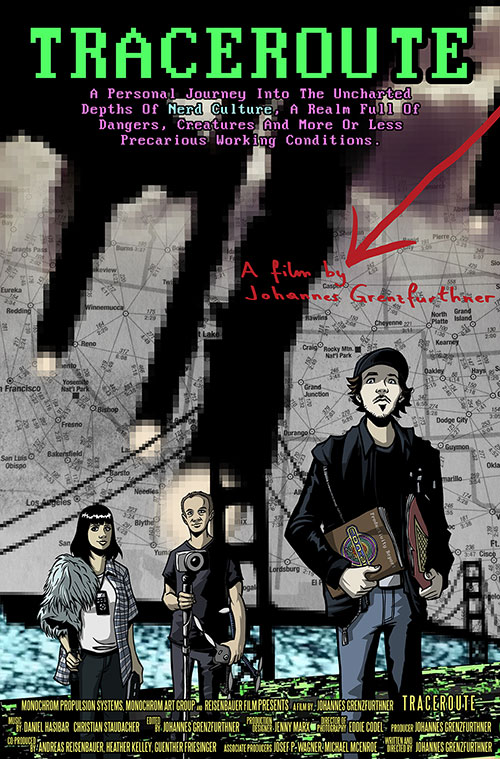 Director: Johannes Grenzfurthner
Production Company: monochrom Propulsion Systems
Genre: Documentary
Running Time: 120 min
Expected Rating: R due to language and some sexual imagery
Website: Click Here
Trailer: Click Here
Online Rent: TBA
Online Purchase: TBA
Reviewer: Jeremy T. Hanke
Final Score: 7.5 (out of 10)
Austrian filmmaker Johannes Grenzfurthner is on a mission to find all the nerdiest spots and people in America—at least, all the spots associated with the nerdy people he connected with online ahead of time.
With a roadmap that takes him 7,000 miles (from California to New York) and an agenda of communist apologetics to share, he sets out to explore everything from creature effects companies to sex-geeks to massive caves to cyberpunks to alien researchers—all from an outsider's perspective.
Story
The story of Traceroute reminded me less of a regular documentary and more of Richard Linklater's seminal work, Slacker—which is propelled entirely by the conversations and meetings scheduled within it. (Although, Slacker essentially changes protagonists every two minutes, whereas Traceroute keeps the director as its narrator and protagonist throughout.)
Much like Slacker, the flow of the story is very mixed. Some areas were unbelievably fascinating—like a section where he talks with a gentleman who repairs CB radios and the conversation explores how America is transitioning from a repairable society to a disposable society—while other areas got unbelievably dull—like their Jet Propulsion section kind of stalling out, because they switched to a much more dull narrator talking about Allister Crowley and the origins of the jet propulsion lab, which took way longer (and was way harder to understand) than if the Grenzfurthner had just narrated this section himself.
Even more like Slacker, the film didn't really know how to end. As such, after one last political diatribe, the director re-imagined the final scene of American Beauty—which wasn't a bad ending. (Not as good as the actual American Beauty ending, but, still, pretty good.)
Watchability
As a nerd myself, I found the film quite interesting, although it did get long in the middle. (At two hours, it was about 30 minutes too long for an effective documentary.)
One thing that would've helped is if they'd shown clips from the huge number of movies they referenced, because no viewer can have seen all of the movies he talked about. (And the clips would count as fair use in a documentary like this, because the clips are being used for commentary purposes, so long as the movie companies are credited as owners of the original content in the credits.)
The other thing that would've helped out a lot is if they had toned down just how preachy the film was about the director's world view—as the director injected diatribes which were often used in spite of the film's focus on exploring nerd culture, rather than in support of it. (Ironically, the film ended up being more preachy than many Creationist films—which is ironic, considering that the director makes no qualms about how much he hates creationists and their preachiness.)
How Far Did you Watch Through It:
100%
Why?
Despite its Michael-Moore-style rhetoric and excessive length, the main concept of a road trip that explored nerd culture throughout America is fascinating. The different people Grenzfurthner chatted with were genuinely interesting and the organic way he moved from place to place was intriguing.
Closing Thoughts
If you're part of the nerd culture, you'll most likely find this film intriguing enough to give it a watch at the nearest film festival it comes to. If you come prepared for a film that really does feel like an epic college road trip (complete with the poli-sci major who lectures you about the sins of capitalism), you'll find that you've learned an awful lot about technology, nerdiness, and America in the process.
Final Score:

7.5
–
Definitely worth checking out an arthouse film festival—especially in Austin.