Book Review
The Location Sound Bible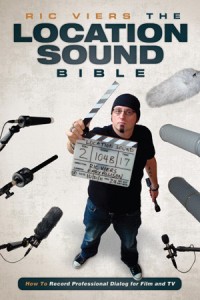 Author:  Ric Viers
Publisher: Michael Wiese Productions
Topic: On Location Sound
MSRP: $29.95
Expected Release: Available Now
Official Website: http://www.mwp.com
Samples: Click Here
Review Issue: Issue #79 (09/12)
Review By: Matthew Terry
Final Score: 9.4
Someone once said:  "There are two people you should hire for your production:  a sound guy and a director of photography.  Because if you can't hear it and can't see it – you don't have a film."
Going one step further – you should only hire the sound guy.  Sound is more important than the image.  Repeating:  SOUND IS MORE IMPORTANT THAN IMAGE.  Why?  There are many, many films out there that could be deemed "artsy" – from the closing scenes of 2001 a Space Odyssey to the long one-take shots from the film Children of Men.  Bad acting, bad directing, bad set direction pale in comparison to bad sound.  If the sounds in the above mentioned films were terrible – people would have been running for the exits.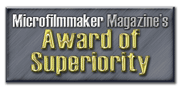 Take the film Birdemic.  It is what it sounds like; a terrible low-budget, done on the cheap – on top of cheap, production.  It could have been a silly fun campy romp – but the sound was so absolutely terrible that it was akin to sticking hot fire-place pokers in your ears and twisting – while having a rabid cat claw your face.  Watch it – if only you want to see how NOT to do sound in a film.
Ric Viers's The Location Sound Bible is truly the only book you need to know, or have, on the subject of sound.
Comprehension
Ric Viers's has years of experience working with sound and it really comes out in the pages.  Told through stories of his experience on sets and at concerts – he brings a vast amount of usable knowledge to the table.
Though the book can get bogged down in a bit of minutiae – it is still highly readable and informative.
Depth of Information
This book is highly detailed and beyond thorough – touching on everything possible in terms of sound and sound equipment.  Static mics, lavalieres, shotgun mics, booms, records, mixers, pre-production set-ups, how to deal with the talent, how to get a job, the list goes on and on.
Told in a basic, reference, style – the book could easily be used on and off the set to help the reader get the best possible sound.
There were only a couple of places where the book was lacking.  No comments about editing software and which was best for post-production sound work.  Having used "Sony Vegas Pro 11" to fix sound, how would that compare to "Final Cut Pro?"  What of cheaper and more general consumer based product?  Should one even try to do much fixing in post production?   Were there any software programs he was familiar with that could also help fix things in post production?  Though, in respect to the book, it IS the "Location" Sound Bible – not the "Post-Production" Sound Bible.
Interest Level
For anyone contemplating making a film – sound has to be at, or near, the top of the list.
Still, to spread out the interest level a bit more and for people out there with various sound budgets – would have liked to have seen a quick breakdown as to:  If you have $100 budget for sound, here's what you should buy.  $500, $1,000, etc.  For many filmmakers just starting – what are the down and dirty basics one should have when they hit the ground running?  Maybe even a basic shopping list or a "how to make your own boom" instruction sheet.
Because the book doesn't focus on those low-low-budget independent filmmakers, per se, he might be missing out on a part of that market.
Reusability
The book is written in a way so that anyone looking to deal with sound on the set – should have this book handy.  Part reference guide, part how-to, this should easily be part of any sound guy's equipment.
Value vs. Cost
With sound equipment being very expensive – the book touches on renting equipment v. buying equipment and thorough breakdowns of what types of microphones one needs to do what.  This book could very well save the reader lots of money and time by purchasing the right "tool" for the job.
Overall Comment
Don't discount sound.  After the screenplay/story it is THIS most important part of filmmaking.  The Location Sound Bible gives you all the information you need to succeed.
| | |
| --- | --- |
| |   |
| Comprehension  | 9.0 |
| Depth of Information  | 10.0 |
| Interest Level  | 8.5 |
| Reusability  | 10.0 |
| | 9.5 |
| Overall Score | 9.4 |