Software Review:
Publisher: SmartSound Software
Website: http://www.smartsound.com
Platform:

PC & Mac

Description: Music Composition for Video

MSRP: Scoring Edition: $99.95
Express Track Edition: FREE with purchase of
a library


Download Demo: Click Here
Samples: Click Here
Review Date: December 1, 2008
Reviewed By: John Howard



Okay, before I begin, let's get one thing straight: I'm a composer. My natural bent is toward creating music from scratch. I tend to dislike most music libraries because, in my opinion, they severely reduce the level of creativity involved in producing the sonic landscape of a production. Also, quite frankly, most of them don't sound very good. Somehow a guitar played on a synthesizer just doesn't cut it, in my opinion. I had been pretty much adamantly opposed to ever using a music library myself for a long time. Enter Sonicfire Pro 4 (you can check out our review here) -- a collection of music libraries that is highly customizable, musical, searchable, and just plain easy to use... huh. You know, I've heard words taste better with salt... maybe I should try that.

As of the time of this writing, I've used Sonicfire Pro for a handful of lower budget projects that needed music fast, and in one case even used it as the basis for a jingle composition project. Don't get me wrong, I still added my own flavor by editing the heck out of it, adding my own tracks, etc. but still.... Where is that salt anyway?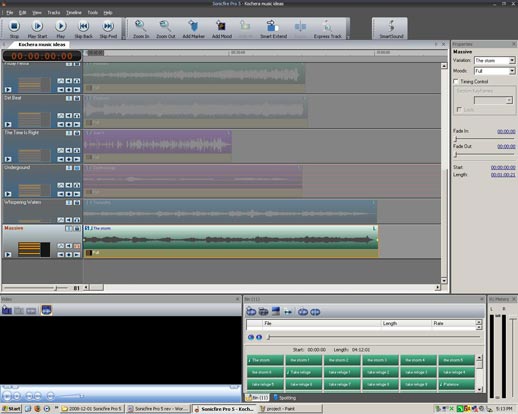 SFP5's project window is where everything comes together, with music tracks, key frame programming for changing the mood of a theme, information about specific audio clips that are used within a theme, and video preview.
Upgrading from version 4.x is free and is a no-brainer. If you want to learn more about the base features found in SFP4, please see the aforementioned review. Here I'm going to focus on the newer features found in SmartSound's latest version of their host application used for customizing their tracks, Sonicfire Pro 5. But first, for those of us way too lazy to look up the other review, an overview: SFP5 is basically a host software application that pulls together all of the musical themes from any SmartSound libraries you have installed, plus themes you don't yet own (users can preview and purchase them from within SFP5 via an internet connection), and puts them into a familiar multitrack-style GUI (Graphic User Interface) with a video track. The intuitive editing tools allow you to easily customize the music in a myriad of ways (more on this below). The Express Track (previously dubbed Maestro) functionality offers users powerful search tools, the chance to preview themes and insert them into your SFP5 timeline, plus the ability to preview themes played simultaneously with any audio already present in your video file.

With this release, SmartSound is serving up their software in two flavors. Express Track Edition is included free with the purchase of any SmartSound music library and offers the basic feature set for searching themes, customizing their length, and inserting them into your project. The Scoring Edition is where you can get more creative and adds all of the timing controls, mood mapping, spotting tools, and hit files functionality that give this collection of music libraries it's great potential for creativity! This version is what I'll be referring to from here on out in this review, but remember that anything I mention doing in Express Track can be done with both versions.
Mission | Tips & Tricks | Equipment & Software Reviews | Film Critiques
Groups & Community | Links & Savings | Home