| | | |
| --- | --- | --- |
| | | |
| | | |
| | | |
The indie scene has been atwitter for the past few years about DSLR (or Digital Single Lens Reflex) cameras. These cameras are designed and marketed to be used by still photographers, and certainly don't look like the tools of a filmmaker. They frankly look like the camera you use to take pictures of other people while they make movies.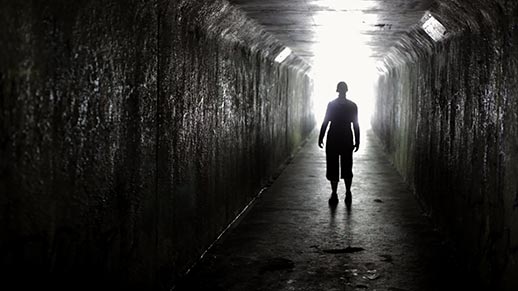 One of the iconic images from Absentia, captured with Canon 5D Mark II.
The cameras were designed to replicate the image quality of the traditional 35mm still cameras, down to the interchangeable lenses. They offered the same kind of depth of field, quality of image, and filmic look of those traditional cameras, and became very popular among still photographers.

But something unexpected happened when video capture started to be introduced on higher end DSLRs. (Even though low-cost digital cameras had had video capture for nearly a decade, it had taken a long time to introduce it as a feature on a "serious" professional still camera.) It turns out that the video capture function that began to appear on the higher end DSLRs was, frankly, beautiful. Quite by accident, it seemed that Canon, Nikon, and other companies had stumbled upon sort of a wormhole, a secret shortcut to get the look that most indie filmmakers had been spending fortunes to replicate. After all, what are cameras like the RED designed to do if not mimic the picture quality, depth of field, and look of 35mm film?

Here was a solution that let you shoot HD video, at 24 frames a second, and use any 35mm lens you wanted. Sure, it didn't look like a camera you could use to make movies, but the movies you could make on them looked more like MOVIES than almost any other option out there. And you didn't have to pay a fortune to get that look, either.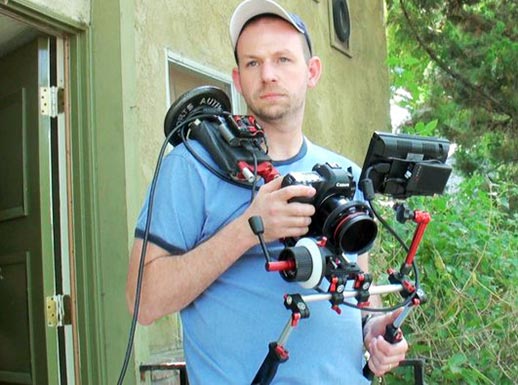 DP Rustin showcases the video DSLR rig that was used to shoot Absentia.
There's a lot already out there in on the web about DSLR filmmaking. There are detailed blogs like The Best Damn DSLR Video & Movie Blog or like Shane Hurlbut, ASC's terrific and thorough account of his DSLR adventures. There are volumes of technical guides, my favorite being Ryan Koo's DSLR Cinematography Guide. And, even print publishers have started to get in on the trend, such as Kurt Lancaster's DSLR Cinema --a book that focuses especially on the Canon 5D Mark II, which we shot Absentia on-- which MFM reviewed last month. Obviously, I can't possibly stack up to them as far as the wealth of information and detailed instructions on how to make a DSLR really sing.

However, my experience making my fourth feature film, Absentia, on the Canon 5D Mark II at least qualifies me to discuss it from a perspective I haven't really come across out there much, and that's the perspective of a director. After all, I don't necessarily need to know how to calibrate the camera to remove that fluorescent roll, and I frankly don't really care about the "jello" effect so often lamented by cinematographers on their blogs. They're cinematographers, after all. I expect them to be able to fix such issues, especially if I hire them to work with me.

But if you're a filmmaker wondering about the popularity and availability of DSLR's like the Canon 5D Mark II, and think that this might mean you're able to make a film that you wouldn't have before these cameras were on the market, this is the article for you.

I hadn't heard of video DSLR's as of a single year ago. I'd seen the 5D Mark II, but had no idea it was anything but a nice still camera. I was under the impression that my camera options went through the Pro-sumer HD cams that I was familiar with (most little more than HD versions of the XL1s, DVX-100s, and other MiniDV cameras I'd used as the digital revolution began in the late nineties), to the Indiewood big boys like Vericam or the RED.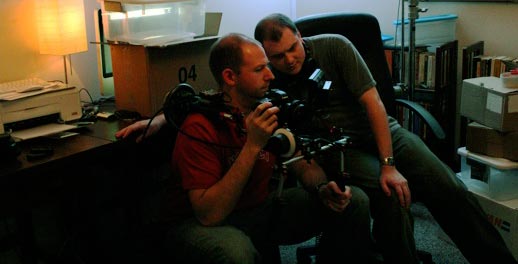 While the small size was a great benefit for this video DSLR, the size make's it harder to set up a video tap for others to view.
But on the sidelines were these little still cameras, mostly used by event photographers, that happened to shoot HD video.

Their use as tools of film production has been far more polarizing than I ever would have thought. Cash-strapped filmmakers can run out and pick up a Rebel T2i (which I have at home) and insist it is a game changer, creating the opportunity to create beautiful 24p content with cinematic depth of field for almost no money at all. Seasoned cinematographers, on the other hand, have taken to the blogs to dismiss such enthusiasm as naïve amateurism, insisting that DSLR's are the champions of people who have no business making movies to begin with, and standing fast behind the cameras and technologies that, frankly, keep them employed.

But if you're a director trying to get a project going on a budget, these cameras – if used properly – can mean the difference between a digital indie feature and a film that walks, talks, and looks like it cost a million bucks.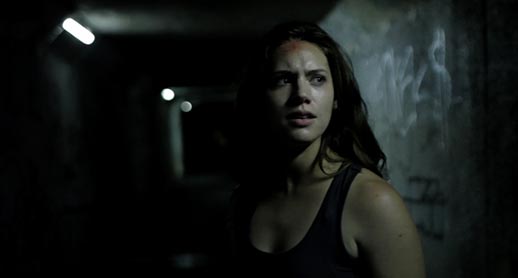 Film-like Depth of Field and Extreme Light Sensitivity are two benefits of video DSLRs like the Canon 5D Mark II (or Nikon 3Ds) as seen in this still from Absentia..
HD. On most of the popular DSLRs, you'll find a function that shoots in beautiful, full 1080p HD. 24p, 30p, (the rumor is that 60p is imminent, though as of this writing, only the just released Panasonic AF-AG100, a video cam that straddles the line between the traditional HD video camera and video DSLR sport this feature in the 1080 flavor); and it is a beautiful image.


Interchangeable lenses. If you invest in good lenses, and know how to use them, you can create all sorts of beautiful images. Even the higher end prosumer HDcams don't let you switch lenses, and the standard 16x zoom lenses scream video.


Portability. The size and look of the camera really enables guerilla filmmakers. We were able to steal some pretty terrific footage for Absentia, and I've since heard of people filming entire exterior sequences on places as impenetrable as Hollywood Blvd.


Lighting. The camera spins natural light into gold. There have a been a few Absentia reviews that praise the lighting in certain places that I'm loathe to correct … we had no lighting.


Affordability. Ultimately, it's the price. With the Rebel t2i coming in at less than a grand, and the 5D costing less than 10% of the sticker price of the Vericam, the affordability is what its all about.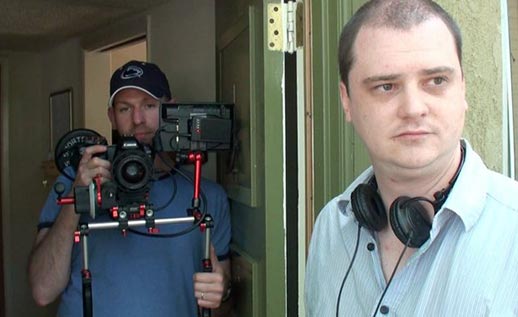 Despite the affordability of video DSLRS, the extra accessories required can really add up.
They're just still cameras, after all. As fantastic as the cameras are, they aren't designed to be used to make movies. This means that a lot of the features you're used to in a video camera are absent. You can't hook up an XLR cable or a microphone (although there are workarounds), the playback can be wonky, and the cameras are so small that they need to be stabilized to prevent aggressive shaking if you're shooting handheld.


Accessories. The cameras by themselves are inexpensive, but to make a movie you need to supplement them with a pile of other purchases that really add up. A rig to stabilize the image, follow focus, filters, lenses, steadicam … if you think you can just buy the camera and start shooting, you're wrong.


Technical problems. There are a number of technical issues that the cameras have, including the lamented jell-o effect, and some strange color rolling in fluorescent lights are a few of the things that we bumped into. There are blogs galore about them, some with fixes, but that's more work for you to consider.

But what does this mean to you as a director?

I found that working with the camera was exciting. The image is great, the camera is affordable, and the workflow is pretty easy to adapt to if you're familiar with shooting two system, as you do on film.

But the biggest thing that made the DSLR sing in our case was, frankly, COLOR CORRECTION. Because we were shooting indoors and without lights, it meant that I was able to shoot a massive amount of material in a given day and basically move my DP around the room without having to relight or restage. If we were waiting on camera, we were waiting on a lens change (or, waiting for our monitor to work when the jerry-rigged HDMI splitter system would constantly go on the fritz.) But the camera itself only took us so far.

Some of the most celebrated footage from the film was shot inside the tunnel, where we had absolutely no lights other than what was already there. The camera did plenty to make that happen, but it wasn't until I saw the film color corrected that the true potential of DSLR filmmaking really jumped out at me. It's not the camera itself that makes it work – it's the system AROUND IT, from production into post, that makes the camera a viable tool for a filmmaker.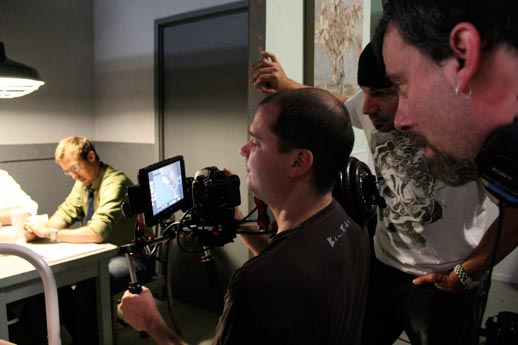 On a day when my DP couldn't get in to shoot, I ended up taking the reins of the camera to put it through its paces on set.
I can't recommend enough that you bring in an experienced, professional colorist to take the footage and give it that extra pass. While the camera can deliver in a lot of ways, it is, ultimately, still just a video camera. The right lenses, with the right color correction, make all the difference.

So ultimately, the biggest thing you need to make a DSLR really work is … EVERYTHING ELSE. A great camera is nothing if you don't know how to make a movie. The same is true of all the really cool technology out there right now, whether it's having Final Cut Pro on your laptop, an HD camera in your iPhone, or the latest RED package. It doesn't matter one bit if you can't make it all work together.

I'm thrilled to have used the 5D Mark II on Absentia, and I really love my Rebel t2i. They're great tools. But they have their limitations as well, and there is no truth at all to this idea that you can just grab a DSLR and go off and make a movie. These aren't miracle products. And for the record, should the budget allow, I'd love to shoot RED next time. Or even film (that'll always be the dream for me).

But if the budget doesn't allow, I'm glad that video-enabled DSLRs exist and function as well as they do. For their price, they're nothing short of revolutionary. But like any tool, the only thing that truly matters are the hands that are holding it. Visionaries will always make great movies, even if they're shot on the worst possible cameras, and unfortunately there will always be people who take a fantastic tool like a video DSLR or a RED camera and think that's all it takes to make a movie.

Are DSLRs the future of cinema? I doubt it. But if you've got a good story, a great crew, and a pile of supportive gear, they're an amazing resource.
| | |
| --- | --- |
| | Mike Flanagan is an award-winning writer, director and editor of four feature films, including the critically acclaimed horror film ABSENTIA. Based in Los Angeles, Mike has also worked as a professional television editor for over a decade, helming programming for Discovery, Bravo, A&E, and other networks. He is currently in pre-production on his fifth feature film, OCULUS, a feature version of his award-winning short. |
Mission | Tips & Tricks | Equipment & Software Reviews | Film Critiques
Groups & Community | Links & Savings | Home