| | | |
| --- | --- | --- |
| | | |
| | How to Build a Guerrilla Drive-in | |
| | | |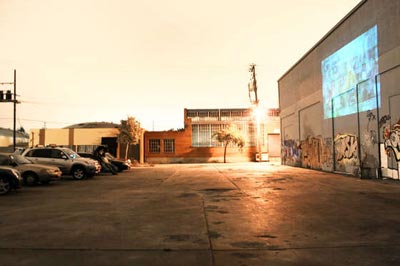 [Editor's Note: This tutorial is written by Bryan Kennedy, the founder of MobMov. Even if you're not interested in building your own Guerilla Drive-In, the drivers of MobMov may be a great way to get additional fans for your films, as they are always looking for great film content. Go by MobMov.org and find out more about this new distribution movement.]

Have you ever wanted to run an outdoor theatre ala MobMov.org or the Santa Cruz Guerrilla Drive-in? This tutorial will tell you what equipment you'll need and how to set it up.

Cyberpunk urban theater, here we come!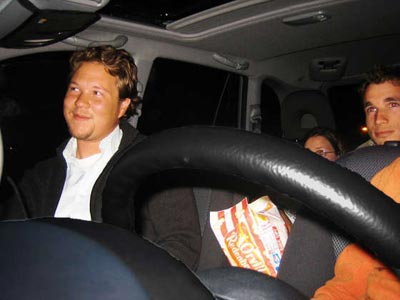 Overview:
Guerrilla drive-ins come in two flavors: a true drive-in, or a walk-in. Walk-ins were the first guerrilla movie method, and involve a big grassy area, some blankets, and a movie projected on a screen. The projectionist powers the projector using a generator, and big speakers are used to project the sound. The Santa Cruz Guerrilla Drive-In and Dolores Park Movie Night are walk-ins.

A true guerrilla "drive-in" is just that - a bunch of cars and a movie. The projectionist usually powers the projector with his or her car or a small generator and an FM transmitter transmits the soundtrack to the other cars. The Mobile Movie (mobmov.org) was the first guerrilla drive-in.

I'm rather partial to drive-ins over walk-ins because of their high-tech nostalgic feel, and the fact that your car can become your own private theater! It sure beats the pants of that cineplex with its screaming preteens.

This guide will tell you how to set up your own Guerrilla drive-in using your car. If you'd prefer to set up a walk-in, portions of this guide may be helpful, but much of it will be inapplicable. There are guides online more suited for this purpose however, see: http://www.guerilladrivein.org/start-your-own.html

Parts of this tutorial were taken from my tutorial here, which I wrote for my MobMov members.

Hey kids, let's go make a drive-in!
Mission | Tips & Tricks | Equipment & Software Reviews | Film Critiques
Groups & Community | Links & Savings | Home