Software Review:
Publisher: Core Melt
Website: http://www.coremelt.com/
Platform: Mac Only
Description:Video Stabilizing/Rolling Shutter
Removal

MSRP: $149 (Final Cut Pro),
$79 (Final Cut Express)

Download Demo: Click Here
Expected Release: Available Now
Review Date: February 1, 2011
Reviewed By: Jeremy White




I've got a very steady hand when it comes to shooting. There have been times I feel the camera is just an extension of my body. Yet despite my best efforts and years of practice, I still often end up with shaky, hand-held footage.

A few years ago Final Cut Pro introduced the "Smooth Cam" tool to help remedy this problem. Unfortunately, Smooth Cam takes extremely long to process/render and often does a poor job at "smoothing out" the video. Frustrated, I finally gave up hope for a software program to smooth out my shaky shots.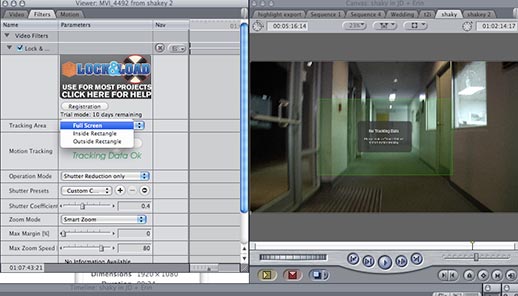 Tracking Area Options
But now Core Melt has introduced both Lock & Load X (for Final Cut Pro users), and Lock & Load Express (for Final Cut Express users) to the market. Lock & Load X claims to be able to smooth out your shaky footage better and in less time than Final Cut Pro's Smooth Cam Filter. In addition, it provides support for common DSLR problems (Rolling Shutter, Jello-vision, etc.)

The downside to any image-stabilizing program is that, in order to smooth out the footage, the program must zoom in on your video. Unfortunately, this softens your video and doesn't give you as clear of a shot. Lock & Load X is no different and the user is forced to choose some sort of zoom if they want the program to work on their footage.

Ease of Use
Lock & Load X is a very simple plugin to use. Just apply the plugin to the clip you want to analyze and then walk through Lock & Load X's easy menu screen to make your adjustments. Within minutes you can master the program.

In addition, Coremelt has created a very helpful tutorial video at: http://www.youtube.com/user/CoreMeltFX#p/a/u/0/fxfCJIko20k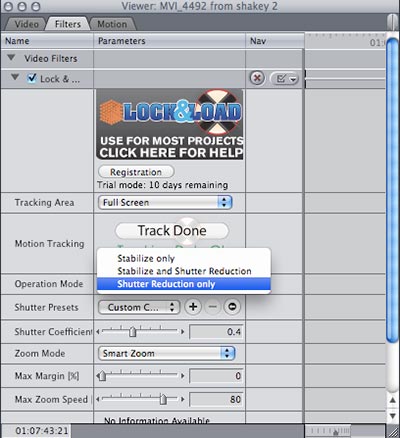 Motion Tracking Options.
Depth of Options
Lock & Load X basically has two main functions: image stabilization and rolling shutter reduction. Where as Final Cut Pro provides a few options for adjusting the image stabilization, L&L gives the user several options for motion tracking (full screen, inside rectangle, outside rectangle). Perhaps most impressive is Lock & Load X's inclusion of the "shutter preset" option which analyzes the footage based on several DSLR presets (Canon 5D, 7D, Nikon D90, etc)

Performance
The greatest thing about Lock & Load X is the speed in which it processes the video. Lock & Load X processed my video about 4x faster than Final Cut's Smooth Cam filter.

The shutter reduction option is a god-send for DSLR users struggling with rolling shutter and Jello-vision. Lock & Load X did a good job eliminating both of these problems.

Unfortunately, Lock & Load X's image-stabilizing option gave me mixed results. I tested wide-angle footage from two different cameras (Panasonic HMC150 and Canon t2i). Lock & Load X did a decent job smoothing out short clips (1-2 seconds) with only subtle shakes (ex: bad pans, small movement), but failed to smooth out longer clips. The footage either "jumped" on me or zoomed in so close so as to make the footage almost worthless. While Lock & Load X gives you more options than Final Cut's Smooth Cam filter, its actual results were pretty comparable. So you're big advantage here is the speed at which you can process your clips, in addition to the rolling shutter.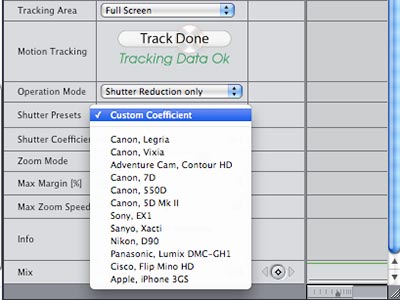 Shutter Presets.
Value
Lock & Load X is available for $79 (Lock & Load Express) or $149 (Lock & Load X). While the inclusion of shutter reduction is quite nice, I feel the price is a little high considering the mixed results I had with the image stabilization part. However, as all source footage is different, you really need to download the demo of the product to see if it's the right fit for your project!

Final Comments
While image-stabilizing programs continue to struggle with natural smoothing, Lock & Load X did deliver for small clips. If you've got short shaky clips that needs to be smoothed out or if you have rolling shutter issues– I'd recommend Lock & Load X. It's Ease of use, speed of processing and depth of options make it superior to its competitors. However, if you're looking for a way to smooth out longer clips, Lock & Load X was comparable in consistency with some of the image stabilization programs you may already have. Like I said before, to find out if it's the right fit for you, you really need to download the demo.
| | |
| --- | --- |
| | |
| | 9.0 |
| | 9.0 |
| | 6.0 |
| Value vs. Cost | 6.0 |
| | 7.5 |
| | |
| --- | --- |
| | Jeremy White has literally traveled the world making short films. Most recently, Jeremy traveled to China and Peru to shoot promotional videos for non-profit organizations. His film "Leaves" won the 2005 Highbridge Film Festival. |
Mission | Tips & Tricks | Equipment & Software Reviews | Film Critiques
Groups & Community | Links & Savings | Home