Software Review:
Publisher: Video Copilot
Distributor: Toolfarm
Platform: PC or Mac
Description: Lens Flare Design

MSRP: $124.95

Special Pricing: Click Here
Demo: N/A
Samples: Click Here
Expected Release: Available Now
Review Date: June 1, 2010
Reviewed By: Nikc Miller




A few months ago I raved about Boris Continuum Complete 6 for, among many other things, its awesome lens flare effect. So it is fair to say that for one reason or another I get almost overly enthused about adding lens flares to my motion graphics. This month I got to review Optical Flares, a lens flare design suite that takes the idea of the lens flare effect and expands it beyond what I ever imagined possible.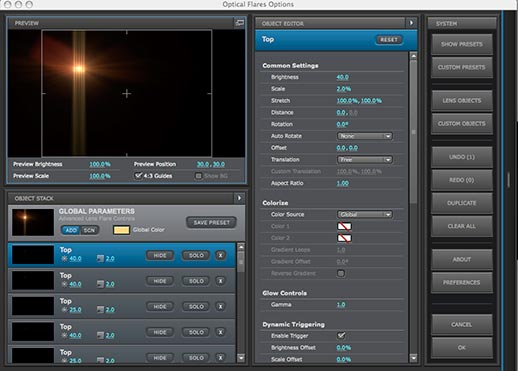 Optical Flares is a beautifully designed suite. When selected, this design box pops up and works along side of After Effects.
Ease of Use
Optical flares is a lens flare design suite. As I was raving about it to a friend (Microfilmmaker contributor Ryan Graham), he asked me "So, what's the big deal?" and I just blurted out "Someone finally did it! Someone finally made this happen!" He laughed at me, because I guess the idea of a comprehensive plug-in solely devoted to lens flares is kind of hard to wrap your head around. So I'll do my best to try to explain.
Mission | Tips & Tricks | Equipment & Software Reviews | Film Critiques
Groups & Community | Links & Savings | Home