Software Review:
Publisher: Imagineer Systems
Website: imagineersystems.com
Platform: Computer Platforms Supported
Description: 2.5 D Planar Tracking

MSRP: $1095; $499 Upgrade

Product Page: Click Here
Expected Release: April 7, 2010
Review Date: April 1, 2010
Reviewed By: A.J. Wedding






If you read my review of mocha for FCP and AE, you would know that I was absolutely in love with it. mocha is a groundbreaking planar tracker that has changed the way we do effects and tracking, even allowing us to track shots that were previously considered untrackable. While my previous review was of their more pared down system that was optimized for After Effects and FCP, the standalone system was the original 2.5 D tracker from Imagineer. It has the full mocha capabilities, including allowing you to export to virtually any system such as Smoke, AE, Avid DS, Combustion, Quantel GenerationQ, Shake, Digital Fusion, and Nuke.

Imagineer Systems has also developed many highly detailed tutorial videos to help you fine tune your work. The broad brushstrokes of what mocha can do are very easy to understand and use, but it's nice to know that new users can easily learn about some of the more detailed work that can be done within the system.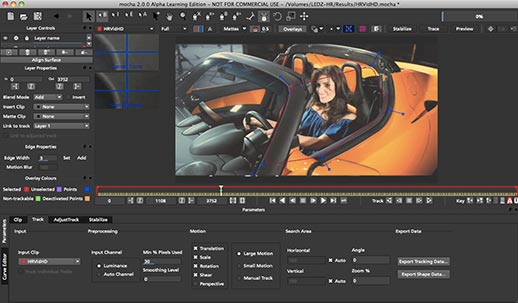 The new interface is form friendly with easier to understand icons.
Ease of Use
Anyone who has used previous versions of mocha will find this user interface much improved and easier to navigate. There are also some new features available such as the Stabilize and Smooth module, which really helps out, especially in the event that you have to do any hand tracking at any point.

The more pared down versions of mocha for AE and FCP are very simple to use, but, fortunately, the more robust standalone version is no more complicated. Definitely a simple to use tool that can perform some very complicated tasks.

Depth of Options
Using tracking data created by mocha is useful in many situations, and can become the savior of any effects shot, sign replacement, or logo change. The depth of options is limited only by your ability to come up with uses for it! mocha shape is a plug in for for the more pared down versions of mocha that allows you to track rotoscoping data as well, saving you a load of time and hassle in AE or FCP. With the new full version of mocha v2, you can export roto data to nearly any editing or effects software, creating limitless possibilities. As an editor and effects designer, I am sometimes working in congress with other editors who use several different kinds of software, and they request rotomattes from me or screen replacements. Using mocha v2, I'm able to work quickly in a program I understand and create any type of matting effect or rotoscoping that they need, regardless of the final output. For users of the past version, mocha v2 now adds 2 new export formats: Apple Motion tracking export and Nuke v6 track and roto export.
Mission | Tips & Tricks | Equipment & Software Reviews | Film Critiques
Groups & Community | Links & Savings | Home