Software Review:
Publisher: MotionDSP
Website: http://www.vreveal.com
Platform: PC Only
Description: Standalone Video Enhancer

MSRP: $39.99

Download Demo: Click Here
Samples: Click Here
Expected Release: Available Now
Review Date: January 1, 2010
Reviewed By: Ryan Graham





vReveal is a slimmed-down version of Motion DSP's incredible enhancement software, Ikena. Ikena is a program used in forensics departments which allows detectives to do some of the impossible things you see in crime dramas, like reconstructing someone's face from blurry surveillance footage or sharpening the numbers and letters from video of a license plate taken a mile away (well, maybe not, but you get the point).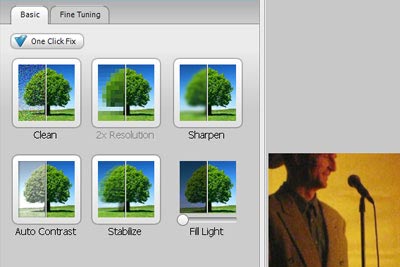 You can fix your video in one click, or choose one or all of the 6 different quick-fix options.
What MotionDSP has done with vReveal is take the algorithms from Ikena and custom-tailor them for an affordable, user-friendly package specifically geared towards cleaning up footage taken with consumer-level video devices such as cell phones, still cameras, camcorders, webcams, etc.

Most of these sorts of devices suffer from similar video quality problems. First of all, since they're so small they have no weight and thus are more susceptible to distracting shakiness. Secondly, most have very small CCD sensors and as a result are not good at low-light capture, which results in dark and/or grainy footage. Finally, many such devices can only capture small, low-quality videos because of storage limitations, so when you try to view the video on a large screen it looks very blocky and full of compression artifacts.

vReveal claims to be able to fix all of these problems with a single click of the mouse, after which the corrected video can be stored on your hard drive or sent directly to YouTube or Facebook. For the most part the software lives up to its promise, quickly delivering impressive results.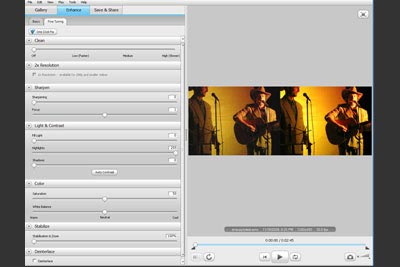 vReveal also offers in-depth settings for fine-tuning the clean-up of your footage.
Ease of Use
Installation and activation of the software was very simple. I downloaded it from the website, ran the installation wizard, and that was pretty much it.

When opening the program for the first time, you're asked which folders on your computer you want to scan for video files. For a novice user this might be helpful. But I didn't see an option to skip this, so I just directed it to a folder that didn't have any video files. Personally, I'd rather not have this step; I can find my own video files and don't need to wait through a lengthy scanning process.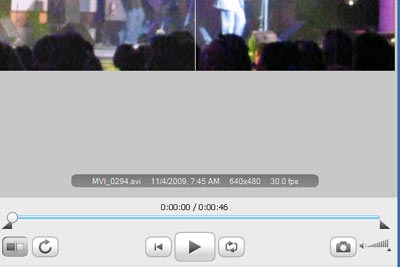 While not an editor, you can use the handles to process and export specific sections of your clips.
Once you're up and running it's really simple to process and save your footage. First, import your footage in the "Gallery" tab. Click on the file you want to fix, and switch over to the "Enhance" tab. vReveal actually has a "one click fix" button that will look at your video and select all of the necessary fixes for you automatically. Of course, you also have the option of manually changing the settings by clicking on any of the six enhancement options (clean, 2x resolution, sharpen, auto contrast, stabilize, and fill light). You can drill down even further into the correction parameters by using the "fine tuning" tab. Once your footage looks good to you, click on the "Save & Share" tab to export your footage either to your computer, YouTube, or Facebook. And although vReveal doesn't have any editing features to speak of, you can use the bookends in the preview section of the software to export just a section of your video clip.
Mission | Tips & Tricks | Equipment & Software Reviews | Film Critiques
Groups & Community | Links & Savings | Home