Software Review:
Publisher: Noise Industries
Platform: Mac
Description: Plug-in/Transition collection for
FCP, Motion, & Mac AE

MSRP: $399

Website: Click Here
Download Demo: Click Here
Samples: Click Here
Expected Release: Available Now
Review Date: October 1, 2009
Reviewed By: Mark Bremmer



Success with films, businesses, or anything for that matter can usually be summed up by the phrase, "Surprise the customer - give them more than they asked for." Noise Industries (NI) has done just that with FX Factory Pro (FXFP).

After loading FXFP, I found myself immersed in an embarrassment of plug-in riches. Version 2.0.9 provides 151 plug-in effects and transitions to explore. My first reaction was, "Wow." That was quickly followed up by more "wow"s the further into FXFP I ventured.

FX Factory itself is a Mac-only plug-in management system for Final Cut Studio, FC Express, Motion and After Effects that handles Noise Industry's and partner companies work. The "Pro" series is NI's own robust commercial set. (Sorry PC users, it's based upon Apple's proprietary Quartz graphics engine)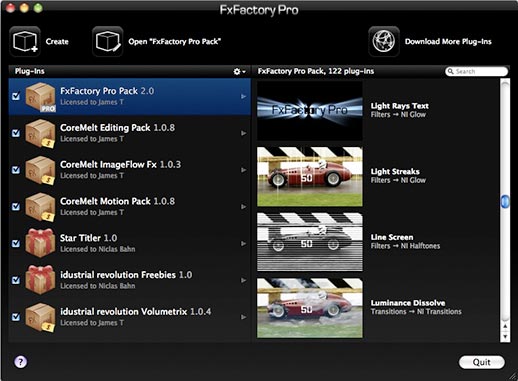 The FX Factory Pro interface provides a reference image for the plug-in plus one-click access to help files. With over 150 plug-ins, this is a great memory jog. The help files are accessed just as easily from the plug-in inside of the help applications.
Ease of Use
Everything about NI's work exudes "premium"; and I'm not talking about just about cosmetics but function. It's all about you, baby! Everything is made quick and easy for the user - application, controls and help files.

FX Factory is a free download and provides a 15 day free trial of everything that they purvey. Installation is a simple double click. However, things begin to shine when the FX Factory launches. (After installing you never see the FX Factory interface unless you launch it manually - it manages the plug-ins transparently for the host applications.) The FX interface shows all of the plug-ins, licensing status and previews of the effects. Want to know more about a specific plug-in? Just double click the item and a navigable help document is launched that thoroughly explains every adjustment and control.

This same ease of help is also present in the control interface when using the plug-ins within a host application. Stellar. The FXFP plug-ins are ridiculously easy to use although some have a level of sophistication that a quick trip to the help documents will definitely reward the user.

Application of the plug-ins is drag-and-drop simple, with intelligent collections of sliders and input controls to modify the results.
Mission | Tips & Tricks | Equipment & Software Reviews | Film Critiques
Groups & Community | Links & Savings | Home