Software Review:
Publisher: Adobe, Inc.
Website: http://www.adobe.com
Platform: Windows
Description: Video presentation software

MSRP: $399.99

Special Pricing: Click Here
Download Demo: Click Here
Expected Release: Available Now
Review Date: September 1, 2008
Reviewed By: Jeremy Hanke



This month we've done a number of reviews that deal with the periphery of filmmaking work. While all of these products can be used in some sort of filmmaking, most of the power present in them is in the way you make money in your production studio to fund your films. In this case, Adobe's Visual Communicator 3 is no different.

With that said, for folks who haven't used previous versions of Visual Communicator, let's clarify what Visual Communicator is and what it's not. While it bears a striking layout resemblance to Serious Magic's Ultra 2 (which was acquired by Adobe in 2006 and then renamed Ultra CS3 in 2007), this is not a program for greenscreening your next sci-fi film. And, even though it will record video directly to your laptop, this is not the software for digitally recording your next film in the manner that Onlocation is.

No, the power of Visual Communicator comes in the form of a single solution for creating newscast and interview style television programs. Now, like I said, this could be creatively used for filmmaking, as a number of films need realistic newscasts to be played on television screens in the backgrounds of bars or homes to give dramatic tension. (Or for another memorable film use, who could forget the infomercial that motivated one of the main characters in Requiem for a Dream?) Also, for creating collectors-edition DVDs, having a program that makes it easy to create flashy interviews and Inside-Edition-style packages can be a great way to give striking extra features to your film. However, its main draw is going to be for the moneymaking ventures your production company engages in so that you can afford to make your films. Common uses would be for corporate training videos, infomercials, webcasts, religious broadcasts, and the like.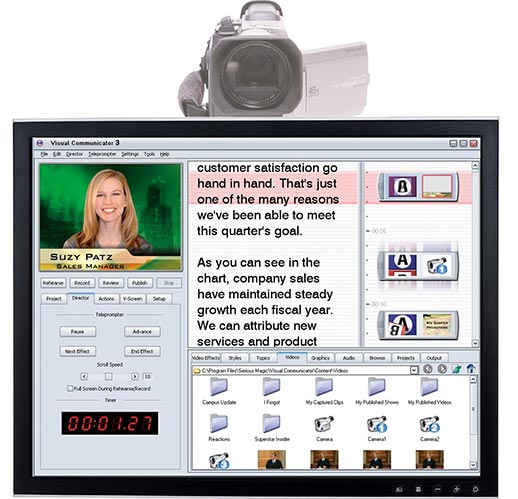 The layout of Visual Communicator 3 with preview monitor, teleprompter, live transitions, and live effects..
So how does it do all these things?

Well, it essentially provides a teleprompter that talent can read from a laptop while a connected camera records the video and audio of them talking. To make things function more like a news station (without having to have people live switching graphics), you can pre-program effects, lower-thirds, and cut-away shots to occur as the recording is reading the script.. This basically means that, once you have everything programmed, all the talent has to do is get their dialogue down properly and the whole thing is a wrap, which can be easily exported to .AVI, burned to DVD, or kicked out as a Flash-embedded web page.

So long as you understand how the software is to be used, it's pretty ingenious. With that said, let's take a look at the overall package and note some of the improvements that have been introduced in VC3.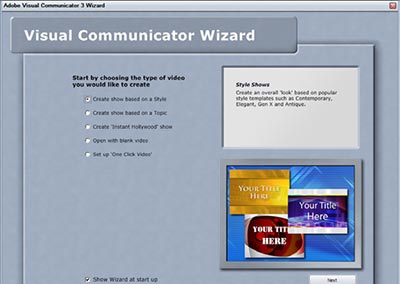 The Visual Communicator Wizard helps get you up to speed on creating your first show easily and effectively.
Ease of Use
While Visual Communicator has always been fairly easy to utilize, the newest version adds some additional features and power that can make things easier. To assist you with setting up a show if you're new to the program, they've improved the "New Show Wizard," which lets you essentially choose a show style or theme and then automatically choose animated titles, lower third graphics, and transitions that keep your entire show consistent. As consistency is one of the hallmarks of professional productions, improvements here make things much easier for VC neophytes. In a similar vein, to help you with editing, Adobe's created a brand new Coach Window, which walks you through the editing workflow.

To assist new greenscreen folks, the new V-Screen Wizard walks you through setting up your greenscreen, so that you can make it as easy as possible. Additionally they've improved the greenscreen keying controls. In the past, when you wanted to shoot yourself in a greenscreen location, you had to move out of the way and let the camera shoot just the greenscreen. Then you could automatically key out the background and move back into position. (This is a concept that was also encouraged with Ultra.) Now, they've given you the ability to key out the green background without getting out of the way, and given you a number of controls to tweak the keying process, like adjusting saturation, spill, and transparency. This can be very useful for small greenscreen setups, even if you haven't lit the greenscreen properly. (When I was testing this, I actually was able to get a decent key in a room with very basic overhead lighting and a popup greenscreen propped against a wall that had no extra light added to it. This is a worst case scenario, but it was interesting to see that VC3 was able to deal with it fairly well.)
Mission | Tips & Tricks | Equipment & Software Reviews | Film Critiques
Groups & Community | Links & Savings | Home