Software Review:
Publisher: DAZ 3D/Eovia
Website: http://www.daz3d.com
Platform: Windows & Mac
Description: 3D modeling and and animation
package

MSRP: $549 (Pro Version)
$249 (Standard Version)

Download Demo: Not Yet Available
Gallery: Click Here
Expected Release: Available Now
Review Date: November 1, 2007
Reviewed By: Mark Bremmer
The small studio battle mantra is always the same: Do more with less. With the release of Carrara 6 Pro, the small studio now has a very powerful, truly pro-grade ally in that struggle. Not only is it an ally, it's a tool set that is actually fun to use while working on a project. Priced at the "serious" hobby level, Carrara packs a professional punch with ease-of-use that makes it attractive for established, as well as young, studios.

Unlike most 3D software, Carrara has come into the professional environment by entering through the back door. The big names in 3D production were almost designed as nearly one-off items sold for extremely large sums of money to choice studios with multimillion-dollar film budgets. However, Carrara has come from much humbler beginnings, witnessed the pro's and con's of the big names and has capitalized on the revolutionary software and hardware technology since then. Because of that, its ease-of-use and full capabilities are significantly more "well rounded" for the average user instead of the total 3d geek. (Hey, some of my closest friends are proud, total 3d geeks.)
Pedigree
After Carrara's inception in 1989, then known as Ray Dream, the software quickly began growing and was acquired by MetaTools Inc. and blended with the Infini-D 3D software. (MetaTools? Think Kai Krause, Bryce, Poser and Kai PowerTools). While trackballs and shaded buttons were considered unprofessional at the time, that merge created the first user-friendly interface for 3D software. So, MetaTools became MetaCreations, blended Infini-D and RayDream and in 1999 shipped the first incarnation of Carrara.

Corporate Decisions
Then MetaCreations decided to go a new direction and divest itself of all of its 3D software. Poser went to Curious Labs, Bryce went to Corel and Carrara went to a newly formed company, made up of Carrara's own programmers, called Eovia. Carrara continued to grow, adding features and raising the eyebrows of another Corporation called DAZ, a company made up of former Poser programmers that had split off to become well known and successful Third-Party content creators for Poser. The only thing really missing in DAZ's offerings was a software to blend their own Poser Content with more robust 3D authoring and rendering than Poser can provide. DAZ purchased Eovia and created the first 3D solution that was a successful blend of these areas. To top it off, it's an affordable solution, too.

The Total Package
Carrara now offers environmental creation rivaling Vue 6's plant generators, fast rendering capabilities that equals very expensive competitors, photorealistic hair, character animation/rigging, non-linear animation options, photorealistic rendering capabilties, and very cool non-photorealistic options, plus much more.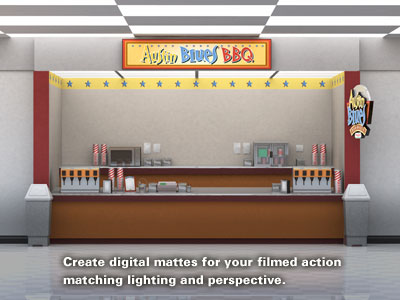 Ease of Use
I'll be frank. There is no perfect 3D software. All have bugs and limitations. Software evangelists that say otherwise are only deluding themselves By virtue of comparing Carrara to other 3D solutions I've worked with over the years, Carrara IS easy to use. Different, but easy - and powerful. It's ease is a result of the philosophy that has followed it since it's inception: Make it easy to use and understand since our users don't do 3D full time.

If that is an attractive philosophy for you, then Carrara will absolutely be the right choice for you. If you're a pro that already has a couple of other 3D solutions to work with, Carrara still is worth a long look because of what's tucked in under the hood.

3D is a weird animal, regardless of the software. Basically, you become the god of your own little universe and have to control everything. (I call these responsibilities "god requirements"). So, the ease-of-use I'll be discussing is directly related to managing that god-like responsibility plus tying it into a production workflow.
Mission | Tips & Tricks | Equipment & Software Reviews | Film Critiques
Groups & Community | Links & Savings | Home