It's virtually impossible to be a no-budget filmmaker and to have not heard of the new Panasonic HVX200. With as popular as it's little brother was for us in the true Indie film movement, if the HVX200 can do even half of the things it claims to be able to, it will be the definitive camera to own.
If you want a sure sign of that, look at the new Digital Cinema requirements that the seven studios which make up the core of Hollywood are scrambling to require. Basically, the new Digital cinema requirements are specifically crafted to prevent filmmakers like us from creating full resolution cinema as is seen in the current theater system.
How could we possibly make this happen? Well, ignoring the political and Hollywood redtape, from a pure tech perspective, the HVX200 is the first sub-$50K camera that can shoot at the maximum resolutions can currently show. Most theaters can only show an images that is a little over 1000 progressive lines, which this new camcorder actually shoots at. As such, the new Digital Cinema requirements are aimed to quintuple that resolution at the local theaters at a staggering production cost (not to mention the cost to the theaters!) so that we can't compete with old Hollywood's quality.
With that in mind, here is a preview of potentially one of the most revolutionary cameras to come down the pike. The following information is info we got from Panasonic, so ignore the fact that it sounds like a press release and soak up the useful info.
-Jeremy Hanke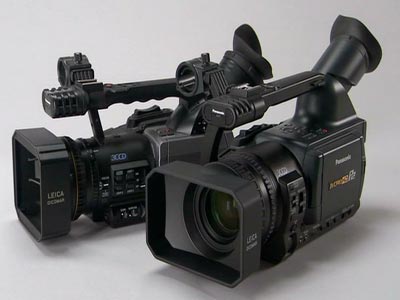 True High Definition DVCPRO HD
The best high-definition format for professional use.
There are a number of 1080i and 720p HD recording formats in use today. But if producing professional content is your aim, there's one that offers advantages over all of the others.
The DVCPRO HD format, developed by Panasonic. Already in use at broadcasting stations and movie production companies around the world, DVCPRO HD is a full-fledged HD format that meets today's high-level professional needs.
And soon, for the first time in the industry, DVCPRO HD will be available in a handheld camera-recorder - the Panasonic AG-HVX200. The AG-HVX200 records 4:2:2 digital component video signals, today's mainstream format for post-production, at a low compression ratio of 100 Mbps. Images are superb, with an extreme low noise level that provides smooth image edges. The AG-HVX200 allows high-end video production techniques, such as blue or green screen compositing. And because DVCPRO HD uses intraframe compression, the AG-HVX200 has an outstanding error correction function that helps provide precise editing with high image quality.
Sound quality is excellent too, thanks to DVCPRO HD's uncompressed 16-bit, 4-channel digital audio recording capability. The AG-HVX200 features a progressive HD 3CCD imaging system and an HD-quality wide-angle Leica Dicomar zoom lens. It can record DVCPRO HD video in either 1080i/p or 720p. And it supports 480i recording, so you can use DVCPRO50, DVCPRO or DV codecs as well. Providing outstanding images and sound in both HD and SD, the AG-HVX200 is perfectly suited to news gathering and content production.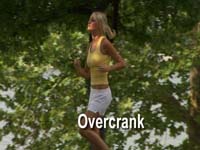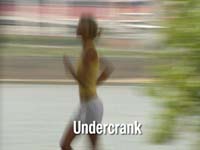 Inheriting the VariCam's Proud Legacy
Outstanding film-like expressivity in a camera-recorder with advanced digital functions.
For producing movies, TV programs and commercials, more and more companies have chosen Panasonic's VariCam HD camera-recorder. The VariCam's film-like rendering capability has inspired many movie industry professionals to make the switch from film to digital. The VariCam is an ideal solution for 24p HD video acquisition, but that's not all. With its Cine-like Gamma, the VariCam closely replicates the rich latitude of film. And with its variable frame rate function, it allows the same kind of overcranking and undercranking that a film camera offers.
The AG-HVX200 inherits the VariCam's advanced functions and warm, rich expressivity. It allows 24P/30P progressive shooting in both 720p and 1080i recording, and it provides a Cine-like Gamma that captures images that are strikingly similar in tone to film. The AG-HVX200 is the industry's first handheld camera-recorder with a variable frame rate function. It goes a step beyond the VariCam by adding the convenience of P2 card recording. You can use the AG-HVX200 camera to record a series of frames, and then preview the speed effect on the camera itself. The AG-HVX200 puts the film-like rendering capabilities that distinguish the VariCam into the hands of a wider range of users. For those already using VariCam, the AG HVX200 can serve as an extremely mobile sub-camera that lets you explore entirely new shooting possibilities.
Normal cinematic shooting is done at 24 fps, the same rate as in film cameras. Lower-speed shooting at 4 to 23* fps lets you attain fast-motion effect. This technique can be combined with warp-speed effect, special emphasis to flowing water, fast-moving clouds. Higher-speed shooting at 25* to 60 fps lets you attain slow-motion effect. This is especially effective for high action scenes such as car chases or crashes, or for scenes with great dramatic impact.
Mission | Tips & Tricks | Equipment & Software Reviews | Film Critiques
Groups & Community | Links & Savings | Home