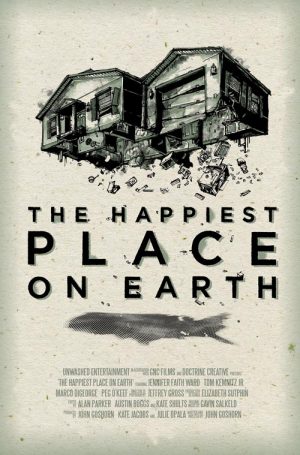 Director: John Goshorn
Distributor: GnC Films
Genre: Drama/Mystery
Running Time: 81 minutes
Budget: $15,000
Rating: IFCS Rating: Recommended for ages 12 and over (Equivalent to MPAA: PG-13)
Website: Click Here
Trailer: Click Here
Online Rent: Click Here
Online Purchase: Click Here
Reviewer: Jeremy T. Hanke
Final Score: 7.5/10 – Worth Watching in an arthouse or festival setting
When Jonah (Tom Kemnitz Jr.) and Maggie (Jennifer Faith Ward) move into their dream home in Orlando to start their family, things take a sudden turn for the worse when Jonah loses his job at the local paper. Then, as they're trying to figure out how to make ends meet to survive their mortgage, Jonah is lost at sea in a mysterious camping accident. Now Maggie has to deal with her grief while trying to do everything she can to save money so she won't lose the anchor that's drowning everything in her life: the house.
Story
The Happiest Place on Earth feels like it should've taken place during the housing collapse of 2008, but, instead, keeps it to the more here-and-now without requiring a specific situation to motivate the drama.
The acting from both Kemnitz Jr. and Ward are believable and compelling, as is Marco DiGeorge playing attorney Evan Sterling. DiGeorge's character is able to add a lot of interesting friction to the situation that Maggie finds herself in.
Great commentary on the true cost of the so-called "American Dream"—especially to Millennials who believe they can do better than their parents did at a far younger age. And the ending is both foreshadowed well, yet unexpected for most viewers.
Watchability
While this is very watchable film that the creators put a lot of time into, its pace is overly slow—especially in getting to the main premise of the camping accident. Smaller issues were the handheld camerawork that got a little too shaky from time to time and the dialogue that, despite being meticulously mastered for high quality sound systems, was a little too soft on more basic speaker configurations.
All in all, though, the positives I mention in the story area make up for the technical issues in watchability.
How Far Did you Watch Through It:
100%
Why?
Somewhat like this past year's The Florida Project (which also looks at what people do to try to survive in Orlando), this film is a bit ponderous and unwieldy. However, it manages to hold your interest even as its main mystery fades into the background in favor of a drama about a young woman trying to uphold things after her husband is gone.
Closing Thoughts
While it's a slower burn than it needed to be, I enjoyed the thematic exploration of "If the things we own end up owning us, what will we do to keep those things?" In that regard, it gave me a bit of the flavor of movies like Memento.
Final Score:

7.5
–
Worth Watching in an arthouse or festival setting