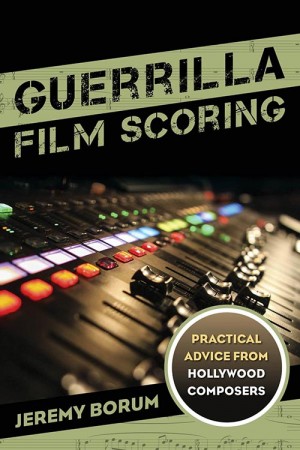 Author: Jeremy Borum
Topic: Film Composition
Publisher: Rowman & Littlefield
Available Formats: Paperback, Hardback, eBook
Page Count: 270 Pp.
MSRP: $30
Expected Release: Available Now
Official Website: Click Here
Sample Chapter: N/A
Special Discount: Click Here
Critique Issue: Issue #111 (06/15)
Critiqued By: Gabe Gibitz
Final Score: 8.8
Scoring music for film is quite an overwhelming task, and Jeremy Borum sets out in his new book, Guerrilla Film Scoring, to demystify the process and help budding film composers navigate the tumultuous waters of the ever-changing film scoring business. (Some may see the waters as tumultuous, but I think Borum would see this as an open door for massive change in the industry…and, to that, I would agree.) His introduction sets up the framework of the entire book in saying, "Although a study of the Hollywood machine is interesting, it's ultimately not very useful" (xi). The rules that applied 20 years ago are a frail, dying structure upon which to build a film career. Though Hollywood budgets still exist, the average film composer will find much more work in micro-budget films.
From project management and meeting deadlines to tips on staying in a constant state of creativity, Borum enlightens readers on the art of "making it" as a film composer. This film scoring "field guide" engages readers with a conversational style of writing, hundreds of quotes from Hollywood film composers in the industry today, and links to engaging video interviews on the topics that could make or break a modern film composer's career.
Comprehension
Borum's conversational style is a reflection of the goal he sets out to accomplish in this book. Speaking to his reader as if he were talking over a cup of coffee, he exudes a warm teaching tone, breaking down the writing process very well for his reader. Coming from a wealth of knowledge and experience, he explains the entire process of film scoring with ease.
While the quotes from other Hollywood film composers are helpful, they can be a bit intrusive at times. The presentation of some of the quotes is done in such a way that multiple quotes break up the main body of the book – so much so that it made it hard to remember what Borum was saying after being interrupted by three back-to-back quotes within the body of the chapter. Reading it on an e-device, I found myself having to awkwardly scroll back up to read the last sentence Borum had written before the quotes to continue the chapter.
Depth of Information
Borum aims to capture a wide breadth of content for budding film composers and definitely hits the mark. He walks his audience through preproduction, production and postproduction with chapter titles like "Education," "Time Management," "Score Preparation," "Mixing and Mastering" and more.
In regards to the content of the book as a whole, I was a bit disappointed that it was written by one person and only peppered with quotes from other Hollywood film composers. From the way I interpreted the copy on the front cover, I was expecting the entire book to be lengthy conversations with well-known Hollywood film composers. (If that assumed style had been followed, it would have provided fewer injected quotes, which in turn would likely have made the book easier to follow.) While this wasn't the case, the book was still an impressive collection of Borum's insights heavily supported by quotes from other professionals in the industry.
Interest Level
The conversational style of the book continued to keep me engaged from cover to cover. Staying out of the technical aspects of music theory and composition allowed the author to engage his audience in the practical. Borum also swiftly moved from subject to subject, which also engaged me.
To engage readers in a different way, the author also constructed a feature-length documentary that is divided into ten-minute segments to facilitate classroom discussions and non-linear viewing of the material. Distributed by Scorbit.org, the videos can be viewed here.
Reusability
Insights from Hollywood composers and practical, quotable advice from the author make this book something readers can use over and over again. Throughout my read, I wrote down more quotes and notes than usual for a book like this. Guerrilla Film Scoring is a trustworthy reference guide that film scorers will refer to time and time again in their music careers.
Value vs. Cost
Perhaps this book was marketed more as a digital download, but $30 seems a bit steep for a book like this. I would expect to pay 20-30% less. I would suggest that paying $16 for the Kindle edition sits this work in a much more comfortable price range.
The book itself is a worthy investment, however. Readers will avoid costly mistakes that would more than cover the cost of the book dozens of times over, and you will be hard-pressed to find a book that presents this amount of information succinctly and informatively in one place.
Overall Comment
This book is a worthy investment for any film composer as well as any filmmaker desiring to understand the mind and life of a composer. Borum engages his readers in a conversational style that, in my experience, is unprecedented in the world of film scoring. Avoiding dry theories and explanations, the author engages his readers' minds and hearts to see the new landscape of filmmaking and film scoring – a landscape that holds as much promise as it does uncertainty. Microfilmmakers would be wise to learn from Jeremy Borum. The value this book will pay for itself dozens of times over.
| | |
| --- | --- |
| | |
| Comprehension | 8.5 |
| Depth of Information | 9.0 |
| Interest Level | 9.0 |
| Reusability | 9.0 |
| | 8.5 |
| Overall Score | 8.8 |