Short Critique
Stalled Love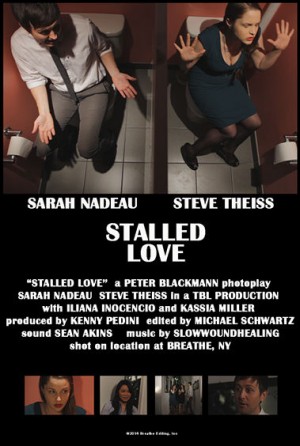 Director:
Peter Blackman
Expected Rating:
PG-13 due to language
Distribution:
Digital VOD
Budget:
$10,000
Genre:
Romantic Comedy
Release Date:
March 1, 2014
Official Website:
thinkbreathelive.com
Trailer:
vimeo.com/91953205
Running Time:
11 minutes 15 seconds
Critique Issue:
Is. #100 (07/14)
Critiqued By:
Jeremy T. Hanke
Final Score:
7.7
(out of 10)
Eddie (Steve Theiss) is in trouble with his girlfriend, Lori (Sarah Nadeau), because he's making eyes at Rebecca (Iliana Inocencio). However, when he follows Lori into the women's bathroom to explain, things go further awry when he gets stuck in the adjoining bathroom stall.
Content
"Stalled Love" is a cute film and the chemistry between the main actors is good. The acting's a little hit-or-miss sometimes, with overly abrupt changes from Lori.
I got the feeling that it was dialogue written by a man about how men think women behave, but it didn't ring true to the actress, so it came out a bit awkward. (This was especially the case when Lori accuses Eddie of "flirting with big girls" and it turns out that the woman in question is a tiny little Asian woman. This might've been the point—to emphasize the belief that women are paranoid—but it rings hollow if you don't realize what a woman is insecure about. A woman would've called the other woman a "skinny twig" if she was smaller than she was; she'd only call the other woman a "big girl" or "fat" if that woman was better endowed than she was.)
Despite that issue, the overall dialogue seemed close enough to real life, with some embellishments for the screen, that it was an enjoyable romp, from beginning to end.

Visual Look
Shot with a Canon 7D DSLR camera, the film is pretty well composed. Strong directional lighting was used to recreate the light in a restroom, although a little bit more fill light to bring out the eyes would've helped the look a bit—as would lights that weren't clearly placed in the bathroom door.
The editing works, though there are some odd cuts that jump the line due to the very constrained environment.
Use of Audio
With dialogue recorded with wireless lavs into a Tascam recorder, the actual dialogue recorded in this film is pretty decent and you can understand it most of the time.
With that said, the actual mix of the audio is problematic because it spikes when either of the main characters raises their voice—which is unpleasant for the listener.
This usually occurs when you're trying to mix the general dialogue level to a point where you can hear most of the conversation, but then you redline the mix when they raise their voices. The best way to deal with this in my experience is with a plugin that's able to bring the volume to a certain range and then limit it so that it doesn't peak. When MFM had some issues with a digital show we help on called the Silas & Ami Show, we went to Oakwood Sound Design who helped us come with some presets for a plugin from iZotope called Ozone 5. The presets helped bring our female protagonist up to the same range as our male protagonist and kept both from spiking—and it improved how easy it was to hear both on mobile devices. (It also didn't muddy the emotion when someone would speak up because they were angry—which a lot of plugins have a hard time with. For an hour or two of work, a good audio studio can save you a ton of time—often for future films, as well. If you want to check out the one we use, you can check out: Oakwood Sound Design, where they're giving a 15% discount to MFM readers.)
The other part that could be assisted with the audio on this film is the room tone. Apparently they weren't able to turn off the air conditioners in the bathroom when they shot the film, so the random air conditioner noise shows up in different shots, usually at different volumes. The simplest solution for this is to find the loudest incidence of the air conditioner and then put a bed of it at that volume under everything. If the background noise stays the same, it ceases to be noticeable. [The other options would be: A) to use a good hum removing software to remove the hum, like iZotope RX3, which we recently reviewed, or B) to put a bed of muzak-like music bed under the dialogue which could drown out the air conditioner.]
Currently, the only music is at the beginning and ending of the film—which is a weird super Indie song that actually reminds me of the music from Jason Gilbert's film, The Coat Room. While the music wasn't my cup of tea, as it would've worked better if this were a bathroom at a coffee house instead of a fancy restaurant, it still did a good job of setting a quirky tone for the film.
Use of Budget
$10K for a film that's less than 12 minutes that's shot inside a bathroom stall seems a bit expensive, unless you actually built the entire set—which I don't believe was the case. They did purchase equipment, so if that's the 7D, lenses, a tascam recorder, and wireless lavs, that can take a bite out of the rest of the budget.
Lasting Appeal
"Stalled Love" ends up being sort of like a cute extended Valentine's card, but, like any memorable Valentine's card, it'll likely be reread fairly regularly. (I could actually see a deeper type of argument done in a bathroom—like actual infidelity or something—where neither party can get away because they're locked in a bathroom, as a pretty intriguing idea for a feature film.)
Overall Comment
Usually the adjective "cute" is a dismissive or insulting word, but, in the case of Stalled Love, it's actually a compliment. Yeah, Stalled Love feels like an exploratory student film, but it doesn't take itself too seriously and it manages never to get overly painful—which is a masterful accomplishment with this type of film! I look forward to what Peter Blackmann decides to explore with future films!
8.5

Visual Look

8.5

Use of Audio

7.0

Use of Budget

6.0

Lasting Appeal

8.5

Overall Score

7.7

How do we critique films? Click Here To See.