Camera Review
Pocket Cinema Camera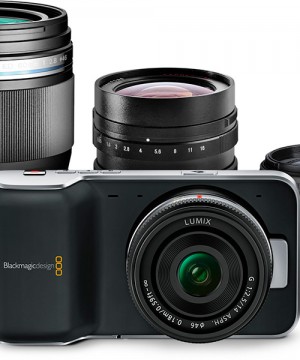 Company:
Blackmagic
Type:
Cinema Camera
Recording Media:
SDHC Card
MSRP:
$995
Purchase:
Click Here
Release Date:
Available Now
Official Website:
www.blackmagicdesign.com
Review Issue:
#99 (06/14)
Reviewed By:
Eric Henninger
Final Score:

7.3
I recently had the opportunity to get my hands on the Blackmagic Pocket Cinema Camera (which I will refer to as the BMPCC) and review it. I'm a guy and I like for things to be user friendly, easy to figure out with little to no explanation. So, despite the fact that I'm a filmmaker that's shot with a lot of cameras (most comparably: the t2i and Hero3), I decided the best way to begin this review was to approach it like a complete novice. Out of the box and shoot.
My intent in doing this was to see how the average person, with less experience behind a camera, would fare trying their hand with this intriguing camera. And, let's face it, the price point is very reasonable, so people wanting to try their hand at any kind of filmmaking will definitely be looking at this camera.
With this in mind, I set out to see how well I could make out withthe camera as a novice filmmaker. What did I film? My best friend's son while he went on a "zombie hunt." You heard me. A zombie hunt.
That said, my thoughts on the camera are below, along with my little "film" of random clips from the zombie hunt. Enjoy!
Ease of Use
Out of the box I found it easy to find where all the basic things were on the camera, as far as, battery door, SD slot, etc. Kind of obvious stuff, but I think it can make a difference. As it turns out, the battery housing, the SD slot, and the USB connection are all in the same place. So, there's only one "door" to ever have to open. Again, a little thing, but I like the simplicity of it. I turned the camera onand there's a wonderful little display at the bottom giving you some basic info: frame rate, ISO, and color temp/white balance, and battery life. The next logical step for anyone would be to press the menu button to further explore options. Again, easy to find and the menu options are easy to navigate.
One menu option, however, that was new to me was "shutter angle," which is used with traditional motion film cameras, but isn't used with digital film cameras normally.
[Note: A rotary disc shutter is a type of shutter used in motion picture film cameras. Adjusting the shutter angle effects the amount of time that film is exposed to light.]
Not sure it's a great idea to use such a film exclusive term on this camera, unless it's designed solely to appeal to people transitioning into digital from film.
[Editor's Note: For new users, when shooting at 24P (23.98 fps), a common shutter angle to shoot at is 144 degrees. -JH]
The other thing that was different than the DSLR cameras I am most used to working with is that the white balance is listed solely in color temperatures (3200K-7500K). For the newcomer, I imagine there will be a lot of confusion and google searching to find out: "What do these numbers mean?"
Considering that this is called a "Cinema Camera," it's possible that this camera wasn't even made with the novice in mind at all, but just as a B-Camera for filmmakers already using more advanced rigs (like the RED or Alexa) or the ones transitioning to digital. However, based on the price point, I think it's safe to assume that there will be a lot of novices using this camera as their first one—especially since it's form factor is so similar in look to the iPhone. That being the case, I'd prefer white balance settings labeled in layman's terms, "Shade," "Daylight," "Tungsten," etc. (At least make that an option, or have a hybrid style like: "Daylight – 5600K," "Tungsten/Indoors – 3200K," etc.)
There's also no auto WB setting. Normally, I don't like to use auto settings of any kind, but it's a nice option to at least have, especially for new users. In the case of the zombie hunt we were on the move and, while the day was over cast, I had set the white balance to a temperature that was the equivalent of "shade" and then we were on the go. Even from behind the clouds the quality of light shifted a little. So, in my video I have done no color correcting. I just used exactly what I shot.
Depth of Options
As mentioned before, the Blackmagic Pocket Cinema Camera give you several color temperature (white balance) settings, ranging from 3200K all the way up to 7500K. You likewise have the option of four ASAs: 200, 400, 800, and 1600.
One of the things that I especially liked was the fact that the Blackmagic Pocket Cinema Camera captures in Apple ProRes 422. Guess what that means if you're using Final Cut: no conversion before editing. You can pull your clips right from your SD card and into FCP and start editing! That's a big plus for me on the editing side of things, over video DSLRs like the t2i/t3i and 5Ds that really need post-conversion to be able to do much with.
Blackmagic has also given us some frame rate options: 23.98, 24, 25, 29.97, and 30 FPS. The only two that I personally ever use are 23.98 and 29.97. Honestly, I like to have the option of at least 60 FPS in case I want to get something in slow motion and maintain image integrity. Sure I can shoot in 30FPS and slow it down in post with Twixtor, but it doesn't look the same. I'd rather that Blackmagic had put a 60FPS option in place of one of the non-digital frame rate options.
Designed to give a Super16mm quality image that could be cut in with more expensive cameras like Alexa or REDOne, the external lenses will give you the greatest capacity to create amazing images or lackluster ones. To keep weight down, the system is designed to use the smaller, lighter micro-Four Thirds's lenses, which were developed by Panasonic and Olympus for use with their video DSLRs. (You can get adapters for manual lenses for as low as $20, however. Just remember to use some form of lens support if you do use large lenses, as you can clearly see in the Biscardi example above.)
Performance
Overall, the BMPCC camera performs rather well; footage looks crisp and no obvious issues there. As others have noted, high ASA imagery is especially clean.
The screen on the BMPCC may not be touch controlled, but it's easy to see and know that your focus is accurate and your shot is composed well. That's a rare thing for most low-budget cameras!
The BMPCC has a mini jack for an external mic as well as a built in one (which works quite well) and has a variety of level controls for the audio in the menu screen, which is very handy. (The preamps for such a small camera, however, are limited. As such, I'd recommend that, rather than adapting a shotgun to the mini-jack, you just use a standard video DSLR workflow of recording your main audio from your shotguns to something like an H4N and using the on-camera audio to sync afterwards.) I've used some different cameras with no audio controls and you just hope for the best.
The body of the BMPCC is compact and easy to get into tight places. I used a Panasonic 14-45mm AF MFT lens and it gave the camera a nice weight and balance, making it much easier to hand hold than I would have expected.
With that said, having the ISO and the white balance tucked into a menu screen creates an access issue when you're moving quickly and want to change either of those settings. On certain cameras, it's as simple as rolling a dial or a quick press of a button which can be done while you're keeping your eyes on your subject. Having to scroll through a menu is just too much, in my opinion and certainly not easy to do on the fly.
I found the iris button to be impossible to figure out without reading the digital manual. If you push it while it's in "Video" mode, it'll create an "average" exposure. (If you're already in an average exposure situation, as I was, you'll hit the button and see—nothing.) If you're shooting RAW "Cinema" mode, then the Iris button will set the camera to the highest exposure the lens can achieve without overexposure. Either way, it, like the Auto-Focus, are sluggish. The Iris issue was probably the only thing that really aggravated me as I tried to use the camera.
Aside from those things, the BMPCC handled well and shoots some nice footage; assuming you know what the different color temps are or at least have an eye for what looks right.
Value
I feel like I can spend less money on other camera bodies and actually have some more options, especially in the frame rate department. However, at under a grand (not counting lenses and any add ons), the BMPCC isn't a bad buy. The display screen alone almost makes it worth the money, to say nothing of the ability to edit your footage without conforming it.
For those who need a cinema style camera and the features the BMPCC brings to the table, this could be a good buy—although, unless size is your main consideration, you might want to consider spending a little more to get its older brother, the 2.5K Blackmagic Cinema Camera that we just reviewed, which has now dropped below $2K. For new filmmakers who are wanting a good starting place, I feel the BMPCC  price point is a little high for what you get.

Final Comments
Overall, this is a decent camera, but it just didn't blow my mind the way I was hoping it would.
For the next version, I'd love to see them add 60P as a frame rate option and improve the iris and autofocus. If switches to put the controls for ISO, focus, and white balance right at my fingertips are out of the question for space reasons, then hopefully they can add a touch screen and iPhone-style touch controls. These are really just conveniences, but it's the little things that make a camera one that you'll keep picking up to use.
| | |
| --- | --- |
| | |
| | 7.0 |
| | 8.0 |
| | 8.0 |
| | 6.0 |
| Overall Score | 7.3 |