Software Review
Hollywood Strings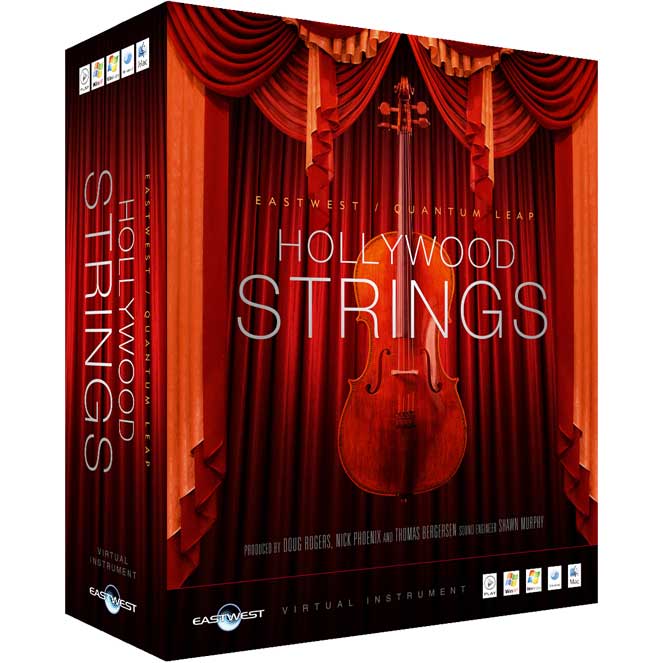 Publisher:
EastWest
Platforms:
PC & Mac
Description:
Audio – Orchestral Library
MSRP: 
$795 Diamond Edition, $495 Gold Edition
Expected Release: 
Available Now
Official Website:
www.soundsonline.com
Samples:
Click Here
Demo:
  N/A
Special Discount:

N/A



Critique Issue:
 Issue #78 (08/12)
Critiqued By:
Gabe Gibitz
Final Score:
9.6
Nothing evokes emotion like a string orchestra. The rich sustain and powerful swells of these instruments have been resonating in the human soul for centuries. And strings have been the bedrock of motion picture films for decades—regardless of a film's budget. In fact, the presence and placement of these instruments have a direct result on whether or not the filmmaker is successfully able to tell his or her story.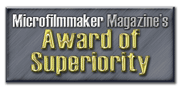 Now, this is all well and good, but what is a filmmaker on a strict budget to do? When hiring an orchestra is out of the question, many filmmakers and composers over the past several years have turned to virtual instruments—an orchestra in a box, if you will. These virtual instruments are played with MIDI keyboards and emulate the sounds of strings without the filmmaker paying exorbitant amounts of money for a session with two dozen orchestral musicians. It has been a favorite of popular film and TV composers for years now.
While virtual instruments will never take the place of a real orchestra, EastWest's "Hollywood Strings" collection comes the closest to any string library I have ever heard. As a connoisseur of truly life-like virtual instruments, I have yet to find a library better than Hollywood Strings. Even more, this massive collection of string samples is made especially for film scores (hence the name 'Hollywood'), so most string sounds you would need for your next film are found in this beautiful symphonic collection.
Hollywood String's library was so large that I received the sample library on an internal 7200 RPM hard drive, a Western Digital Caviar Green model.  Even though it is possible to use these drives as your playback drives for the instruments, these drives are Western Digital's basic performance drives.  It's recommended that you copy the libraries to a faster, more robust drive.  This is also a good idea because then the original drives will serve as a backup.
Once installed and ready to play, I found the results astounding. This review specifically covers Hollywood String's Diamond Edition (the more exhaustive of the two libraries). The Gold Edition, which uses 16-bit samples (compared to the Diamond Edition's 24-bit samples) and sports fewer microphone placements, is still a great option. It is also fully upgradable to the Diamond Edition if you decided to do this later.
This library is nothing less than stellar, so, without further ado, let's dive into EastWest's Hollywood Strings.
Ease of Use
For reviews of products like Hollywood Strings, it almost seems unfair to speak negatively of this virtual instrument's ease-of-use. As I have said in previous issues of this magazine, with massive depth of options comes a steep learning curve. Learning to play a string library with this much depth feels almost like—and takes nearly as much time as—learning to play a real instrument. To truly master this instrument, one must (1) understand the many articulations of the strings family, (2) understand how string players play (such as vibrato and volume swells), and (3) be able to control these pieces in real-time or in post-production.
This is the dilemma with virtual instruments. If you want to truly master this program, it will take time. On the other hand, if you want a string library that is easy to use, it will not sound realistic. That is the give-and-take of virtual instruments. Put in high school math terms, ease-of-use is inversely proportional to the depth of options. At least to this point in the history of virtual instruments, there is no way around this. Mastering Hollywood Strings will take some time.
For intricate virtual instruments like Hollywood Strings, I always award bonus points if the company includes a manual (see other reviews like iZotope's Ozone 4 and Ozone 5). Each time you install one of these PLAY System libraries, two PDF manuals are copied to the file system on your computer:
The manual that describes the whole PLAY System. This addresses how to install and use all aspects of the software that are common to all libraries.
The library-specific manual.  This document describes aspects that are unique to that library, such as the list of included instruments and articulations.
I'd strongly recommend you read through both, especially for your first PLAY library instrument, to get the best experience possible!  Note, Gold and Diamond editions have slightly different manuals, so make sure you're reading the correct one.  Noting this is important particularly for Diamond owners, because those editions actually include both Gold and Diamond editions.
Depth of Options
On top of creating a library that sounds amazing, EastWest has included several options on the main PLAY interface window that are not found in most libraries. Users can choose where on the instrument's neck the strings player will be playing the note. This adds tremendously to the realistic quality of the instrument. Vibrato and intensity controls are at the user's fingertips, allowing for a highly custom experience. And legato modes have been created for three different articulations, specifically giving users control over legato passages.
And while this isn't solely specific to Hollywood Strings, this program incorporates a round-robin setting that is selected by default. With the round-robin setting, two different bow strokes are recorded for each note. The computer then knows which bow stroke was played last and proceeds to play the other sample, giving listeners even more of realistic feel from these virtual instruments. The round-robin technique of playing different samples upon repeating a note is a great concept because it helps the patch sound more realistic and avoids the overly synth sounding method of the same sample being played again.  However, if the samples are not enough alike, well, you can see how that could pull the listener out of the illusion that they are listening to live musicians.
A nice collection of complementary impulse responses are provided for the built-in convolution reverb.  If you desire more options, you can always purchase their "QL Spaces" or another convolution plugin and insert it in the output of the PLAY engine with your DAW's mixer.
Performance
Hollywood String's performance is both excellent and extremely demanding on a personal computer. System demands are high, especially when using multiple microphone positions.  Gold edition requires fewer resources because it uses 16-bit samples instead of 24-bit.  Diamond editions also include Gold editions on the hard drive, so it would theoretically be possible to work with Gold instruments while nailing down all the parts, automation, etc. then switch over to Diamond instruments to render the parts with the highest sound quality possible.
The downfall to Hollywood Strings is its massive size and demanding computer requirements. I tested this along with Hollywood Brass. I would recommend a computer with as much RAM as you can afford and a fast drive (or drives) to put these libraries on.  For the most serious users, a dedicated computer for each library is best. However, if you're careful to manage your resources carefully by "freezing" tracks, etc., it's certainly possible to get amazing-sounding parts done in the context of a project with multiple tracks on a single computer.
Value
If you can afford an investment for your next film and have dabbled in music composition before, Hollywood Strings is definitely the best library out there for the price. The next step up from this tier of virtual instruments is "Vienna Instruments," which steps into an investment of thousands of dollars. As mentioned earlier in this review, the Diamond Edition, which runs just under $800, is definitely worth the money if your budget allows for it, but the Gold Edition is a great price for this instrument, coming in at just under $500. The Gold Edition is even upgradable, so either option will suit you well.
Those who will find the most use of this product are filmmakers who have experience in music and composition. This segment in microfilmmakers is growing, and a Hollywood-quality virtual instrument like this is just what some may need to add a film score to a low- to mid-budget film. Check out these samples to see just how great of a value you would be getting if you chose to invest in a virtual instrument like Hollywood Strings.
Final Summary
If you have any experience at all with film scores and are making films, Hollywood Strings is definitely worth working into your next film budget. The realistic sound of this instrument library is second to none, and the tools you need to create a realistic string section are all available at your fingertips. While the computer demands are high and mastering this virtual instrument may take some time, Hollywood Strings is definitely worth your consideration. If you are curious to hear more of these incredible samples, head to EastWest's demo page. Next month, I'll be looking at "Hollywood Brass," the second installment in EastWest's Hollywood series. For those interested in this series of products from EastWest, Hollywood Woodwinds was just released last month. You can hear this incredible sound library by clicking here.
| | |
| --- | --- |
| |   |
| | 8.5 |
| | 10.0 |
| | 10.0 |
| | 10.0 |
| Overall Score | 9.6 |