| | | |
| --- | --- | --- |
| | | |
| | | |
| | | |
Matt Luotto walked 2,175 miles to shoot a feature length documentary. He shot all his footage hand-held, and he carried his camera in his backpack.

I saw the first cut of Lucky Joe in 2008, at a screening at Cubberley Center in Palo Alto, California. The images, when projected on a full size movie screen, were flawless. I couldn't believe that Luotto had shot them hand held, with a consumer grade camcorder.

The lessons the Luotto learned about shooting hand-held footage were learned the hard way. He did not have a tripod or monopod, and he had to shoot in all kinds of weather. He was forced to develop simple, repeatable techniques to get good footage every time--no matter how tired, wet, cold or hungry he was.

Luotto is a passionate hiker and professional filmmaker. He set out to make a film about hiking both the Pacific Crest Trail and the Appalachian Trail. His first film, Lucky Joe Goes to Canada is about the people he met, the relationships he developed and the experiences he had while hiking the 2,175 mile Pacific Crest Trail.
Trailer for Lucky Joe Goes to Canada
I asked Matt if he would share the lessons he learned about shooting hand-held footage while filming Lucky Joe Goes to Canada.

"My original goal with the Lucky Joe series was to produce three films on long distance hiking trails. So far, I have hiked over 5,000 miles and shot more than 100 hours of video.

"In the beginning, I tried carrying a trekpod (a combination trekking pole and tripod). However, I found that not only was it not nearly durable enough for my needs, but it detracted from my vision of forming and documenting relationships that reduce the perceived need to 'act' for some imagined, future production.

"I found that I could strike a balance between a video journal approach and a more polished, professional look by following a few simple techniques.

"First, I tried to use the zoom function as little as possible. I would just pick a frame and stay with it, trusting my initial instinct and not trying to capture everything all at once.

"Second, I would always try to hold the camera as absolutely steady as possible by keeping my elbows against my chest and using one hand to support the camera, while using the other to steady it. There were times when sitting down with my subjects and holding the camera in my lap worked well also.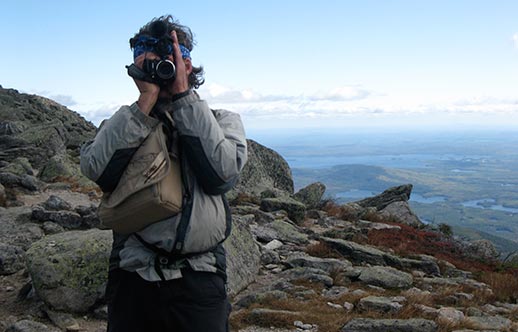 Hold the camera steady.
Images copyright Matt Luotto & Elisabeth Barton, 2008
Photographer, Matt Luotto & Elisabeth Barton
"I have become very convinced that the smaller the production (equipment and fuss), the better and less affected the story. Like Studs Terkel used to say, 'We are more and more into communications and less and less into communication.' "

There are five big lessons for hand-held shooting in Luotto's story.
Mission | Tips & Tricks | Equipment & Software Reviews | Film Critiques
Groups & Community | Links & Savings | Home