Software Review:
Publisher: Name of Publisher
Website: http://www.maxon.net
Platform: Computer Platforms Supported
Description: Professional 3D Program

MSRP: Prime Ed: $995 ($395 Upgrade)
Studio Ed.: $3695 ($895 upgrade)

Download Demo: Click Here
Samples: Click Here
Expected Release: December 1, 2010
Review Date: November 1, 2010
Reviewed By: Mark Bremmer




Maxon wants to get into your film production. To prove it, they keep adding very useful features to their program. The latest offering of the award winning Cinema 4D (C4D) adds some super practical features that should make filmmakers who use or want to use matte painting and digital scene building tool.

I'll be looking highlighting the latest improvements and additions championed in r12. For a complete sense of what the software is capable of, you can take a quick spin through other reviews on this site:

In addition to the new whizmos and capabilities, Maxon has chosen to fundamentally change their former "module" method of acquiring their products. Prior to r12, you could do the "a la carte" thing of adding certain features like Advanced Lighting or Hair as a separate plug-in or capability. No longer. These capabilities are now simply part of the software. Also worth mentioning is that the stellar texturing tool Maxon makes called BodyPaint, comes with any version of C4D too and it integrates with the new color profile capabilities.

So what's the difference between the Prime and Studio editions? The Studio edition has everything and the kitchen sink; Cloners, MoGraph effectors, hair and cloth tools and Global Illumination capabilities. Studio is really geared towards, animation, character animation and motion graphics or really, anything you want to throw at it. Studio has all that Maxon offers.

The Prime edition, on the other hand, is for users that just don't need all of that. (See the comparison chart here.) But, the Prime edition has much more now than the Core edition of r11 had. For those interested in the Prime edition, it has received a nice inheritance of features while remaining unchanged in price. We'll only be looking at the two versions of C4D most useful for filmmakers: the Prime and the Studio editions.

Ease of Use
While I'll cover options for the enhancements further along in this article, suffice to say, that Maxon has continued their relentless push towards making the use of their software easy. Really. No complex hierarchies. Just drag and drop simplicity or "right click" menus that adapt and change based on what your mouse is over. Simple.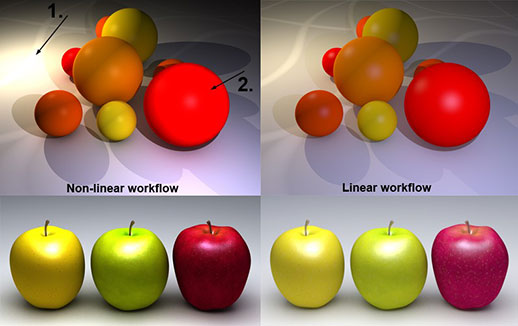 Linear Workflow, enabled by click a button, creates a more realistic dispersion of light as in the real world. It also reduces the CG tendency to over expose objects in the specular areas. In this example, area 1 and 2 show the more believable results of a Linear Workflow.
In particular is a new feature called Linear Workflow. To users, all the terminology really means is that now renders can look even more realistic with significantly less fussing with lights and other environment settings. While Maxon has innovated in a number of areas over the years, their real accomplishment is engaging new capabilities in a way the rewards users for engaging the features instead of frustrating them or sending them to cryptic descriptions penned by developers whose lives are based around math and coding. In speaking with Luke Stacy in Maxon's offices in the UK earlier this year, the development team believes that it is more important to be good than be first.

Likewise for the new dynamics of motors, hinges, springs and soft body dynamics. They are just flat out easy to use. And that's a significant accomplishment for some fairly robust additions.

Consistency between CG and film footage also just got a magnitude of order easier to do. Color profiling across textures and renders mean that when you are back into Nuke, AE or FCP, integrating CG content goes much more quickly because the colors simply match.

What does that mean to a filmmaker? It means that Maxon has ensured that filmmakers will spend less time on the computer work station and more time shooting and editing - all with better results. For those completely new to the world of computer generated content, there is always the quid pro quo's of having to learn a different technology. But even that isn't an impossible learning curve thanks to the user friendly interface and the host of tutorials available from Maxon's own online education and training resource, Cineversity. In fact, C4D has an entire ecosystem of users offering free and pay-for tutorials helping new or seasoned users get up to speed with C4D's feature sets.

Depth of Options
C4D is option rich and usage simple. (Please see some of the linked reviews mentioned earlier to get a full sense of what C4D can do for your studio.)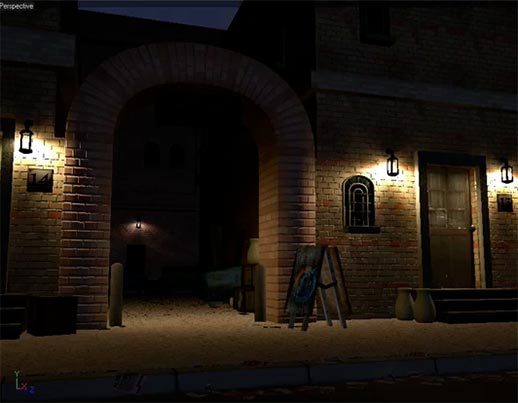 The Linear Workflow has multiple benefits - reduced render time, reduced spotting and artifacts and better anti aliasing. In this example, the OpenGL preview accurately displays the effects of Lin. W in preview mode. Additionally, the change to Lin. W also is previewed in the materials/shader palette.
Let's hit the highlights of this new feature, then we'll round trip back to the Linear Workflow (also known in other software as a Gamma 2.2 method). Let's not talk about math, let's talk about results. The Linear Workflow (Lin. W) simply creates more realistic light behavior in a scene. Scenes have a more even dispersion of light and reduced instances of 'hot' or overexposed areas. The light, just like in the real world, behaves in an additive fashion; that is, light doesn't cast and dissipate in a perfectly even fashion. It's less even and Lin. W. accounts for that. For filmmakers, this means environmental mattes will just look that much more real with less tweaking. This is not an adjustable feature; users simply turn it on or off. (Be advised that scenes created or saved in r12 will not open in earlier C4D versions.)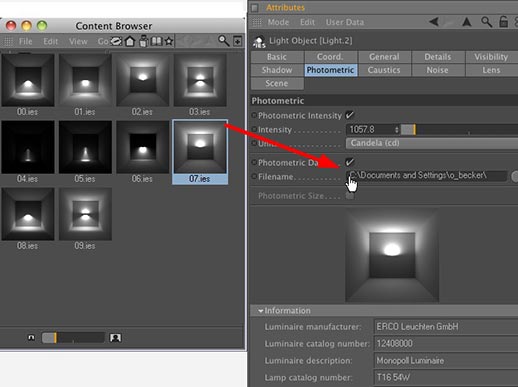 Engaging IES lights is as simple as dragging the previewed profile into the IES light.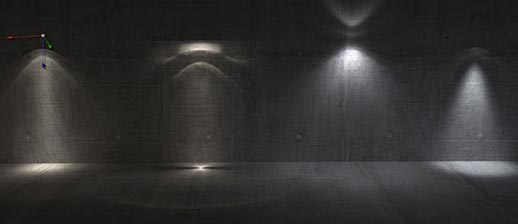 IES profiles generate real-world lighting patterns due to bulb shape and reflector qualities giving greater realism to the imagery.
To add to the reality of the lights in the scene, users can now engage a delightful feature called IES lighting. IES (Illumination Engineering Society) lights in the 3D world use mathematical profiles based upon real lights and reflect. Surely you've noticed that track lights and recessed lights display on walls and floors with unique hot spots and shadow areas. This is because of the shape of the light bulb and how it reflects. The IES profile is that behavior captured in a little bit of math. This capability is either on or off but C4D comes with an excellent 'starter' collection of IES profiles. Additional IES profiles can be found by Googling "IES Profiles" and downloaded for free. Realism just got easier. Again, Maxon is not the first-to-market with this feature but the render results are so good and without artifacts that it is super easy to use - worry free.

Consistent Measurements
But realism doesn't stop there. The True Units of Measurement (TUM) is info that keeps track of the size and scale components of your scene, handling conversions and scaling on the fly. This info is then kept with the scene. For those new to 3D, this might seem like a "no duh" item but the complexity of importing different content, building unique content and then changing the size of scene elements and environmental settings is a ballet of interconnected figures. The payoff for filmmakers is significantly improved autonomy in modifying computer generated scenes without forcing more trial and error adjustments of textures, lighting and more.

Preview/Picture Viewer Enhancements
This might seem like a rather pedestrian improvement but the utility is extremely welcome. Without leaving C4D, users can now perform full-size, full animation playback and examine histograms of the imagery. When this is coupled with C4Ds ability to create post render filtering, it is now easier than ever to create consistent footage or images that are post production ready from the moment you import them into your non-linear editor.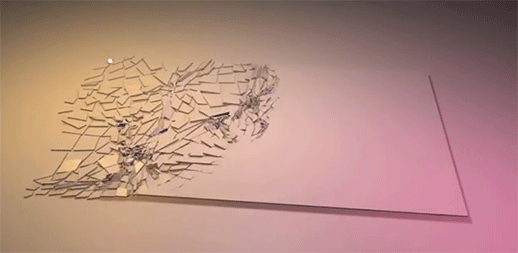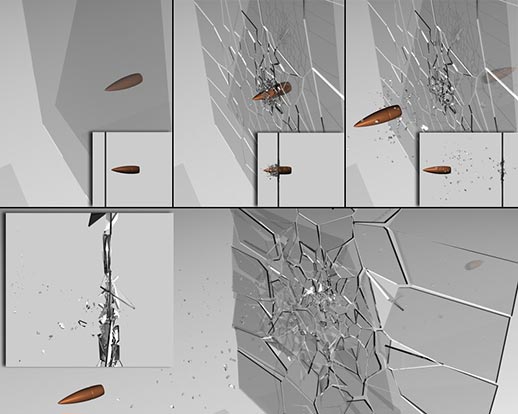 Whether it's boxes falling over or shattering materials, C4D's hard body dynamics makes it possible to have complex animation with little to no key framing.
Most filmmakers are not trying to be animators. However, animation of realistic items whether it's falling boxes or vehicles crashing through standing barrels or even things falling out of shelves is now even easier to do. C4D uses the now industry standard Bullet physics engine to calculate realistic object interactions - all without the filmmaker needing to do any complex animation whatsoever. In fact, users can now create motors that drive other functions in a scene. Additionally, rigid bodies can be turned into soft bodies (think something with volume but is squishy) with the click of a button.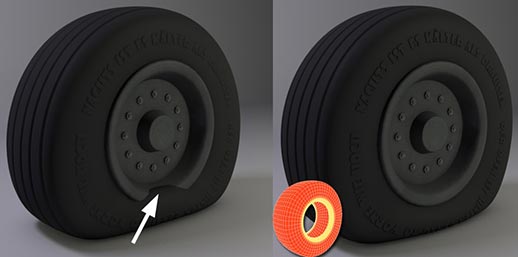 The new spring and hinge dynamics make complex interactions very easy to accomplish. In the case of the inflated tire, lets you easily stiffen specific regions of a Soft Body. The tire deforms accordingly when it loses pressure. Points on the tire were weighted, with the maximum weighting at the edge of the wheel rim (yellow). This is where the Shape Conservation is at its strongest. So, the tire will not deform near the wheel and will not penetrate the wheel (which itself is not a Soft Body).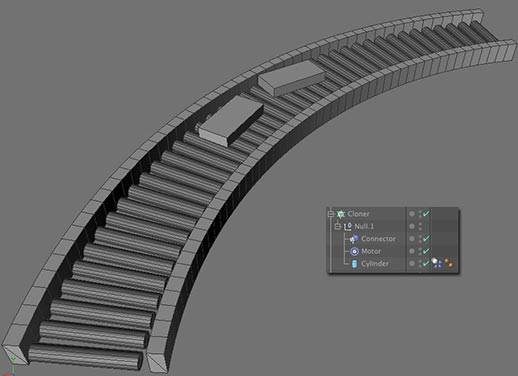 For the conveyors, motor behaviors were engaged on the rollers letting the boxes on top of them auto-animate in believable ways - with no key framing.
Coupled with that is the new and extremely easy to use connections for dynamic items. Capabilities such as hinges, springs and complex joints let users create motors that drive functions such as suspension systems, revolving doors and simple or not so simple machines. And these can be converted into soft body interactions as well. Character animators are all over this type of interaction. The possibilities that such 'automatic animation' capabilities bring to filmmakers is exciting. And it's all done without code writing or utilizing C4D's super customizable Expresso animation tool.

There is a longer list of new features that you can cull at the Maxon web site. But these are one ones that have the most significant applications for filmmakers.

Performance
In a couple of words: Stable and Fast.

I have noticed some odd screen flickers during redraws and I attribute that to the new OpenGL 3 capability. It's nothing that is consistent but, I was surprised to see it. But this brings up an important side note. Maxon continually improves their products in between "dot" upgrades and the program will automatically notify you of the improvement so you can perform the download and install directly from within C4D. So, I'm sure that this periodic screen flicker will disappear in an update.

But that is really the only tomato I can throw. After quite a few hours of use, r12 is just as stable as previous versions. That's worth something in this studio. It again merits mentioning that C4D r12 files cannot be opened with earlier versions and Maxon stresses to not switch version in the middle of a project. Also important to note is that r11 and earlier plug-ins do not work AT ALL in r12. However, many of the newer plug-ins have been adapted to work with r12 thanks to delightful developers. So, if you have some favorites that aren't r12 compatible yet, keeping around the r11.5 edition would be good.

Maxon has always equally supported both PC and Mac work environs and this has extended to r12 which equally supports both 32 and 64 bit systems. In fact, beginning with the the r11 series with the MoGraph module and cloning, MAXON has created some ingenious ways to create complex scenes that play well with 32 bit systems.

Value
Whether you are getting the Prime or Studio edition, C4D will cost more than a trip to Starbucks - even for the upgrades. (Many other CG packages at the same base price point cost significantly more for the upgrade, though.) However, if you really want cinematic quality in an easy-to-use package, you will never regret getting C4D. Not all filmmakers need photo realistic renders for their productions. While C4D certainly does more than photo realism, truth be told, that is how most filmmakers will use the application.

The Prime edition, especially with the Linear Workflow makes extraordinary environments within the grasp of average production budgets. And C4D's integration with FCP or AE can really seal the deal.

As a rule, MicroFilmmakers are on a budget. But so are large filmmakers. During one of my forays into SIGGRAPH, the animation and CG trade show, I was humored to find that Sony Pictures had run into a problem on one of their films. Most of the timeline was gone and so was most of the budget. But they still had to deliver half the CG shots in the film in 6 weeks with a staff of five. They turned to C4D because it's easy to use, powerful and stable - and finished the production on time and on budget.

Even big budget pictures are now being filmed more and more on green screen because it's cheaper and faster than doing location shots or building complex sets. If you are a filmmaker that can use such enhancements to your story telling, C4D is totally worth it. Multiply in the ample training that is available for C4D and it becomes very easy for humble filmmakers to engage a first-class 3D toolset. For a quick link-list of many free and useful C4D plug-ins, go here: http://www.learnc4d.com/FavoriteLinks.php

Final Comments
I wish more software companies followed Maxon's customer centric method of developing products. I always approach software updates with fear and trepidation because with many companies, it's always a guessing game about what "improved" work flows they engage that totally trash your current methods. If you've spent any time with Adobe products, than you know they are a hero at mucking about with interface elements. (Great software but annoying habits.)

Maxon does the opposite. When a feature is engaged, it remains in the same location. and on the rare occasion something moves, users can create shortcuts to mitigate it or rearrange the interface to their liking, which is absolutely fantastic. Users don't have to slow production down to pick up a new edition of C4D. Maxon's implementations are well thought out and wonderfully implemented. Improvements are seamless and easy to use. Like a good wine, C4D keeps getting better with age.
| | |
| --- | --- |
| | |
| | 9.9 |
| | 10.0 |
| | 9.9 |
| Value vs. Cost | 10.0 |
| | 10.0 |
| | |
| --- | --- |
| | Mark Bremmer has operated his own commercial studio for 15 years. He's been fortunate enough to work for clients like Caterpillar, Amana, Hormel Foods, Universal Studios Florida, and The History Channel; producing stills, digital mattes and animations. Mark contracts regularly as an art mercenary with production houses that shall remain nameless by written agreements. His production pipeline is Mac-based, with the FCP Studio2 workflow. He loves Shake and Motion. And his family. |
Mission | Tips & Tricks | Equipment & Software Reviews | Film Critiques
Groups & Community | Links & Savings | Home