Software Review:
Publisher: Antics Technologies Ltd
Website: http://www.antics3D.com
Platform: Windows Only
Description: 3D Animation Program

MSRP: Base Pack: Free ;
Pro Pack: $595

Download: Click Here
Download Samples: Click Here
Expected Release: Available Now
Review Date: August 1, 2008
Reviewed By: Michael J. Muwanguzi



Over the recent years, there has been a noticeable shift when it comes to producing animation. We've gone from painstakingly, hand-drawn cels to digital marionettes in which we now painstakingly position everything in order to create a visual narrative. The problem that most laymen encounter in making the transition is that the prerequisite to creating your own little digital slice-of-life means building all the parts yourself before you can even get to the animating part. Even the simplest objects need to be crafted with meticulous care in order to be believable. This almost always requires a deep understanding of how your bulky application of choice allows you to render them to the level of detail you desire. And all this just to get people to experience your story. Enter Antics 3D.

The people at Antics Technologies have put together a very unique program in which any storyteller knowledgeable enough with the basic understanding of 3D animation can focus primarily on doing just that, animating! Previously, if you wanted to spin a yarn using a 3D backdrop, you had to use an actual video game's in-game resources, a technique better known as machinima. With Antics 3D, you are provided with a 3D environment with a range of camera and animation editing tools put at your disposal. And about that pesky problem of creating all those assets, you ask? Again, all taken care of by the Antics Warehouse which contains a huge library of characters and object bundle sets that you can download for a reasonable price. If you want a quick and powerful way to get your animations done, Antics 3D provides a way.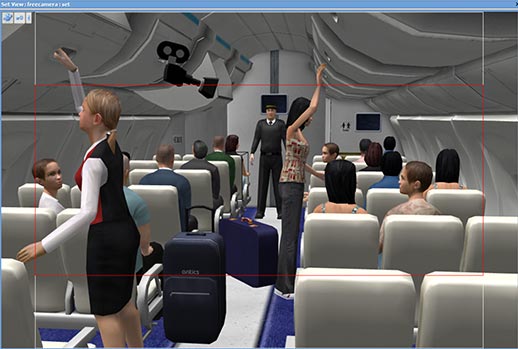 Ease of Use
First off, Antics 3D is quite easy to "get" upon start-up. You can definitely tell that the makers went to great pains to make sure the layout, tools, and operations are very clear at first glance. The toolbars and menus are rightly located at the top of the screen. The icons are easily recognizable as far as what their purpose is and are grouped together according to controls that share a common relationship, e.g. sphere and cones are grouped on a primitives toolbar. All the toolbars can be detached, turned off, or shuffled about on the top portion of the program until you find an arrangement that suits you.

On the right side of the screen, the Set List and Project Bin are where you store your assets for later use. Within both of these areas are a list of containers with compartments to hold and organize various items for you. Things like characters, lights, animations, etc. can be sorted and stored in either place. The crucial difference is that the Set List is only for the current project and the Project Bin holds assets for use with all the sets connected with this project. That way you can assemble several different scenes and locations and recycle the same characters and props without having to find and import them in for every new scene.

The last and biggest area in the lower right quadrant is your Set View. Think of this as your movie set. From here you can construct your set for the actors to play in. Using the tools up in the toolbar, you can put in floors and walls, holes for doors, and a roof. Then, pulling from the Set List or Project bin, you can populate your structures with characters and give them props to interact with. Once all that is set, you can use the commands and tools above to move and direct your actors across the stage. A lot of the operations are simple select and point commands to get your people to move and relate with different objects as you see fit. That really helps when you're wanting to spend more time finishing a project than trying to remember some complicated workflow like some of the bigger animation programs.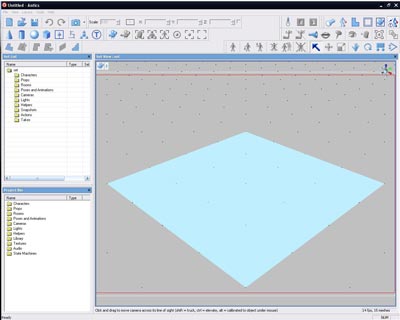 Full Layout.
Within the Set View, Antics 3D gives you options when trying to navigate the landscape. You have your pick between using keyboard shortcuts or the icons located in the navigation toolbar. By pressing in just the middle mouse button, you can rotate locally. By alternating between the ALT and CTRL buttons, you can track on the X and Y axis as well as track in and out along the Z axis, respectively. And just in case you're new to working with 3D, you can just press the appropriate icon in the navigation toolbar and use the left mouse button to do the action. Simple controls for doing something as fundamental as moving yourself around is a big help when trying to get work done in a hurry.
Mission | Tips & Tricks | Equipment & Software Reviews | Film Critiques
Groups & Community | Links & Savings | Home