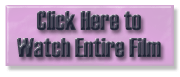 "How to Disappear Completely" is a bittersweet psychological study in humanity…a short film that leaves you thinking about your own life when you're done watching it. In a way, it is a film for other filmmakers even more than it is a film for the 'normal' people in society, for it deals with the alienation that occurs behind the lens of a camera.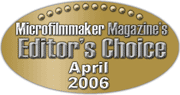 Even though the basic story line in "How to Disappear Completely" is applicable to filmmakers everywhere, the main character is actually a still photographer. The main character (David House) stalks wildlife with his 35 mm SLR as a nature photographer. However, through narration, we discover that the photographer used to photograph people in their natural settings, like malls and cities. However, after seeing man's inhumanity to man too many times, he realized that people were no better than animals. And, if he were going to photograph animal-behaving things, he'd just as soon photograph real animals in the outdoors.
The more he photographs nature and its outdoor inhabitants, the more he learns to blend into his surroundings until, eventually, it's as though he disappears completely. He never thought about how this could be a negative thing until, one day, he rounds a bend in the forest and sees a beautiful girl (Michelle Munden) walking down a country road through the forest. He longs to go up and talk with her, but finds that he has become so used to being invisible that he no longer knows how to bridge the gap between himself and others. All he can do is take pictures of her from a distance, cursing his own alien-ness as she walks away. So enrapt is he by the beautiful woman, that he slowly walks down to the road to continue taking pictures of her departure. It is here that his rapture nearly gets him killed, for he almost fails to notice a speeding car that rushes down the road. At the last moment he is able to throw himself out of the way, but the girl he was photographing only moments ago is not so fortunate.
The film ends with the main character struggling with his inability to be 'visible'--to reach out, to communicate--when it was most needed.
All that's left are pictures in a dark room--and regret.