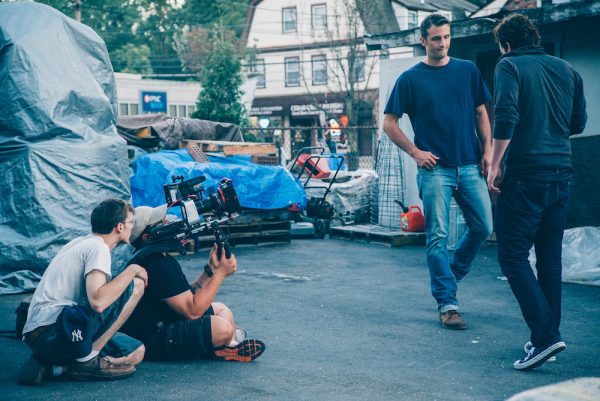 Jamison M. LoCascio wrote and directed the award-winning independent film, which is currently available on Amazon, iTunes, Xbox, PlayStation, Google Play and Vudu.
"The Depths" blew audiences away at the Manhattan Film Festival where it won Best Feature Film. Telling the story of two men desperate for success, "The Depths" follows wannabe screenwriters Mickey Hansen (Patch Darragh, "Sully") and Ray Ferguson (Michael Rispoli, "Sopranos") who decide to fully explore the depths of murder and crime as part of their writing process. Also starring Charlotte Kirk ("Vice"), Hampton Fluker ("Shades of Blue") and Michelle Veintimilla ("Gotham"), "The Depths" was shot by DP Omar Portilla with a Blackmagic Cinema Camera and graded by Colorist Tim Buttner with Blackmagic Design's DaVinci Resolve Studio.
Saving Time While Shooting
"'The Depths' is a modern thriller that really packs a punch with multiple fight sequences, extensive locations and a great cast of both established actors and newcomers," says LoCascio. "Being an independent film, we had to be very strategic with where we wanted to invest our budget and part of that decision was to use a very small, but experienced crew. We were shooting in approximately 46 different locations, but we only had 18 days to shoot, so we needed to be able to move quickly."
"We shot with the Blackmagic Cinema Camera and were blown away by the speed. The camera is fast and doesn't require a full crew to operate it, which was crucial for a crew of our size. We moved very rapidly and often times had the camera on a shoulder rig for speed. We ended up being ahead of schedule many of the days we shot, with the Blackmagic Design camera helping us keep a tight schedule because it never demanded our attention. We were able to focus on what we needed to without having to worry about the camera," LoCascio explains. "In the end, we shaved enough hours to equal three days off our shoot time."
"We shot in New Jersey in extremely hot August weather. It was some of the most intense heat that I've ever had to endure on a film set, with limited air conditioning in some locations. The camera was a tank though, it never had any issues," continues LoCascio.
"Ultimately, we needed quality and that's what the camera gave us," LoCascio adds. "We were able to create a high quality film in a faster and less expensive way than we would have been able to otherwise. The camera's dynamic range gave us plenty of room to play around with things in post, which we continued to rely on Blackmagic Design for."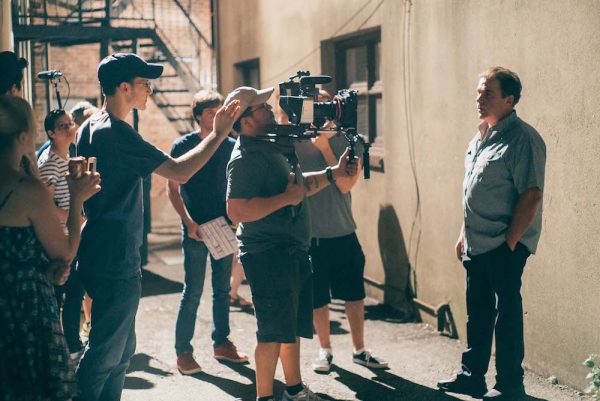 Grading "The Depths" with DaVinci Resolve Studio
"The inspiration for 'The Depths' came from classic film noir films that I was watching obsessively while I was developing the story. My co-writer Robert Spat and I injected themes and elements of the classic film noir style into the film while we were writing it. We wanted the movie to deal in heavy shadows and we actively chose locations that were predominately black and white to conjure the feelings of those classic detective tales," LoCascio explains.
To build on that look, LoCascio brought on Colorist Tim Buttner to handle the film's grading.
"Early on in the film there's a crime scene that serves as a catalyst for what transpires throughout the rest of the story. Nailing the look for the scene was pivotal," explains Buttner. "Using DaVinci Resolve Studio's Parallel Nodes and Qualifier really allowed me to get precise control over the look of the scene. I used the Parallel Nodes to dial in the look and give it a cold feel while maintaining warm skin tones."
Buttner continues, "Being able to apply a grade across a group of shots saved me a ton of time when I was developing the look for the film. I then went in to the individual shots to adjust them and fine-tune those that needed more work. For example, some scenes needed specific skin tone work so I'd use the Qualifer tool to balance things. Overall, DaVinci Resolve Studio being node-based allowed me to move very quickly and I could easily build on my initial pass."
"DaVinci Resolve Studio's Power Windows were also very helpful throughout grading the film. In one particular scene, Mickey is partying with Chloe (Kirk) while on a drug-fueled binge and I wanted to focus the world around them. I used the Power Windows to select specific areas of the shot to emphasis," Buttner adds. "The flexibility of how you can use Power Windows is liberating. I'd use them in one scene to bring out the details of bark on a tree, while using them in another part of the same frame to change the time of day by warming it up. Power Windows are versatile tools that allow looks to be crafted, and they enabled me to pay attention and play with the details."
Buttner concludes, "There were a few scenes that were darker than LoCascio wanted because of lighting limitations while shooting, including one car scene that was crucial to the film. I used DaVinci Resolve Studio to boost the available light as much as possible. Doing this can sometimes bring out noise but I didn't have to worry because of DaVinci Resolve Studio's noise reduction tools. I was able to get the scene's exposure to be brighter without any resulting noise, which is an equal testament to the camera's dynamic range and DaVinci Resolve Studio's capabilities."
About "The Depths"
"The Depths" is the first feature film from Jamison M. LoCascio, whose work has been celebrated in major film festivals around the world including the Festival de Cannes, the Los Angeles International Short Film Festival, SAG Short Film Showcase, New Filmmakers NY, Montclair Film Festival and more. Produced by Louis J. Ambrosio, "The Depths" recently premiered at the Manhattan Film Festival where it won Best Feature Film. It also recently brought home top honors for Best Feature Film, Best Director (Jamison M. LoCascio) and Best Actor in a Supporting Role (Patch Darragh) at the Los Angeles Film Awards, and Best Actor in a Leading Role (Michael Rispoli) at the International Independent Film Awards. The film is now available on Amazon, iTunes, Xbox, PlayStation, Google Play and Vudu. For more information on "The Depths," visit https://www.thedepthsmovie.com.
Along with his work on "The Depths," LoCascio runs the YouTube web series FILM VALOR with longtime producer Adam Ambrosio. For the behind-the-scene series, LoCascio and Ambrosio discuss their experiences filmmaking, interviews other filmmaking professionals and feature original films. For more information on FILM VALOR, visit https://www.youtube.com/channel/UCYMpC0IdUggTr1xMMEqsCPw