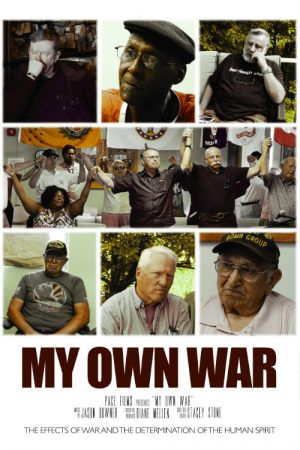 Director: Stacey Stone
Production Company/Distributor: Pace Films
Genre: Documentary
Running Time: 52 min 39 sec
Budget: $15,000
Expected Rating: PG
Website:  MyOwnWar.com
Trailer: Click Here
Online Rent: Not Yet Available
Online Purchase: Not Yet Available
Reviewer: Manuel Crosby
Final Score:  9.0 (out of 10)
For many soldiers haunted by the demons of battlefield experiences, discussing them with ordinary civilians may prove unbearable.  Even with their own health and well-being on the line, many would rather stay silent about their struggles with post-traumatic stress disorder.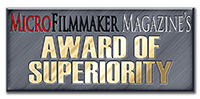 Filmmaker Stacey Stone brings this struggle to light through her documentary, My Own War.  In it, she attempts to open up conversations and illuminate a path towards healing for all of those who suffer from PTSD.  Her film, consisting mainly of intimate conversations with war veterans and those connected to them, certainly accomplishes this goal.
Story
This film contains incredibly moving, at times heartbreaking, stories from veterans.  Stone and her executive producer, Diane Mellen, show us raw, unfiltered statements from each person about their struggles with PTSD and assimilation into civilian society.  This is not over-dramatized or over-manipulated by any means.  Instead, it's an honest look into the daily struggles of these people.  Each soldier brings a unique viewpoint to the conversation as well, which presents a very multi-dimensional picture of military service, PTSD, and its effects on civilian life.
Furthermore, Stone interviews others connected to PTSD in order to create a broader picture of its effects.  Several medical professionals in the film provide more insight into why PTSD holds such strong effects over those who suffer from it. In addition, interviews with the loved ones of PTSD victims show the disorder from another perspective.
The chapter progression in the film guides viewers through this complex topic.  It begins by examining the causes and effects of PTSD, then moves into the methods through which each individual copes with their hardship.  It emphasizes the importance of community and communication as part of the healing process.  I do wish the film held onto each story until its conclusion, instead of cutting back and forth between several different interview testimonials as they went along.  This actually took a little bit away from each person's story.  However, the dialogue with each veteran held so much depth that the film still engaged me to the end.
Watchability
The overall technical skill of the filmmaking strongly aided the emotional content, and lead to a very watchable movie experience.  In the first moments, Stone employs rapid, jarring editing to convey the experience of feeling post-traumatic stress.  Then, the camera and editing settle down to look into the lives of the interview subjects.  Furthermore, the wide range of footage incorporated alongside the interviews fleshes out the world that these former soldiers came from, in comparison to the civilian world they now inhabit.  It paints a picture of two distinct worlds, showing how some veterans actually feel like complete strangers in civilian society.
The cinematography and sound are very good overall for a documentary piece shot under challenging conditions.  At rare times, soft-focused shots distracted me somewhat.  Also, one or two shots contain video stabilization that unnaturally warps the image.  However, the interviews as a whole contain nice lighting and composition.  The sound recording was extremely clear.  By capturing the faces and voices of each person with care, Stone allows us to feel as if we are sitting in the room with them, hearing their stories.
How Far Did you Watch Through It:
100%
Why?
The great editing of the opening scene instantly hooked me.  Then, the unfolding stories of the veterans held my interest.  I felt as if I were having a conversation with each individual, and wanted to learn more about their experiences as the story went on.
Closing Thoughts
With My Own War, Stone and Mellen put together a powerful film that sheds light on the struggles that servicemen and women go through, both on and off the battlefield.  I would highly recommend giving this piece a watch, and sharing it with friends who would like to learn more!
Final Score:

9.0
–
Worth watching at festivals, at home, and sharing with friends!