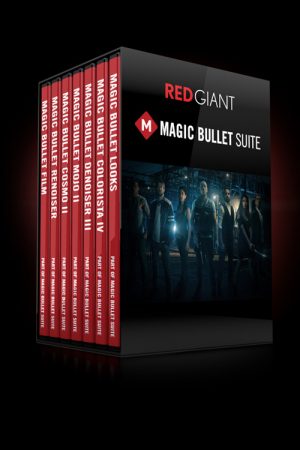 Publisher:  Red Giant
Website:  http://www.redgiant.com/
Platform: PC & Mac
x32/x64: Both
Description:  Effects Plugins
Purchase/Rent: Purchase
Pricing: $899 (Full), $299 (Upgrade), $449 (Academic)
Download Demo: Click Here
Discount: N/A
Expected Release: Available Now
Review Issue: #133 (03/17)
Reviewed By: Mark Colegrove
Final Score:  9.0 (out of 10)
Red Giant's Magic Bullet Suite has rightfully become one of the quintessential plug-in bundles over the years, primarily due to the popularity of plugins like Looks and Colorista.
What you're getting is several tools geared around the overall look and color of your footage – many of which I have come to consider indispensable, including Film and Cosmo.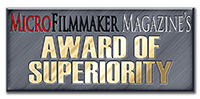 We last checked in with the release of Magic Bullet Suite 12, but the latest release features major updates to most of the bundled products, including Looks 4.0, Colorista 4.0, Denoiser 3.0, Mojo 2.0, Cosmo 2.0, Film 1.2, and the entirely new Renoiser 1.0
Ease of Use
All of the tools work right within the effects panel of Adobe Premiere, After Effects or Final Cut.  Check Red Giant's site for additional compatibility as it may vary from product to product in the suite.
Looks has always been one of the most popular products in the Suite, most likely due to the availability of available presets that can quickly get you up and running with a cool stylized look.  While it works within your editing software, it does ultimately open its own interface that's designed to help you easily browse and tweak your looks.  Within Looks you're essentially compiling multiple effects into one look, which you can tweak or build upon with the "Tools" menu.  The presets are easy to browse, and the latest version, Looks 4.0, features even more to choose from, along with the ability to save your own custom looks and the integration of the other products in the suite like Film and the new Renoiser.
While we're on the subject of Film, this was a new product in the last edition of Magic Bullet Suite, and I can't tell you enough how much I love it.  A very simple interface allows you to pick a desired negative and print stock to simulate the grain and tints of real film stocks on your video.  I was so happy with the results I saw, that I used it throughout my latest feature last year.  While there isn't much new in Film 1.2, it is an amazing product that is also designed with ease of use in mind.  A few simple sliders are all you need, and it works well in conjunction with another color corrector for the fine tuning.
One of the other key tools here is Colorista, which is Red Giant's long standing, robust Color Correction tool. While Adobe has caught up somewhat to what Colorista has to offer with their Lumetri tool, Colorista IV offers a powerful keyer for isolating particular colors, and color correcting those colors specifically. One other cool new feature is the addition of the Guided Color Correction tool, which opens in its own panel and walks new users through some step by step color correction basics to get your footage looking great right away.
Depth of Options
While Looks & Colorista bring you the wealth of options, the rest of the plugins in Magic Bullet Suite really are each designed to do pretty specific things.  You'll quickly find that using one or two in tandem will produce the results you're after.
Mojo, for example, is yet another relatively simple tool that works around the overall contrast of your image.  You can quickly punch up skin tones, add contrast or an overall fade with relative ease.  The most recent version takes into account whether your footage is Flat or Log, and there's about a dozen or so new presets to serve as a jumping off point.
Cosmo has quickly become another one of my go-to effects, and your subjects will thank you later.  It's a skin smoother that uses smart edge detection to soften wrinkles and blemishes without making the entire frame blurry.  The latest update, 2.0, gives you more control, more natural results and the ability to grab a skin sample for different skin tones (before the skin selection was automatic).
Performance
All products in the suite take advantage of your GPU for playback and rendering, and generally I find that I can apply and tweak as I work without much overall slowdown in workflow, so tweaking your look doesn't necessarily need to be a finishing step (although that's probably still ideal).
The only effect that takes a bit longer than most to render is Denoiser III, but considering the job it's doing, that's to be expected.  It removes camera grain and noise without a trace, and to boot, your footage doesn't emerge with a "buffed" look.  It looks totally natural.  Denoiser has saved me in MANY circumstances where I've had to push my gain or ISO to an ungodly level.
The newest product in Magic Bullet Suite is Renoiser, which works conversely by adding realistic looking Film Grain into your footage. There's presets for 8mm, 16mm, & 35mm among others. While 35mm grain could be accomplished before with the Film plugin, here you're given much more control over it, including grain size and texture. Additionally, it acts as a sharpening tool.
Value
If I could only live with one plugin suite, Magic Bullet Suite would be it.  The price is reasonable and you're getting several indispensable plugins for your money.  I don't know if I could live without Film, Cosmo and Denoiser, and Looks has long been my go-to if I'm going for a more stylized look.
While Adobe has come a long way in terms of what's built into Lumetri, their film looks still don't rival what you're getting here.
Final Comments
I can't recommend Magic Bullet Suite highly enough.  If it's been awhile since you've upgraded, new plugins like Film and the updates to Looks and Cosmo make it worth your while.  While you can easily spend hours fine tuning the look of your footage if you'd like, the abundant presets and ease of the interfaces make it easy to work quickly as well.  Enjoy!

| | |
| --- | --- |
| | |
| | 10.0 |
| | 8.0 |
| | 9.0 |
| | 9.0 |
| Overall Score | 9.0 |