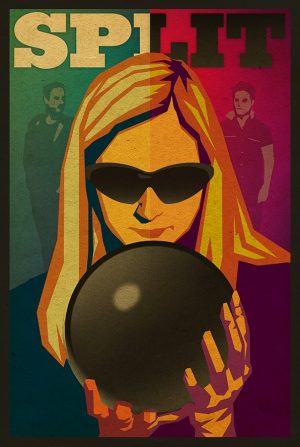 Jamie Buckner, writer/director of Split, set to be released through Gravitas Ventures on August 2 digitally, has had the opportunity to work with a film fan's wet dream of who's who in Hollywood, from Stephen Spielberg (The BFG, Bridge of Spies) and Martin Scorsese (The Wolf of Wall Street, Hugo) to Cameron Crowe (Roadies, Aloha) and Nora Ephron (Julie & Julia, You've Got Mail).
Jamie answers a few questions about lessons learned from these titans of the silver screen and how he applied them to making his first feature.
Which influential directors have you worked with?
So Spielberg, Scorsese, Nora Ephron was a huge one for me, Cameron Crowe of course, forget about it, I mean Charlie Kaufman (Anomalisa, How and Why)? Come on. The list goes on. I've been very fortunate throughout my career, truly. You don't get much better than that.
What were the top lessons from each director?
I mean it's hard to really pinpoint any specific lessons from each. I guess let's go down the list: Spielberg was one of my earliest big time encounters and the movie was so big and security was so high; I did get a chance to watch him direct a huge visual effects scene with a train on fire in the middle of the night in upstate New York though, and that was just one of those defining moments earlier in my career. You just stand back and go, "Wow. So this is what a BIG blockbuster movie being made looks like."

Scorsese I guess really hit home the importance of casting for me. He really preaches the importance of that and it's very apparent in his process. Plus, he's of course another one that's just awe-inspiring to watch in action; I mean he's truly a master. Oh and music, he's HUGE into music, which is maybe the top thing I picked up from Cameron too. Mr. Crowe always has someone with a near bottomless iPod playlist and playback speaker on set for mood and ambience during scenes. It's not exactly the music that will be playing in the scene, just something to help him convey with the actors what kind of mood he's thinking for the scene. It's honestly brilliant and opened my mind up to just the idea of finding your own process, whatever works best for you. And of course use music for what it is, it's right there in the word: muse. Anyway, working with Cameron also really sold me on the idea of what I wanted to really do within the industry. I didn't want to just write or just direct, I want to do both.

The writing component to me will always come first, as I know it does with Cameron. The directing is just a way to bring your ideas to life, filtering them through and with the help of others. It's really all about the entire process, the whole experience beginning to end. Birth of the spark of an idea all the way to others watching it all put together. Plus, I got to drive My Morning Jacket from Louisville to Nashville to record songs for the soundtrack one weekend during the shoot. I actually physically pinched myself around 2 or 3am when I looked around and realized I was drinking a Bud longneck with Cameron and his assistant at the time, Andy in a control booth at one of the best recording studios in the country while Jim James was laying down guitar and vocal tracks. Like actually physically pinched myself.

I'm still not sure I've topped that moment yet, honestly. Nora taught me the importance of knowing exactly what you want and never taking yourself too seriously. She also instilled the importance of always having good food around and lots of it. Plus, come on, if you're making a romantic comedy you're basically just pulling from the Nora Ephron playbook the whole time. Charlie was a genuinely fascinating one, he makes you realize that not everyone has to "get" what you're going for. Just tell your story, realize your vision, and your audience will find your art.
Which lessons are universal (Indie vs. Major Studio)?
There's never enough money and there's never enough time, honestly. That's always true from a $300 budget all they up to $300,000,000. Just get used to it.
Which lessons did not translate to the Indie format?
You just learn to work a bit more within your means, which actually I found helps fuel overall creativity.  You can't scout for a thousand location options for weeks and weeks, you find something that can work and looks good that has owners/proprietors not asking for a ton of money and seem genuinely happy to have you then, you run with it. Take what you have and mold the story to it. Plus, a lot of the really buttoned up best practices that you learn on bigger projects as just part of the studio protocols you soon realize are just in place for big corporation ass coverage.

Almost everything still applies for the most part, but when you're on a much smaller project with barely a percentage of the budget you're used to, you really just get the ability to hone in on only focusing on what's necessary and less of what would just be nice to have. Like, do we really need to spend time and effort putting together a really nice Excel spreadsheet type crew list? Nah, there's like a dozen of us, let's just put each other into one another's phones. Or is it really necessary to pay rent on and maintain a big fancy production office or put all the actors up in fancy hotels? Well, it'd be great! But maybe we just borrow a couple of desks in someone else's office for a while and pay for one big empty house for everyone from out of town to stay in all together family style the whole time, and hey, use it for a shoot location too!
What was the biggest wake-up call, or surprise to you in making your own film vs. assisting on someone else's project?
I guess in short, it's just the completely incredible realization that was and continues to be the caliber and volume of people you can get to help you out if you just ASK. Jennifer Westfeldt gave me some of the best notes of anyone during the entire process, basically some of the best and most thorough notes I've ever gotten on anything. Both she and Kirsten Sheridan, along with our producer, Elizabeth are the reasons anyone is ever able to compliment me on the female characters in the movie. It's amazing what people will do for you if you simply take the time and have the courage to ask.

The short we made initially as a proof of concept early on was the same way, some of the top crew I'd worked with in NY came out to work for free for a couple of days and some of the biggest actors in NY at the time, just came to hang out in a bowling alley while I tried to figure out if our silly little story was worth pursuing as a whole 90-minute thing. The feature was such a huge showing of favors and incredibly generous support as well of course.

Really and truly it's amazing what people will do for you if you just work hard and aren't a jerk on your way to making your goofy dream into a reality. Everyone is so happy for you and proud that you're giving it a shot, they'll truly bend over backwards for you in ways that honestly make you feel so unbelievably blessed and indebted to them forever. It's a great circular cycle too, this beautiful 'creativity eco-system'. I'd do anything for any one of them now, too, and they know it. Such an amazing thing.
What do you know now, that you wish you knew before you undertook your own project?
I guess maybe just not to stress as much about how your peers are doing with their projects and careers? Funny enough, it's not unlike our lead character, really, as nerdy as that sounds. Over the course of this I've learned to just be happy with what we're doing and what we have, it all came along and found its way exactly as it was meant to. And I couldn't be happier with how it's all turned out overall.

We found our way to a finished, fun little movie and I know our audience is gonna find that movie and we'll ultimately find our little place in the world. Other people make their other movies their own ways for their own reasons, and those all do the same thing in exactly the ways that are meant to be. To quote a great little movie that hardly anyone has seen (Dreamer with Tim Matheson, 1979), one of my favorite lines off all time, and it's become a personal mantra of mine:  "You don't beat a person, you beat the pins."
Any other words of wisdom for new/indie filmmakers?
Just get out there and do it, tell your story however you're able. Then, once you're done, get out there and do it again. And again. And again and again and again. Because you tell stories, you're a storyteller. And that's some damn important work.   
To learn more about Split (which will be released August 2 on iTunes,
VUDU, Amazon and On Demand through Gravitas Ventures),
you can go to their IMDB page or Rotten Tomatoes page.