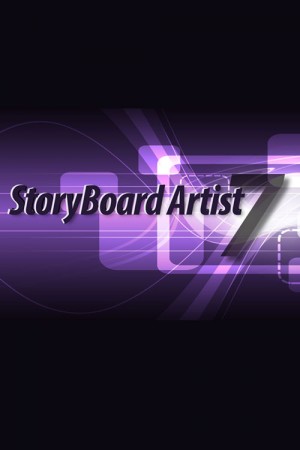 Publisher: Power Production Software
Website: Click Here
Platform: PC/Mac
Interactive App available: Yes
x32/x64: x32
Description: Creating storyboards – a graphic representation of how a video will unfold, shot by shot.
Purchase/Rent: Purchase only
Pricing: $499.99 with upgrade pricing available for previous users.
Download Demo: Click Here
Expected Release: Available Now
Review Issue: #121 (03/16)
Reviewed By: Anwuli Okeke
Final Score: 7.3 (out of 10)
So you're done writing your film. Congratulations!
What's next? Visualizing your film before you shoot by creating a storyboard.
Storyboarding involves drawing still, comic book-like images of what you want your final scenes to look like. It is used as a guideline for smooth filming on set, and also as a template for the pre-production editing process.
So what makes a good storyboard? Quick, clear and simple images. A good storyboard shows movement and expression and gives a clear sense of how shots should be composed.
Hitchcock and Spielberg are both notorious for using extremely detailed storyboards and it's said that Hitchcock was so meticulous about storyboarding that he considered the procedure to be the most creative phase of the filmmaking process – shooting the actual film was just a necessary evil.
Traditional artists often create storyboards by hand, but what happens if you don't know how to draw? Thanks to technology and digital animation tools, now anyone – from the amateur filmmaker to the experienced cinematographer – can create visually compelling storyboards using software such as StoryBoard Artist 7.
Ease of Use
Once StoryBoard Artist 7 is launched, users are automatically placed in a work area which acts as a drawing board. This drawing board houses the "Frame Window" (the area in which the shot is visually arranged), a library palette (containing locations–interior and exterior –characters and props), a color palette, a timeline (which enables the timing and syncing of frames), an editing toolbox and more. Essentially, the tools needed to get a user started on their visualization journey.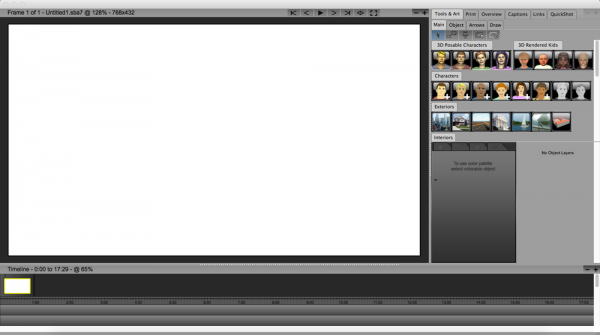 While I'm more experienced as a filmmaker than as a previz artist, I have to say that I find this feature appealing because it means that users can get started immediately the app is launched.

The number of icons in the work area may seem daunting, but new users need not worry as their functions are intuitive and easy to understand once you play around a bit. The universal actions of point-and-click, drag, drop and delete are all that are needed to navigate the work area and create scenes.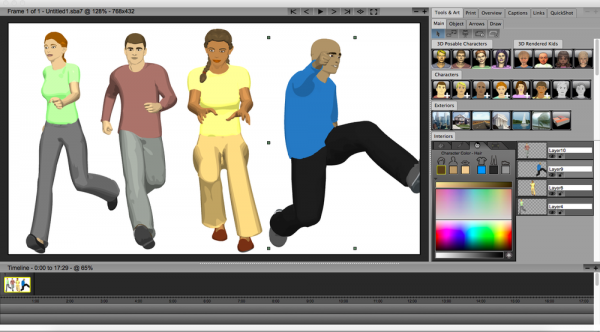 Depth of Options
StoryBoard Artist 7 now features an expanded timeline (which makes for easier editing), it supports 3D formats, Autodesk .FBX and Google SketchUp and also integrates with mobile apps, allowing for storyboarding on the go. The software comes with an unlimited number of characters, all of which are customizable. Hair color, skin tone and color, lip color, clothing color and stance can all be adjusted based on preference and a wide range of stances and poses – from lying down to jumping – are available for selection, enabling users to start with a pose which they can then tweak to suit their purpose.
The tool also provides a breadth of options for locations, props, characters and colors, allowing users to create custom galleries by importing art from their own libraries. Additionally, graphics selections can be overlaid on top of each other allowing the creation of a multi-layered world by selecting a background before superimposing other backgrounds on top of the primary background.
However, Storyboard Artist 7 isn't as flexible as it could be. Though the software provides a range of characters, the pose options for each character is fixed, thereby limiting a wider range of movements that may be necessary to exhibit some of the poses required. Therefore, to users directing dynamic action movies like Deadpool or Assassin's Creed, the characters could feel restrictive in their motion and degree of flexibility.
The extent of the customization for characters is also limited to just the character's hair, skin, lip and clothing color, as the software doesn't support changes to the wardrobe selection and hairstyle – a strange limitation that could be a deal breaker for some of us.
Performance
StoryBoard Artist 7 provides a quick and easy installation for both Mac and Windows computers (desktop and laptop). The software launches pretty quickly, runs smoothly and automatically saves the project being worked on. For the level of graphics involved, it neither crashed nor spun its wheels (the dreaded color wheel for us Mac users) when I tried launching an object. The software's efficient layout also made it easy to find what I needed, saving me time when storyboarding my project.
Value
StoryBoard Artist 7 offers a useful service to the user unable to draw and unable to afford a skilled graphic artist. However, prepare to invest some time playing around with the software in order to become fully comfortable with all of its capabilities. The great news is that the software includes a detailed tutorial which new users should find helpful in becoming familiar with the basic workings of the tool. For users needing more hands-on support, there's a live chat feature available on the manufacturer's website.
Final Comments
For non-artistic filmmakers, StoryBoard Artist 7 Studio could be a huge help for prepping your next film. Despite limited motion and wardrobe options for the characters, with a little patience, this software gets the job done effectively.
| | |
| --- | --- |
| | |
| | 6.0 |
| | 8.0 |
| | 8.0 |
| | 7.0 |
| Overall Score | 7.3 |