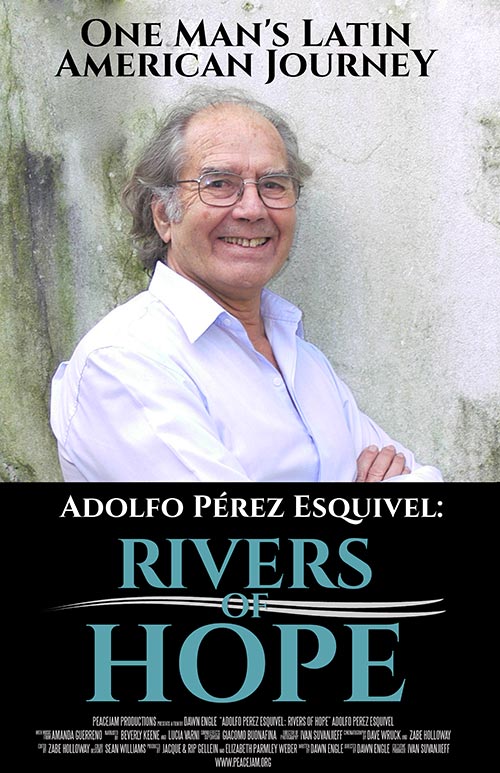 Director: Dawn Engle
Distributor: Gravitas
Genre: Documentary
Running Time: 77 minutes
Release Date: 2015
Expected Rating: PG-13, due to subject matter
Website: PeaceJam.org
Trailer: Click Here
Online Rent: Click Here
Online Purchase: Click Here
Review Issue: #116 (10/15)
Reviewer: Jeremy T. Hanke
Final Score: 9.0 – Definitely worth watching at a festival or with a community!
The worldwide stage was re-reminded of Argentina when Cardinal Bergoglio was chosen from that country in 2013 by the Catholic Church to become its new Pope. But before Pope Francis was awarded his own Nobel Peace prize, there was another notable countryman of his had earned it.
Argentina has a history that goes back hundreds of years. A rich culture and heritage had made it the bread basket of South America, but, for half of the 20th century, vicious dictators rose to power, enslaving the nation and "vanishing" people who didn't agree with their methods.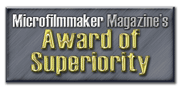 Against this horrific backdrop, Rivers of Hope documents the story of Nobel Peace laureate, Adolfo Pérez Esquivel. Esquivel was orphaned at three and raised in convents, later with his blind father (whom famed Evita Perone helped grant a pension), and finally with a grandmother in an indigenous tribe. His attempts to stand up for those without voices would get him brutally imprisoned and, later, nearly killed. His survival is nothing short of astonishing, as was his rise to help Argetina regain its memory of the past—so they might not be destined to repeat it—and his establishment of Peace Villages to help teach much needed skills to those who had no one to teach them.
Story
The storytelling of documentaries exists in the editing of massive amounts of content into a cohesive whole and, in this, Engle did a very good job. Chronicling Esquivel's life from his youngest memories to his modern day work for the 35th anniversary of his receiving the Nobel Peace prize was done in a systematic and powerful way.
Watchability
As an entire piece, this film was done quite well and the story is fascinating. The use of music by his singer wife was also quite a nice touch to draw you in!
With that said, it did feel a bit long at times (due to the extremely linear way the subject matter was laid out) and the English Voice Over narrator had a speaking style which sometimes clashed with the style of the documentary, pulling me out of the story from time to time. Neither of these things prevented me from watching all the way through the film, however, and are minor issues for an otherwise incredibly good film.
How Far Did you Watch Through It:
100%
Why?
It was a very well-made film about an important person who is helping change our world for the better.
Closing Thoughts
Like many Americans, before watching this documentary, I didn't know who Adolfo Pérez Esquivel was. Afterwards, I find myself inspired and encouraged by his story of perseverance and compassion. PeaceJam's mission is to connect Nobel Laureates with people they can mentor and Dawn Engle, with her Nobel Legacy film series, is doing a great job helping the world be mentored by these laureates in films like this and her Desmond Tutu film: Children of the Light .
I would highly recommend you check out Adolfo Pérez Esquivel: Rivers of Hope!
Final Score:

9.0
–
Definitely worth watching at a festival or with a community!