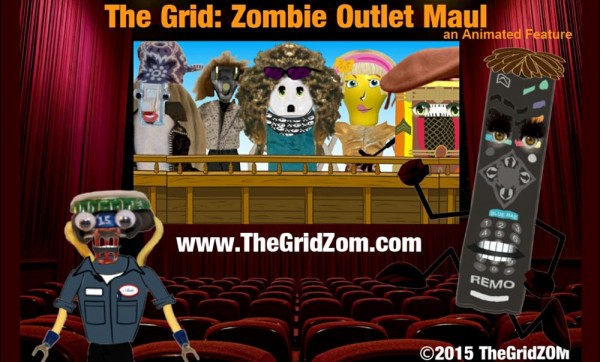 August 17, 2015 (LOS ANGELES, CA) – Former Queer As Folk star, Thea Gill provides the voice of Hazel Switch, a rocker chick, electrical switch in Linda Andersson's (The Seer, Triple Crossed) soon to be completed, independently produced, 2D animated feature, The Grid: Zombie Outlet Maul.
Premise
Electrical devices come to life after a nuclear power plant explosion.
Audience
The film is geared towards the Family Guy and Simpsons crowd, and was written and directed by Linda Andersson with M.J. Lallo (Clay Kids, Daddy I'm a Zombie) as voice-over co-director as well as the voice of Auto d'Fuse.
Cast
The film also stars Leah Cevoli (Robot Chicken, Deadwood), Harry Ford (Code Black) and Danny Pardo (Planes: Fire & Rescue). Deborah Stewart (The Seer, Rizzoli & Isles), who is a former voice of "Rockin Barbie" will also rock the role of Creative Outlet, the guitar player for the band, Switch Hazel.
Music
Original music is provided by Leslie Shoshan (Ravenz Gate), who is the singing voice of Hazel Switch. Her CD, "Les Is More" was produced by Brett Hestla (Creed, Dark New Day) and Justin Thomas (Dark New Day). The award-winning, dance/pop duo, Sugarbeach, whose music has hit the Outvoice Top 40 charts also provides original music for Switch Hazel and the singing for Linda Andersson's character, Mega Watts. Several instrumental music pieces are provided by MJ Lallo; L.A. music scene veteran, Gina Acuña; and Arielle LaGuette, with a song co-written with Joe Rodriguez (guitarist for A Flock of Seagulls)
Release
The film will be initially released via V.O.D. (video on demand) in the FALL 2015.
More Info