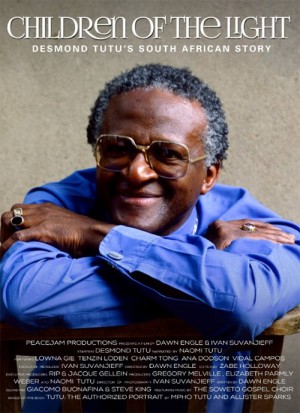 Director: Dawn Engle
Expected Rating: PG-13 due to historic imagery
Distribution: Gravitas
Budget: $40,000
Genre: Documentary
Release Date: June 2014
Official Website: PeaceJam.Org
Trailer: Click Here
Rent/Buy: Click Here
Running Time: 92 Minutes
Critique Issue: #106 (01/15)
Critiqued By: Jeremy T. Hanke
Overall Score: 9.0 (out of 10)
For nearly 9 years of MFM's life, one continent remained dark: Africa. No films had been submitted from there and no contact had come out from there, despite our heart for those throughout the world, especially in areas that have the fewest international storytellers. A few months ago, we got to know Anwuli Okeke (who now writes for us) who has been working with iLunafriq to release the voices of native African filmmakers to the outside world.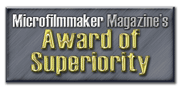 Now, we have received Children of Light from Dawn Engle, which looks at one of Africa's most dynamic sons, Reverend Desmond Tutu, who helped organize peaceful protests against apartheid in his native South Africa. Tutu would become the first South African to receive the Nobel Peace Prize and he would do so before Nelson Mandela (who would also receive one) had been released from prison or apartheid had yet been abolished.
Based on the book, Desmond Tutu: The Authorized Portrait, by Mpho Tutu and Allister Sparks, this story is one that explores Tutu's childhood in the brutal regime of South Africa, how he became an Anglican priest, how he befriended leaders like the aforementioned Nelson Mandela and marched for the leaders release from prison, how he eventually saw the fall of apartheid, and how he has gone on to inspire a new generation in other oppressed countries, like Burma and East Timor.
Content
Children of Light does an amazingly comprehensive job of covering Tutu's life, going so far as to recruit Tutu's daughter, Nontombi Naomi Tutu—well known race and gender justice activist and speaker in her own right—to narrate the film.
I found the story intriguing and compelling, as Engle showcased a protagonist in Tutu that manages to hold on when many would have fled and who opposed forces far greater than he himself. The conclusion of the tale provided a nice sense of closure to this portion of his tale and, unlike many documentaries of this sort, did so while Tutu was still alive.
Despite all the success in the content of this film, there were a few issues I had with it. Dynamically, it wants to tell the story of Tutu's fight through apartheid and then Tutu's legacy afterward, but it feels a bit disjointed in this pursuit—as some elements of those he inspired seem tacked on a bit. I think this may be the case because 2/3rds of the film deals with the fight through apartheid and, due to the heaviness of this topic for such a great percentage of the film, it leads to some of the slower elements of the film.
I'm not saying that the atrocities survived there should be glossed over, just that the focus that Tutu espouses—which was that of hope for the future—should have been emphasized a bit more. This is most simply done with a content ratio more like 50/50: with half set before, and up through, the end of apartheid while the other half would look beyond apartheid to his extended influence internationally. I believe that would have focused the narrative a bit more.
That's a fairly small issue for a film that does so many things right.
Visual Look
Historical documentaries by their nature are time intensive creations because so much of them is culled from researched and archived footage and must then be combined with more modern footage that is recorded in the present. Editor Zabe Holloway put her heart and soul into the edit on this one and you can really tell. The edit is tight and well done and the visual look is as good as one could expect considering how many of the resources had to be culled from low-res sources, many of which had likely not been properly stored before being digitized.
The footage recorded by Ivan Suvanjief and his videographers was really impressive, giving at times a majestic view of South Africa while, at other times, a vision of the real poverty that has to be struggled through.
Use of Audio
The audio in this documentary is perhaps the biggest star, because documentaries can be some of the worst to try to get clean audio for. This is why narrators are so often needed, so that there can be a clean source track to tell the story of what all your observing and help overlook roughness in the recorded sound.
As much as Naomi Tutu's narration helped make this film wonderful, the amount of work that was done on all the audio had to be a herculean task—as transition between clips of many different sources had no noticeable additions of noise, static, or sounds. The soundtrack of tribal spiritual music from the Soweto Gospel Choir which Giacomo Buonafina and Steve King created provided a rich undertone to the film, while likely covering up any remaining audio issues that the audio cleanup couldn't do.
Use of Budget
Most of the budget for this film was due to travel costs, which, considering Engle and at least part of her team are from Colorado, is completely understandable. That so many people worked for free on this film shows how much they believe in the power of this film and its message of hope.
Lasting Appeal
This film's message and exploration of people surviving in the midst of terrible odds is one that has an appeal to both an audience in South Africa—as a record of many of the things they've survived and where they are headed—and to international audiences around the world that take inspiration from Tutu and his work there. If you grew up as I (and many Gen-X Americans) did in the '70's and '80's, hearing vague things about apartheid but never really understanding it, then Children of the Light is a movie you need to see.
Overall Comment
Dawn Engle and her team did a great job of sharing the story of Desmond Tutu and his life. I'm really excited to see what new film that she and her team create over at PeaceJam–an organization that pairs Nobel Peace Prize nominees and winners up with groups that need their mentorship to change their own areas of the globe.
If you want to rent/buy this excellent film to get inspired by Tutu's story or get inspired for your own documentary, you can do so at Amazon.  (Amazon Prime members can currently watch it free of charge!)
8.0

Visual Look

9.0

Use of Audio

10.0

Use of Budget

9.5

Lasting Appeal

8.5

Overall Score

9.0

How do we critique films? Click Here To See.