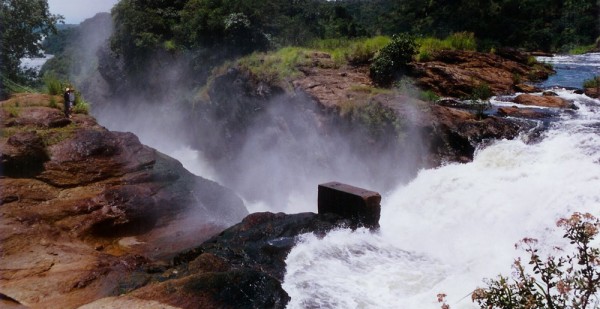 Imagine you need a new outfit for a grand occasion. Imagine this grand occasion deserves something exotic and foreign, the likes of which you haven't encountered but achingly yearn for. Imagine your local seamstress comes to mind but you're skeptical because, while some of her designs have won revered awards, none of her creations have left a positive, defining mark on you.
But what if there's more to your seamstress—a part of her story that needs to be told?
For me, Africa's the seamstress.
For far too long, African stories have been two-dimensionally portrayed by those who understood only part of what Africa is. Today, however, there are emerging and seasoned filmmakers whose works reflect the true history, stories and hopes of Africa. These filmmakers, who have largely gone unseen and unheard, have stories they're aching to tell; stories that reflect their passion and their lineage yet have never seen the light of day or caught the eye of a meaningful audience.
As I set about founding the organization that would become iLunafriq, I hungered to give a voice to African filmmakers that could be heard in other countries; to promote an understanding and appreciation of the native African film industry and to expose the global community to the vibrant and dynamic stories our filmmakers tell.
In this quest, I and my collaborators realized that a streaming Video on Demand (SVOD) service could go much farther outside the borders of Africa than DVDs and Blu-Rays.
With that in mind, here are some of the things I'm learning about building an SVOD platform from the ground up.
Leverage technology & existing platforms. Finding the right people to work with or connecting with people can all happen via technology. Yes, it would be nice to attend as many film festivals as you can in order to acquire streaming content. However, when bootstrapping, technology is your very best friend.
To maintain a professional feel for your website while saving on bandwidth, consider having your videos hosted by a third party such as Amazon S3, Wistia, and Vzaar, but served on your platform.
Ask for what you want. It's easy to mention all the things you don't want; this may even be something you do unconsciously. However, I find that it's more powerful to think through what you want and ask for it boldly. Amazingly, some people will key into your vision and give you exactly what you ask for, so don't be alarmed when this happens.
Stay true to your brand. If you're focused on quantity and your count of titles, accept all the movies out there. However, if you're focused on quality content, be sure to obtain and only provide content that is consistent with your image. As tempting as it may be to accept whatever you're offered (especially when you're starting out), it's in your best interest to be selective of the titles you carry because in the long run, your brand is what will set you apart. When in doubt, revisit your mission statement and let it guide you.
Focus. It's very easy to be led down different and diverging paths because in attempting to be helpful, people may point you in several directions. It's your duty to recall your mission and stay on course.
Find your "small beginning." Your "small beginning" is just as unique as you are and may look different from the next person's "small beginning" or the "small beginning" your support system would create for you. Trust your gut, find and embrace your "small beginning".
Go with the flow. Things may not happen in the order and within the timeline you expect but, "Hey! It's a journey, enjoy the ride." Fate may have bigger things in store for you than you have for yourself.
Confidence and passion are infectious. When you're unable to meet face-to-face, your written and spoken words are the difference between audience and silence. Make those words count by writing from a place of honesty. People can sense if you're dishonest or dispassionate.
Be kind to everyone, because you want others to be kind to you (and you never know who could be instrumental in providing the support you seek).
The entrepreneurial journey looks different for everyone. Some work 18 hour days and others 6 hour days. Some have no free time to spare while others are able to find time for drinks and a board game. Don't believe that you have to fit into a pre-defined mold in order to launch an SVOD platform.
Curious on what to keep in mind as you build your own network? Well, here are seven ideas:
Find people who are already operating within your industry. These people are able to provide alternative perspectives, point you in the right direction, introduce you to the right people or give you a platform to let your voice be heard.
Delay is not denial. Because your network is yet to be realized doesn't mean it won't ever be. The fact that you've yet to find filmmakers willing to provide you with content, doesn't mean that there aren't any out there. Keep searching. Remember persistence is key!
Search and procure "low hanging" fruit. These are filmmakers or content producers that have no other means of distribution except you. YOU are their dream come true; the answer to their prayers. Everyone else may hesitate to collaborate with you but these folks won't. They are your reason for existence, the team with which you'll launch.
Bring the right people on board early and empower them to thrive within their skillset. Having people who share your vision and who are invested in your success is essential. It doesn't have to be a big team – it can simply be a single person other than yourself – but make sure it's the right person.
Get comfortable cold-calling. Reach out to several people you don't know but who seem to have a mission similar to yours. You never know where the conversation may lead.
Consider alternative distribution models vs owning and controlling the streaming content. In the Indie world, there can be a tendency to want to reinvent the wheel JUST to be different. However, you'll often go a lot farther if you use a pre-existing infrastructure that you can build on top of—rather than having to build it from the ground up!
Don't be intimidated by incumbents. The market will embrace you just as it embraced them. Your size (think: flexibility and nimbleness) is also your strength.
At ilunafriq, we're developing a stellar platform delivering the best African movies created by African filmmakers: shorts, Indies, festival films, forgotten classics, documentaries (the list goes on). We exist to serve content that educates and enlightens while delighting and entertaining.
If you're interested in finding out about what we're doing or browsing through our extensive collection, a whole new world awaits you! And if you have any questions about building your own network, or seeing if your network could collaborate with ours, you can contact me directly here.