Straight Shooter Review
Die Gstettensaga: The Rise of Echsenfriedl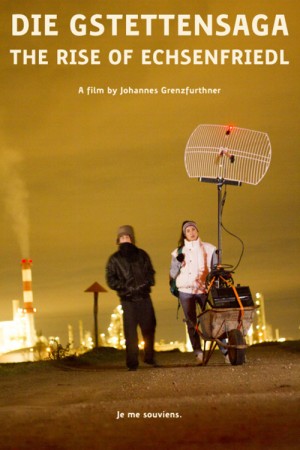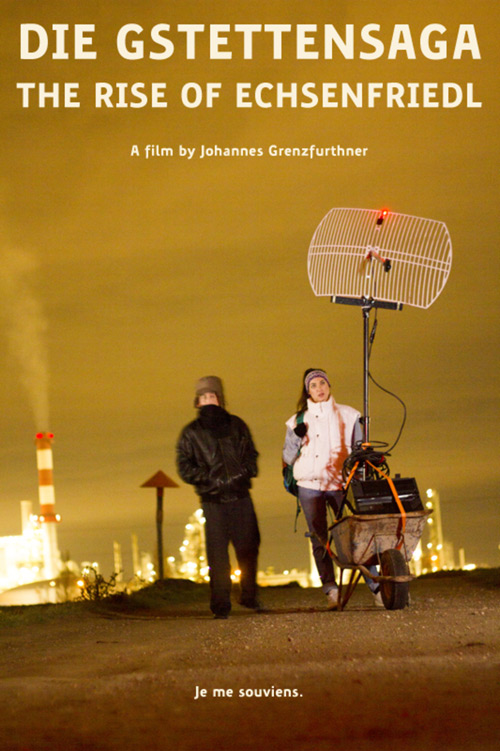 Director:
Johannes Grenzfurthner
Production Companies:
Monochrom and Traum&Wahnsinn
Distribution:
Self-Distributed
Genre:
Apocalyptic/Fantasy Comedy
Running Time:
72 minutes
Budget:
€ 5000 ($6710 USD)
Expected/Actual Rating:
PG-13 due to language
Website:
Click Here
Trailer:
Click Here
Reviewer:
Jeremy T. Hanke
Final Score:
9.5
–
Worth watching at an arthouse Screening or festival!
The future is a strange place.
Die Gstettensaga: The Rise of Echsenfriedl tells a story about a world in which China finally declares war on—Google??
Following China blowing up part of Google's home base, the U.S. declares war on China and their allies, launching nuclear missiles to deal with the problem. The effected allies in turn declare war on other countries, launching their own nuclear missiles (because, hey, everybody's got the nuke—we just don't want to admit it!), until eventually MAD (Mutually Assured Destruction) is upon us…sort of.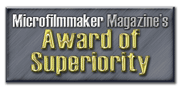 Although temporarily sent all the way back to the dark ages, mankind's survivors have rebuilt a lot more of what was lost than they have any right to, thanks to an enigmatic technology nerd known as: Echsenfriedl.
The heroes in this tale are Alalia (Sophia Grabner)–a techno nerd that dreams of the "good" old days—and Fratt (Lukas Tagwerker)—a moronic journalist. Their unscrupulous boss, Thurnher von Pjolk (Martin Auer), is a lunatic that claims to have invented the printing press and wants them to interview the mysterious Echsenfriedl with the cutting edge technology of "tele-o-vision"—which will endear him to the nerd culture that is already tinkering around with "tele-o-vision" broadcasts.
To do so, Fratt and Alalia (like a live action version of Pinky and the Brain) will have to journey the wild lands of post-apocalytic Austria to find the recluse, uncovering strange subcultures of people who all speak their own languages, like the military police who are made up of the Postal Service and speak Bavarian redneck, the tribal farmers (that have a language no one understands) who need help with pre-fall paperwork, or the English capitalists who try to sell junky tech relics of the past in bedazzled auctions.
Story
The brain child of Grenzfurthner's jolly band of misfits, Monochrom—which seem to be the "Project Mayhem" of avant-garde comedy troupes—the story of Die Gstettensaga is almost impossible to describe, but somehow works.
It never takes itself too seriously, so, as the story and its ending work, they poke fun at EVERYONE, including themselves, which is really quite charming.
The thing I love so much about running MFM is that there are so many chances to be surprised by filmmakers. This incredibly clever (yet extremely complicated to review) film has managed to pleasantly surprise me!
Their choice of blurring languages, occupations, and post-apoc mythos has created a strange cross between L. Frank Baum's underappreciated Oz series ("Underappreciated?? But everybody saw the Wizard of Oz, right?" Yeah, but how many people are aware that there are 44 books in the OZ series, with 14 penned by Baum himself???), Lewis Carroll's Through the Looking Glass, and Samuel Beckett plays like Endgame. As I said before, improbably, this actually works out.
Watchability
I'm SOOOO glad Monochrom reached out to active filmmakers who knew their craft in order to make this film, because it would've been a disaster if the audio and filmmaking weren't tight. The concepts are far enough out there that the viewer needs no technical distractions to follow it.
Fortunately, they got a great team behind this and it turned out really well. There are still some areas that could stand to be tightened and some of the mixtures of languages got a little bit overwhelming, but really small nitpicks for a film pushing this many boundaries.
How Far Did you Watch Through It:
100%
Why?
This is a solid—albeit offbeat—film that makes you want to see how it ends. If you're not used to subtitled films but want to give this one a shot, just take a break midway through to rest the eyes, and finish it up after that and you'll be very glad you did! (This is definitely one of those cult movies like "Rocky Horror Picture Show" and "Monty Python & The Holy Grail" that will get even better with subsequent viewings.)
Closing Thoughts
Die Gstettensaga: The Rise of Echsenfriedl is as avant-garde as you can possibly get, with commentaries on everything from technology, nerd culture, totalitarianism, and religion, and featuring homages to everything from Fritz Lang's Metropolis to The Blair Witch Project to Ylvis' "The Fox (What Does The Fox Say)." And somehow it all works surprisingly well together.
Final Score:
9.5 – Worth watching at an arthouse Screening or festival!