Feature Critique
The Strange and Unusual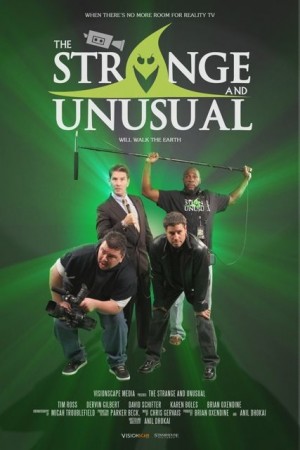 Director:
Anil Dhokai
Expected Rating:
PG-13 due to language
Distribution:
Self-Distribution via Amazon instant and vimeo on demand
Budget:
$50,000
Genre:
Comedy/Mockumentary
Release Date:
August 15, 2014
Official Website:
Click Here
Trailer:
Click Here
Running Time:
97 minutes
Critique Issue:
Is. #100 (07/14)
Critiqued By:
Jeremy T. Hanke
Final Score:
9.1 (out of 10)
Joel (Tim Ross) is the producer of, "The Strange and Unusual," a reality show that probes the mysteries of the unknown every week. When the show gets cancelled, Joel discovers he's allowed to do a series finale that people will remember forever.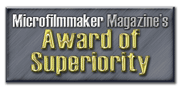 Armed with the show's star, Martin Luckey (Dervin Gilbert), and a skeleton crew, Joel heads to a small town in South Carolina to uncover a mysterious creature known only as the Abby Devil. However, he soon locks horns with Sheriff Scotts (Karen Boles) who threatens to lock up the entire film crew if they get in the way of her crusade to lock up—or kill—the Abby Devil.

Content
The intro to this film is a trailer for The Strange & Unusual show and is so well done that, for a second, I wasn't sure what DVD I'd put into my player! Very clever and smart way to get the viewer to buy in from the very beginning!
The Strange And Unusual—with its exploration of the supernatural and its exploration of small town Americana–feels like a cross between Ghostbusters and Groundhog Day, with Tim Ross reminding me incredibly of John Travolta (in his Face/Off days). As befits those two classic films, The Strange and Unusual manages to stay enjoyable almost all the way through it, which is impressive considering how many different extras ended up being in the movie as townsfolk.
Mr. Dokhai's casting of Tim Ross was genius because he gives such a rock solid performance for everything in the film, that it manages to gloss over areas where some of the other performances weren't' as strong. Even my least favorite scene (a scene where Joel decides to get up on a bar to survey a crowd, which feels awkward and falls kind of flat) is able to be salvaged by the believability Ross brings to Joel's character. (With that said, some of the scenes that Joel isn't in are a little shaky, since some of the other actors didn't have as solid a grasp on their characters. Fortunately, it wasn't really anything that pulled you out of the film.)
The story arc pitting the film crew against the sherriff is a bit expected, although the fact that Joel doesn't get into a romantic relationship with her (because all comedies like this are "supposed" to have a love interest for the lead and "opposites attract") helps keep things from getting cliché.
The commentaries on filmmaking, which are largely engaged in by two PA's who are having to "pay their dues" after film school reminded me a lot of the comments from Behind the Scenes of 'Total Hell', which was fun.
Although the movie manages to work very well on almost all levels, including the very ending, there's one area in the film that's such a preachy note that it completely pulled me out of the film.
Warning! Spoiler Alert
Toward the end of the film, Joel is put into jail by the town sheriff. It's at this point that she explains that she's so happy to put him into jail because he represents reality tv that's ruined actual scripted television. It's so blatant and on the nose that it completely pulled me out of the film—reminding me of the awful preaching tirades from Shoot 'Em Up where Clive Owen's character goes on about hating guns or in the film Machete where they stop the entire film to bitch about immigration. (OK, that's not fair. No film in the history of film is as preachy as Machete—even the Left Behind films.) With that said, I would definitely recommend the director kill that diatribe as the entire film makes enough funny points about the stupidity of reality tv that you don't want to add any more to it, or it ruins the effect of the rest. (Sort of like adding a sugar cube into a glass of wine.)
Visual Look
Cinematographer Micah Troublefield did a great job of creating a pseudo-documentary feel to the movie and handheld DSLRS with moderately shallow depth of field. This allowed the closeups to have characters that moved in and out of focus in a way that felt very organically film-like.
Use of Audio
One of the most common things I talk about in these critiques is audio—because it's one of the biggest things people screw up. (And I know that first hand, because I first met the folks at Oakwood Sound Design because I mangled the audio in my first film and worked with them to try to repair it!)
At the end of the day, you can have a movie that looks good and sounds awful, and it will never see the light of day—ANYWHERE. On the other hand, you can have a movie that looks awful but sounds good, and people will watch it. We've seen it originally with The Blair Witch Project, and it's literally the only explanation I can give for The Bourne Supremacy and The Bourne Ultimatum making money at the box office. (To this day, I have no idea if Matt Damon was actually in either of those two films, as the camera work was so shaky it could easily have been any number of blonde haired stand ins.)
With that said, I can't tell you how much of a joy it was to watch a feature film that had its audio mixed so well. It was recorded well and mastered so it was easy to understand throughout.
The score by Chris Gervais was bizarre and whimsical, fitting with the tone of the film quite well.
Use of Budget
Considering all the extras and the lighting they had to set up for this film (and the film gear INSIDE the film they were shooting), I feel like their budget was extremely reasonable.
Lasting Appeal
I enjoyed the Strange and Unusual and will watch it again. I'll also show it to some friends, which is a high recommendation indeed. The rewatchability goes up even more if they end up axing the preachy portion about reality TV!
Overall Comment
This is a really enjoyable film that manages to keep you interested throughout. While it's not perfect, it's one that I'd highly recommend you check out and enjoy. As for me, I'm really interested to see what Anil Dhokai comes up with as far as future films go!
9.0

Visual Look

9.0

Use of Audio

9.5

Use of Budget

10.0

Lasting Appeal

8.0

Overall Score

9.1

How do we critique films? Click Here To See.