Straight Shooter Film Review

SPARKS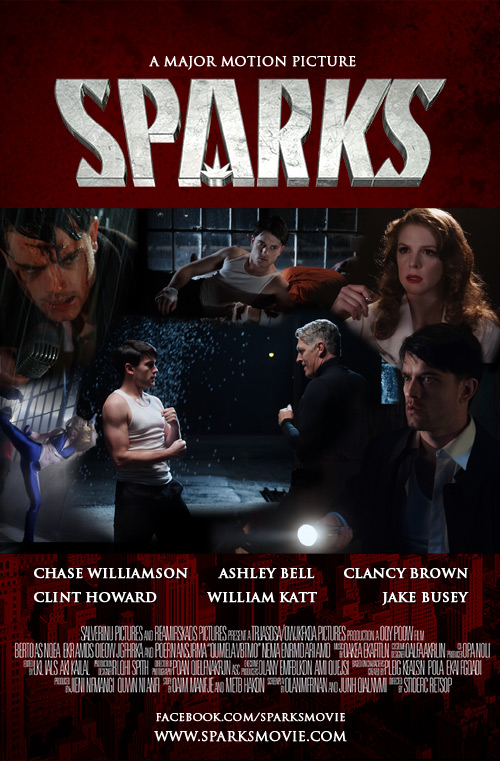 Director(s):
Christopher Folino & Todd Burrows

Production Company/Distributor:
Image Entertainment for domestic and Archstone for Foreign Distribution
Genre:
Superhero/Noir thriller
Running Time:
97 mins
Expected/Actual Rating:
R for violence and gore
Website:
Click Here

Trailer:
Click Here

Digital Purchase:
Click Here

DVD Purchase:
Click Here

Reviewer:
Jeremy Hanke
Final Score:

9.0
SPARKS is a comic book movie with a refreshingly dark twist.
It starts not unlike a mash up of a lot of super hero movies: shortly after a meteor destroys most of Rochester, NY, young Ian Sparks (Chase Williamson) is orphaned by a violent crime, raised by a loving grandmother in a small town, and then moves to the big city to fight crime.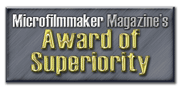 Set in a 1950's world, SPARKS could easily have become a very cliché story with the sole unique point being that it's an Indie film. In truth, it does start a little saccharine and reminiscent of the first Captain America movie, however, what soon sets this film apart is the fact that it manages to take the "mom-and-apple-pie" superhero genre and merge it with the anti-hero noir genre of graphic novel films like Sin City or The Watchmen and video games like Max Payne.
That's where SPARKS really stands out and why it earned a full watch through!
Story
The storyline of SPARKS is told largely in flashback, with narration from the main character in a future manhunt.
After arriving in the big city to fight crime, Ian Sparks quickly learns he's no match for the upgraded thugs that live in the city's shadows. After meeting "Lady Heavenly"(Ashley Bell)—a masked superheroine that seems to have no super powers, but is skillfully trained in both martial arts and self-promotion—Sparks strikes up a partnership with her, since her abilities clearly outshine his own.
When things go south, however, Sparks' tale becomes one of a failed hero who couldn't save his partner and is consumed with self-loathing, which takes us to a much darker and more interesting place. And, like many people in the throes of depression and self-hatred, the fallen Icarus is much more likely to start running with an unsavory crowd.
The plot and character arcs in this film worked very well for me, with the exception of the second ending.
Much like the movie The Ring, SPARKS needed to stop on the FIRST ending, and not add a SECOND ending to it. (First endings are usually the most visually dynamic and almost scream for a fade to black; if you add another ending at that point, you dilute the power of the first ending and leave the audience remembering the weaker ending, instead.) In this case, not only was the second ending weaker, it was entirely unneeded—as it's inferred already—and by actually showing it, it caused the film to conclude with a saccharine aftertaste, which was too bad, considering how well done the rest of the film was. (Fortunately, the second ending was not nearly as movie-wrecking as the second ending of Limitless.)
Watchability
SPARKS is very watchable and enjoyable. While the beginning's a bit shaky, it quickly stabilizes and works well all the way through the first ending.
How Far Did you Watch Through It:
100%
Why?
Once we got into the actual tale of Ian Sparks' broken life, I really wanted to see what happened to him and what ways he could use his own strange abilities. Additionally, the visual shots became more interesting as the film got darker, almost like it was becoming more Sin City not only in tone, but in look, as well.
Closing Thoughts
SPARKS is a strong noir take on the superhero genre. Easily as strong as the studio made film, The Shadow, and rivaling key moments of more modern films like, Sin City, SPARKS becomes truly incredible with the limitations required from an Indiewood budget. If the second ending were chopped off for a Director's Cut of the film, it would probably come close to a perfect 10!
Final Score:
9.0 – Great–and well worth seeing on a big screen!