Book Review
Make Your Story Really Stinkin' Big:

How To Go From Concept To Franchise
And Make Your Story Last For Generations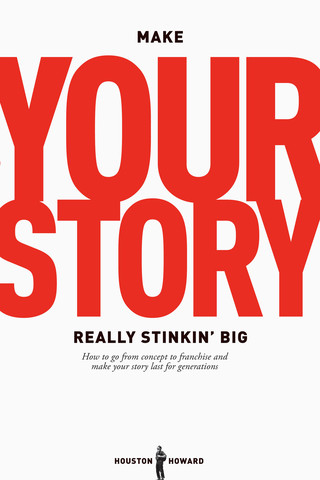 Author:
Houston Howard
Topic:
Using 360 Degree Storyweaving to tell your story
Publisher:
Michael Wiese Productions
Available Formats:
Print & Epub
Page Count:
172 Pp
MSRP:
$18.95
Expected Release:
Available Now
Official Website:
http://www.mwp.com
Sample Chapter Link:
Click Here
Discount Link:
Click Here
Issue:
Issue #93 (11/13)
Reviewed By:
Matthew Terry
Final Average Score:
8.0
Houston Howard's book challenges screenwriters/authors to take their simple story and turn it into a complex world. The focus of Mr. Howard's book is to incorporate a concept entitled "360 Degree StoryWeaving," where the author of said story looks not only at the core story they want to write but looks far beyond it. These concepts not only include the past/present/future of the story being told, but to the entire universe it exists inside of. (As such, this framework can easily help you bridge into other platforms such as computer games, songs, on-line stories, etc. MicroFilmmaker's own World of Depleted does this.)
Comprehension
Wrapping one's brain around the 360 Degree Storyweaving process does take some time…and everyone's story is not going to readily fit that process. It's not that one can't make their story fit, but the overall question of SHOULD one try to make their story fit? The concepts and ideas that Mr. Howard talks about are very clear and concise and pretty easy to understand.
Depth of Information
Starting from the inside looking out, Mr. Howard's book provides a wealth of information, presenting a step-by-step tutorial on using the 360 Degree StoryWeaving process. He leaves no stone un-turned as he takes one's basic story and expands it out into a newer vision and a more complete reality. Whether a writer wants to take that journey, though, is truly the question.
Interest Level
For those wanting to write the next Harry Potter or Star Wars universe, this book is definitely for you. For those who are still trying to figure out character arc and basic scene structure, there is a concern that these concepts may very well overwhelm. (With that said, editor Jeremy Hanke has brought up that knowing the universe of one's story actually helps you have reactive character arcs that assist in the storywriting.) Taking one's story and truly making another world out of it can be a fun and involvingly exciting process. Still there has to be a point where fingers touch the keyboard and a story unravels from one's mind.
Reusability
If one truly wants to make the next Twilight or Avatar there are resources in this book to help them expand their story. This IS a book that could be returned to again and again as a reference book. Taking the story to the next level, to marketing, though, this book does not provide resources or references for those steps.
Value vs. Cost
The book encapsulates a ton of information in a pretty small package and has seemingly cornered the market on this 360 Degree StoryWeaving concept. For its uniqueness alone it is invaluable – especially if one feels their story is ripe for this type of rendering. All-in-all, the book is a great starting spot for this way of telling stories, which is especially valuable for the new media storytellers that are starting to make waves at everything from Comicon to Gen Con to Dragon*Con.
Overall Comment
Whether or not your story fits this process, Houston Howard provides you with the needed tools to truly make your story really stinkin' big!
| | |
| --- | --- |
| | |
| Comprehension | 8.0 |
| Depth of Information | 8.5 |
| Interest Level | 7.5 |
| Reusability | 8.0 |
| | 8.0 |
| Overall Score | 8.0 |