Equipment Review
Balance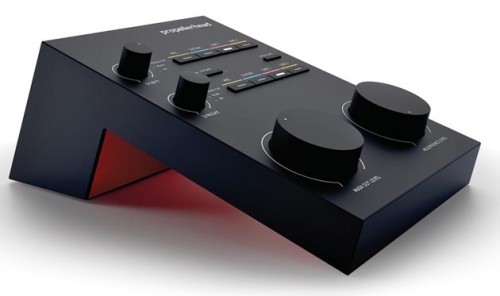 Publisher:
Propellerhead
Platforms:
PC & Mac
Description:
Hardware Audio Interface
MSRP:
$399
Expected Release:
Available Now
Official Website:
http://www.propellerheads.se
Samples:
N/A
Demo:
N/A
Special Discount:
Click Here
Review Issue:
Issue #85 (03/13)
Review By:
Gabe Gibitz
Final Score:
8.3
Propellerhead, the masterminds behind the innovative music creation software Reason (read my review of this product), released their first USB hardware interface, called Balance. This audio interface sports eight inputs (but only two can be recorded simultaneously) and two outputs. Connecting through USB 2.0, Balance can serve as an interface for work done in the studio or on location for your next film. It is designed to work in direct conjunction with Reason 6.5 and Reason Essentials, but it also works alongside other recording software.
Balance is an easy-to-use interface and has some brilliant features like a button that will save many filmmakers the headache of having to reshoot a scene because of clipped or distorted audio (more on that later). Balance's innovative features paired with its ease-of-use make this a tempting buy, but the price tag is high compared with its competitors. Let's take a look at this product to see if its innovative features outweigh its high cost.
Ease of Use
Balance is by far the easiest audio interface I have ever used. Those new to the world of audio will even find this interface to be intuitive. Simply plug in your instrument or microphone and press the corresponding button to prepare the track for recording. Each input is easily labeled, whether for vocals, dialogue, guitars, keyboards, or any other instruments you may need. This allows users to record audio easily, whether in a studio or on set, without the hassle of constantly checking a computer screen to make an input is armed and ready for recording.
Balance's large dials and sleek design make the entire recording experience very pleasing (unlike the smaller knobs of the PreSonus FireStudio Mobile). Clearly a lot of time was spent making this interface user-friendly. Some of these features can only be used with Reason 6.5 or Reason Essentials—a definite drawback. While this doesn't restrict you from using the interface with programs outside of Reason, some of the bells and whistles—like Clip Safe, which we will discuss next—don't work in other programs, including Audition, which is very popular with our readers.
Depth of Options
Balance comes with with two balanced XLR mic inputs (each with a switchable 48V phantom power button), two unbalanced ¼ inch instrument inputs and four balanced ¼ inch line inputs. Two balanced ¼ inch line outputs and a ¼ inch stereo headphone output round out the interface's inputs and outputs. While Balance has eight inputs, only two can be recorded at once.
Balance comes with some powerful options that many audio interfaces simply don't have. Many filmmakers will really love the Clip Safe feature, although it can only be used within Reason (be sure to read my review of Reason 6.5). Fortunately, a lite version of Reason, called Reason Essentials, comes with the interface if Reason 6.5 is not in your budget. This does, however, restrict you to using this as your digital audio workstation (DAW) for your audio recordings. Clip Safe allows Balance to record a second audio track at quieter level for both inputs simultaneously, giving users the ability to swap out this quieter audio if the first audio track clips and distorts. This option alone could be a lifesaver if you accidentally recorded a scene on site at a volume that would be otherwise unusable.
Reason Essentials does include some of Reason's instrument arsenal (like a synthesizer called Subtractor, a sampler called NN-XT, five audio effects and much more). This is one of the better "lite" versions of digital audio workstations on the market, offering users no limit to the amount of tracks that can be used and giving users the ability to purchase add-on instruments without having to upgrade to Reason 6.5 first. Reason Essentials has the potential to be all the typical filmmaker would need for recording his or her next film.
While Balance has some great features, there is definitely room for improvement. I would love to see Balance record more simultaneous inputs in future product releases. The two-in/two-out could be very restrictive if one were doing in-depth recordings, which is why standalone recorders like the Zoom H4n, which can record two mic inputs PLUS two tracks of wild sound on onboard mics, have become so popular with filmmakers in recent years.
Performance
USB audio interfaces have come a long way in the past 10 years. Balance is one of the many interfaces that will process audio in less than 10 milliseconds—the magic number in audio recording (anything above 10 milliseconds will sound like you have delay during the recording process). My 6-year old Mac had no problem recording under this benchmark with Balance.
Very little stands out (positive or negative) with Balance's performance. It is a solid-running interface with little to fuss over. Though you can only record two inputs at a time, Balance allows users to connect up eight inputs with two outputs and a headphone jack. This allows Balance to be a very portable interface that would be great to use in the studio or on location.
Value
The value of this interface is perhaps Balance's only major sticking point. While this does come with the Reason Essentials, which is a great introductory DAW, I find the $399 sticker price hard to swallow. For $100 less, more than a dozen audio interfaces (USB or FireWire) are available that will record more inputs simultaneously and perform just as well, not to mention a similar price point for standalone solutions like the H4n which aren't restricted by software and don't require you to be tethered to a laptop.
What really sets Balance apart is its ease-of-use and its unique features. If you want a no-fuss audio interface that, when paired with Reason 6.5 or Reason Essentials, offers you the peace of mind that comes from features like Clip Safe, Balance will be worth the investment. There are cheaper interfaces on the market, but one clipped and distorted on-location track might make you a believer in Balance.
Final Comments
When Propellerhead announced the release of Balance, I knew this audio interface would push the bounds of innovation, and, indeed, they have created a noteworthy and easy-to-use product with some vital features like Clip Safe. As you do your research on your next audio interface, give Balance some attention, understanding that the extra money you will pay over and above the competition goes towards special features like Clip Safe and the reliability associated with Propellerhead.
| | |
| --- | --- |
| | |
| | 9.0 |
| | 8.0 |
| | 9.0 |
| | 7.0 |
| Overall Score | 8.3 |