Straight Shooter Review (Short Film)
Smoking & Masochism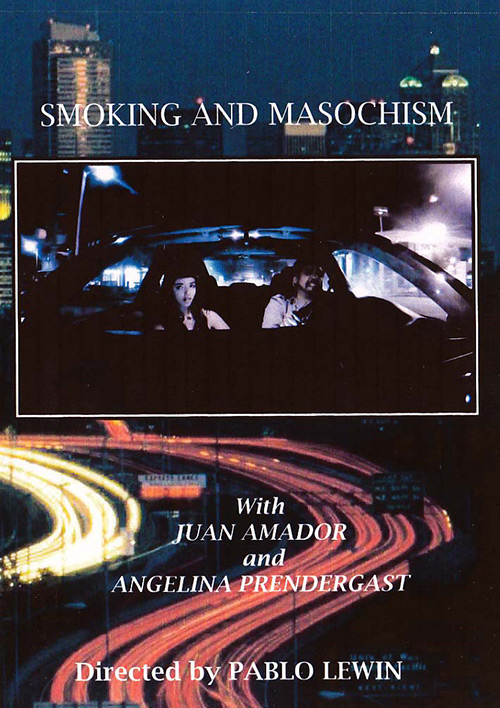 Director:
Pablo Lewin
Genre:
Dramedy
Run Time:
12.0 minutes
Budget:
$20 USD
MPAA Rating:
R for Restricted
Website:
Click Here
Digital Version:
No Longer Available
Review Issue:
#81 (11/12)
Reviewer:
Jeremy T. Hanke
Final Score:
4.0/10.0
Editor's Note: Smoking and Masochism is the first film to receive both an MFM Film Critique (designed for filmmakers) and an MFM Straight Shooter Review (designed for film watchers). To read the critique, click here. -JH
John (Juan Amador) picks up Mimi (Angeline Prendergast) to take her to a porn film. Along the way, as Mimi puffs on an electronic cigarette, John makes wild assumptions about why she smokes, including that she wasn't loved as a child, that she was beaten, and that she was raped. After pissing her off enough to threaten to beat him with an electronic cigarette, she realizes that he's into S&M and starts to ask him the same sorts of questions about his addiction.
Watchability:
If you have a low tolerance for awkward conversations, then Smoking & Masochism isn't watchable. I have a medium tolerance for it and couldn't get through it. The concepts aren't bad, but they're too brutal to be explored in a short film without using some sort of parable or representational concept.
Of course, It didn't help matters that the editing was choppy and the acting felt forced.
Percent Watched:
Some Indie films have enough problems that they can't reasonably be watched through by a reviewer. As such, the percentage watched is part of the Straight Shooter Film review.
67% (7 minutes 46 seconds of 11 minute 55 second movie)
Reasons/Thoughts:The dialogue, editing, and acting were extremely awkward. Watching two people neurotically ask one another if they're addictions arose because they were raped or tortured is painful enough. When the acting feels forced and chopped up, it becomes unbearable.
Closing Thoughts:
Interesting idea that just couldn't be accomplished in a short film. Maybe the ending bailed it out, but, as a film viewer, I couldn't bear to stick around. (When we did the full critique later it became apparent that, in fact, the ending did not bail it out.)

Final Score:
4.0/10.0 – You can't get that time back.