VFX/SFX Library Review
Hollywood Brass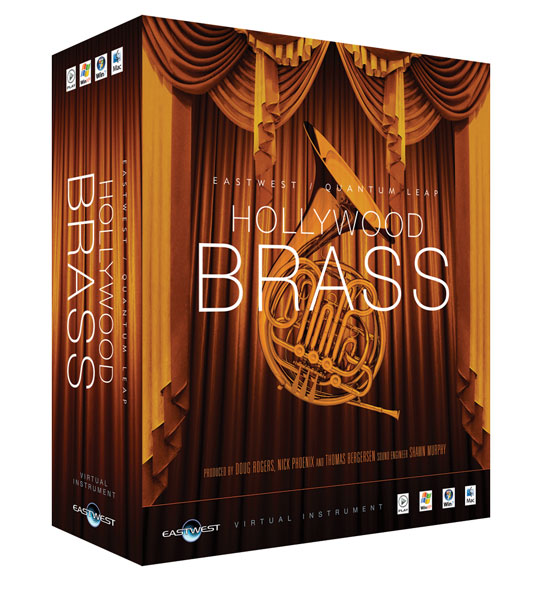 Publisher: EastWest
Platforms: PC & Mac
Description: Audio – Orchestral Library
MSRP: $795 Diamond Edition, $495 Gold Edition
Expected Release: Available Now
Official Website: www.soundsonline.com
Samples: Click Here
Demo: N/A
Special Discount: N/A
Critique Issue: Issue #79 (09/12)
Critiqued By: Gabe Gibitz
Final Score: 9.5
Remember that classic theme song from Jaws? Who can forget it?
Two musical notes—an E and an F—held a generation of movie viewers in utter suspense. Whoever thought that the seemingly boring movement between these two notes would drive home a blockbuster movie from Steven Spielberg? Two notes—that's it. In fact, as the story goes, John Williams, the composer behind the Jaws film score, pitched this two-note idea to Steven Spielberg, and Spielberg thought Williams was joking.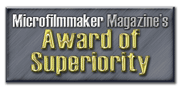 Williams went on to compose the film score with this two-note theme, and this theme continues to live into the present—synonymous with suspense. What made really made this two-note theme so powerful? It was not a string quartet. And it was definitely not a piano. It was, in fact, the brass section. Brass has historically been the powerhouse of musical instruments. Only a few brass instruments can drown out a dozen or more string players! This family of instruments is able to help a filmmaker communicate his or her story in ways other instruments simply cannot.
But the proverbial million dollar question is this: how exactly is a filmmaker on a strict budget able to incorporate these powerful instruments into his or her next film?
As I mentioned in my last review of EastWest's Hollywood Strings, many filmmakers and composers over the past several years have turned to virtual instruments—an orchestra in a box, if you will—when hiring a personal orchestra is financially out of the question. These virtual instruments are played with MIDI keyboards and emulate the sounds of orchestral instruments without the filmmaker paying exorbitant amounts of money for a session with two dozen or more orchestral musicians. It has been a favorite of popular film and TV composers for years.
The sound library Hollywood Brass was so large that I received the sample library on an internal 7200 RPM hard drive, a Western Digital Caviar Green model. Even though it is possible to use these drives as your playback drives for the instruments, these drives are Western Digital's basic performance drives. It's recommended that you copy the libraries to a faster, more robust drive. This is also a good idea because then the original drives will serve as a backup.
Once installed and ready to play, I found the results astounding. This review specifically covers Hollywood Brass' Diamond Edition (the more exhaustive of the two libraries). The Gold Edition, which uses 16-bit samples (compared to the Diamond Edition's 24-bit samples) and sports fewer microphone placements, is still a great option. It is also fully upgradeable to the Diamond Edition if you decided to do this later.
This library is nothing less than stellar, so, without further ado, let's dive into EastWest's Hollywood Brass.
Ease of Use
As I mentioned in my Hollywood Strings review, with massive depth of options comes a steep learning curve. Learning to play a brass library with this much depth feels almost like—and takes nearly as much time as—learning to play a real instrument. That said, compared with EastWest's Hollywood Strings, Hollywood Brass is quite a bit easier to play. The nature of brass instruments makes them hard to record but overall a bit easier to realistically play with a MIDI keyboard. The user still needs to understand how brass instruments are used in real-life, but the studying is certainly not as extensive as learning the different ways string players play their instruments.
For intricate virtual instruments like Hollywood Brass, I always award bonus points if the company includes a manual (see other reviews like iZotope's Ozone 4 and Ozone 5). Each time you install one of these PLAY System libraries, two PDF manuals are copied to the file system on your computer:
The manual that describes the whole PLAY System. This addresses how to install and use all aspects of the software that are common to all libraries.
The library-specific manual. This document describes aspects that are unique to that library, such as the list of included instruments and articulations.
I'd strongly recommend you read through both, especially for your first PLAY library instrument, to get the best experience possible! Note, Gold and Diamond editions have slightly different manuals, so make sure you're reading the correct one. Noting this is important particularly for Diamond owners, because those editions actually include both Gold and Diamond editions.
Depth of Options
Between the PLAY interface and Hollywood Brass' sample options, I give this section a solid 9. This sample library offers solo instruments as well as small sections recorded together. Users can choose anything from a solo trumpet or solo french horn to a section of 6 french horns. Trombones and tubas round out the lower register of the sampled brass collection. Most typical ways of playing brass instruments are included along with volume levels ranging from the softest of soft to the loudest of loud. The options are thorough but not exhaustive. A skilled brass player would find some ways of playing brass instruments lacking, but this definitely meets the demands of most film scoring done today.
What really excited me was the section of the samples that pushed the creative envelope. Not only does Hollywood Brass come with sustained, legato samples, but it also comes with other ways of playing these instruments that are a bit more difficult to capture in MIDI samples. For instance, the library includes recorded time-synced crescendos so that you don't have to attempt to emulate an entire brass section increasing in volume with a slider on your keyboard. It's already been done for you. Falls, which are a staple sound made by brass players, have also been extensively recorded and sound fabulous!
If that weren't enough, these samples were recorded with 5 different microphone positions, giving the user the ability to blend different positions in the mixing process. And like Hollywood String's round robin for different bow strokes, these instrument samples are double-tongued (brass player lingo), giving them even more of a realistic feel to the listener. Finally, a nice collection of reverb choices have been crafted especially for brass instruments. If you desire more options, you can always purchase EastWest's QL Spaces or another convolution plugin and insert it in the output of the PLAY engine with your DAW's mixer.
In future versions of Hollywood Brass (and EastWest's other instruments), I would love to see a console on the PLAY engine that allows users to integrate human error into the sampled sounds. While this sample library sounds life-like already, this would definitely increase the quality of the sample set even more, making it feel even more "human" by introducing slight timing and pitch errors.
Performance
Hollywood Brass' performance is both amazing and extremely demanding on a personal computer. System demands are high, especially when using multiple microphone positions. Gold editions require fewer resources because it uses 16-bit samples instead of 24-bit. Diamond editions also include Gold editions on the hard drive, so it would theoretically be possible to work with Gold instruments while nailing down all the parts, automation, etc. then switch over to Diamond instruments to render the parts with the highest sound quality possible.
While the sample library for Hollywood Brass is massive, it is definitely not nearly as large as Hollywood Strings. Because of the nature of the way brass instruments are played, EastWest was able to capture Hollywood-ready sounds in much less space than Hollywood Strings. This library comes in at around 150 GB.
The downfall to a library like this is its massive size and demanding computer requirements. I would recommend a computer with as much RAM as you can afford and a fast drive (or drives) to put these libraries on. For the most serious users, a dedicated computer for each library is best. However, if you're careful to manage your resources carefully by "freezing" tracks, etc., it's certainly possible to get amazing-sounding parts done in the context of a project with multiple tracks on a single computer.
Value
If you can afford an investment for your next film and have dabbled in music composition before, Hollywood Brass is definitely the best library out there for the price. I have not heard anything better when it comes to sampled brass instruments. The Diamond Edition, which runs just under $800, is definitely worth the money if your budget allows for it, but the Gold Edition is a great price for this instrument, coming in at just under $500. The Gold Edition is even upgradeable, so either option will suit you well.
This instrument is used by the best in Hollywood. This is definitely not lacking in quality, but those who will find the most use of this product are filmmakers who have experience in music and composition. This segment in micro-filmmakers is growing, and a virtual instrument like this is just what some may need to add a film score to his or her next film. Check out these samples to see just how great of a value you would be getting if you chose to invest in a virtual instrument like Hollywood Brass.
Final Comments
Hollywood Brass, EastWest's second installment of their Hollywood series, is a stellar release. Many companies have attempted to make sound libraries like this collection, but EastWest's brass samples are second to none for the price. With dozens of articulations and instrument choices, this should be a go-to orchestral library for filmmakers on your next project. If you can spare the hard drive space and the time required to begin to master skills of virtual instruments, consider looking into purchasing Hollywood Brass. EastWest recently released their third installment for the 'Hollywood' series of sampled woodwind instruments, called "Hollywood Woodwinds." The Gold and Diamond Editions are now available for purchase.
| | |
| --- | --- |
| | |
| | 9.0 |
| | 9.0 |
| | 10.0 |
| | 10.0 |
| Overall Score | 9.5  |