Website Review
Film School Secrets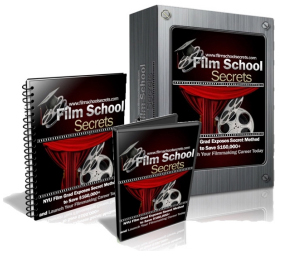 Host: Seth Hymes
Topic: Film School Crash Course
Publisher: Film School Secrets
Available Formats: Video Based Website
MSRP: $67 (one-time subscription)
Expected Release: Available Now
Official Website: http://www.filmschoolsecrets.com
Critique Issue: Issue #76 (May 2012)
Critiqued By: Mark Colegrove
Final Score: 5.8
Well it's no secret that film school can cost you an arm and a leg. Film School Secrets (http://www.filmschoolsecrets.com/) is a web-based training program that aims to save you the costly tuition, and get you started making movies and getting practical experience right away.
Being a film school grad myself, as are the authors of this site, who hail from one of the most prestigious film schools, NYU, I can agree with some of the claims all over the front page of their site: essentially that you don't need to be a film school grad to gain real experience and get yourself on a set. Typically getting on a professional film set often comes down to "who you know." The main selling point of Film School Secrets is "why spend $40k on tuition, when you could easily buy better equipment than you'll get from a film school for that price?" Good point, but does their site offer you everything you need to get started?
Comprehension
For a membership fee, Film School Secrets offers a crash course in film-making, and some guerrilla tactics that will help you get the same education that NYU students are getting, but at a much lower price than NYU charges. Through a series of videos broken up into "training modules," they offer their advice on how to gain practical experience and get started in the industry.
The modules are laid out like classes that you'd go through in order. Everything's fairly straight forward and easy to understand for the newbie, although a lot seems skimmed over, particularly on the technical side.
However one thing that might be a bit confusing to some, is that the modules themselves seem a bit out of order. For example, the screenplay module comes after lighting.
Depth of Information
The most helpful content here is the advice on networking (which film schools probably don't stress enough). You'll also be told how to go about looking for work, and, as promised on their homepage, how to get on a NYU (or any other film school, for that matter) set for free!
Also helpful is the advice on what equipment to buy as a means of getting started on your own productions. I was never told in film school how important it was to have your own gear as a means of getting started in the freelance world, but as it turns out, often production companies don't hire YOU… they hire your gear.
Unfortunately, I found the technical content on the site very lacking. The training videos themselves are very wordy, and come off more like a power point presentation. After all this is film, right? Show it, don't say it. Furthermore, principles of basic camera operation (focus, aperture, etc.) and editing (techniques and theory) seemed completely ignored. Where's the 180 or the 30 degree rules? When do we learn WHY we'd use a high angle over a low one?
Interest Level
Even though the technical content leaves a lot to be desired, Seth Hymes and his collaborators at Film School Secrets do know what they're talking about and are able to present their ideas in an interesting manner.
As this site is the follow up brainchild to a book Seth had written slamming the high price of film school, the irony is that Seth probably would make a great Film School professor. Unfortunately, a lot of the content seems as though they're still trying to ram their sales points down your throat after you've already paid to join up. OK, we get it… film school's a rip off… let's make with the learning already!
Reusability
The videos on their site took me a few hours to get through all together. The training modules are intended to be a quick and dirty guide that you can plow through in a few sittings, and then go out and try on your own. As most of the content applies to networking and career advice as opposed to the technical aspects of film making, the likelihood that you'll revisit it isn't high, and the forums, the only interactive part of the site, are underused by the subscribers. Perhaps Film School Secrets could do more to encourage more interaction between their subscribers (ie users posting their own videos, etc.)
Value vs. Cost
At $67, the price is a drop in the pond compared to film school tuition, but I've seen many better and there are more in-depth, technical training videos floating around youtube for free, although you'll have to "collect" them yourself.
The real value to the site is the career and networking advice. It's very good and in-depth, and something that's rarely stressed enough. Ultimately Film School Secrets seems as though it would serve as a good companion piece to some proper technical training, and for the price of one night on the town, isn't a bad deal at all.
Overall Comment
Film School Secrets is no substitute for the real thing. While I agree that you can learn everything you would in film school through practical experience, the reality is that, in the last 10 years, the job market has only become more competitive. Ultimately, amongst a stack of resumes pouring in through Career Builder, filtered through a program which eliminates those lacking "that piece of paper with the letters 'BA' on it," those without a degree may not stand a chance working at their local news station or local production house. If you're not out to make the next Reservoir Dogs, but just want to make a decent living, I believe not having a degree will hurt you (unless you're well connected or have endless money & resources).
However, the heart of Film School Secrets is in the right place: if you are out to be the next Scorsese, then by all means, pick up a camera and just start doing it! A lot of the motivation and DIY attitude behind Film School Secrets is dead on… they just need to beef up their content before it can become a one stop solution and resource.
| | |
| --- | --- |
| | |
| Comprehension  | 8 |
| Depth of Information  | 4 |
| Interest Level  | 8 |
| Reusability  | 3 |
| | 6 |
| Overall Score | 5.8 |