Book Review
Writing the Comedy Blockbuster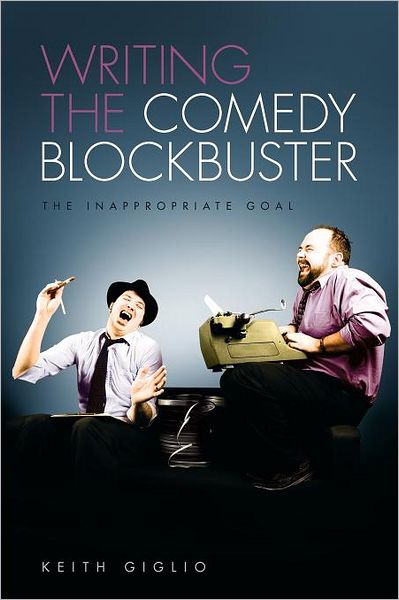 Author: Keith Giglio
Topic: Writing a comedic Script
Publisher: Michael Wiese Productions
Available Formats: Print
Page Count: 216
MSRP: $22.95
Expected Release: Available Now
Official Website: http://www.mwp.com
Sample Chapter: Click Here
Special Discount: Click Here
Review Issue: Issue #74 (2/12)
Reviewed By: Matthew Terry
Final Score: 8.3
Writing the Comedy Blockbuster: The Inappropriate Goal is a screenwriting book focusing solely on the creation of the Comedy Blockbuster screenplay. Using some general screenwriting formatting terms and knowledge, author Keith Giglio then spends half his book delving into what he refers to as the eight comic sequences.
Encouraing the reader to buy 3×5 cards (500 of them!), the eight comic sequences are to be about 15 pages in length. 8 x 15 = 120 pages. The goal in Mr. Giglio's book is to use the background information to come up with a solid comedic idea, then explore that idea at length in terms of character and conflict and then, using the 3×5 cards and the book, map out the comic sequences until you're ready to write that screenplay. And then write it.
It is certainly a different approach to screenwriting that still contains the same overall elements of screenwriting. In other words, Mr. Giglio touches on structure, act breaks, page numbers – so on and so forth, but then takes the process to another level with the comic sequences.
Comprehension
Mr. Giglio uses multiple examples of comedic films to drive home his points, from films such as "Wedding Crashers," "The 40 Year Old Virgin," "Little Miss Sunshine" and many others. Using those examples (and many others) the reader can start to see, very clearly, the similarities in the comic sequences. "Little Miss Sunshine" and "Forgetting Sarah Marshall" on the surface may have nothing in common – but, within the realms of the comic sequences, the similarities begin to shine.
Depth of Information

Because of his use of multiple examples, the information Mr. Giglio is feeding the reader simply pounds home the reality of the comic sequences. Again, this is where the book really shines. When these connections and similarities come clear – it just confirms what the author was going for all along. There are many a "aha!" moments when you see the similarities from two very different films.
Interest Level
If you ARE writing the comedy script, then this is a must buy and will hold your interest all through.   But what if you're not writing a comedy script? What if your script has as many laughs as "Sophie's Choice?" There's certainly enough general knowledge here in terms of scene structure, character development, conflict, act breaks–which would apply to ANY screenwriter.  But, at the end of the day, if you don't see yourself writing a comedy film, then it might not keep your interest up.
Reusability
There is, actually, quite a bit of reusability with this book. Mr. Giglio breaks out the comic sequences in letter chunks (from A to H) so if you're struggling with that fifth sequence (letter E), it's easy to quickly track down what should be happening during that sequence and, hopefully, fix it. Plus it's good to have another resource to go over the basics.
Value vs. Cost
Again, no matter how robust, you're still looking at a book for a specific genre. If you're a current or future comedy writer – whether your preferences be broad comedy or romantic comedy – you really can't go wrong. This book is pretty invaluable because of its focus.
There is one particular issue I do take with this book and that's Mr. Giglio's encouragement for people to read lots and lots of scripts. Though I encourage people to read screenplays – I caution new writers especially to differentiate between a SPEC script and a SHOOTING script. Too often I've seen first time writers with scene numbers and other minutiae that shouldn't be in a spec script. So, yes, if you can get your hands on a spec script of a produced film – then do so. If all you've got is a shooting script or production script, understand that there is a big difference between the two.
Closing Comments
Someone once said: 'Dying is easy, comedy is hard.' Mr. Giglio attempts to make writing the comedy blockbuster easy and I have to say he succeeds. Whether you've written a comedy script or are even thinking of writing a comedy script, you need to read this excellent book.
| | |
| --- | --- |
| | |
| Comprehension | 9.0 |
| Depth of Information | 9.0 |
| Interest Level | 7.0 |
| Reusability | 8.5 |
| | 8.0 |
| Overall Score | 8.3 |