Software Review
Premiere Elements 10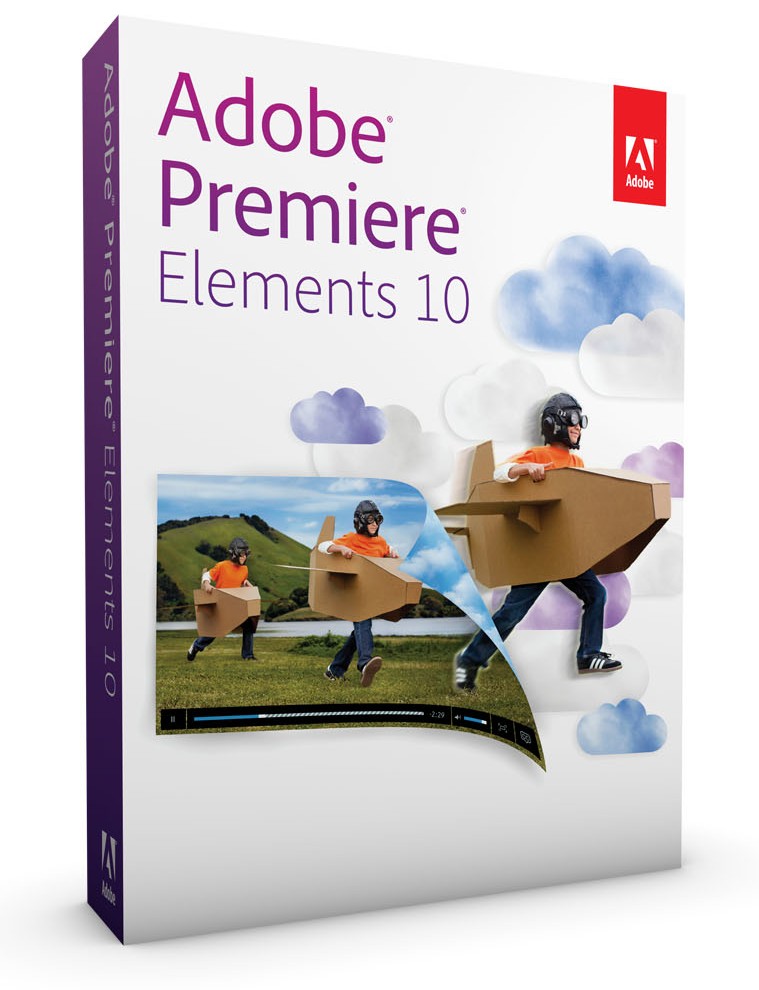 Publisher: Adobe
Website: Click Here
Platform: Windows & Mac
Description: Entry Level Video Editing
MSRP: $99.95
Download Demo: Click here
Expected Release: Available Now
Review Issue: Issue #72 (12/11)
Reviewed By: Matthew Terry
Final Score: 8.8
Premiere Elements 10 is a reasonably priced video package that targets hobbyists looking to step up there game and students who want a good stepping stone software.
As more filmmakers come to the fore to create films and videos, the search is on for editing programs that are both professional enough to create what they're hoping to create, but simple enough that there is not a huge learning curve, while also keeping the budget in mind.
With PC competitors like Vegas Movie Studio HD and Mac competitors like iMovie (that are included with the Mac OS), is Adobe's Premiere Elements 10 the right choice for you?
Ease of Use
Premiere Elements 10 is a very basic editing program in a lot of respects, but it also has many elements that can help that budding filmmaker go to the next step.
The main screen in Premiere Elements 10 (hereafter PRE10) has some of the similar elements that are found in more advanced programs: separate tracks for audio (in this case "narration" and "soundtrack").
By clicking Timeline (as opposed to the default Sceneline) the screen opens up giving the user access to a video and audio line that begins to border on the more expensive editing programs. This is where basic begins to turn into more professional, by giving the user more options than just simple "cut and paste."
As one works with clips, PRE10 opens up each clip in a Preview Window. This enables the user to work "on-the-fly" in regards to editing their clip(s). This is where this program moves from basic into the realm of more professional.
PRE10 is basic enough to get started right away, but advanced enough to give anyone the ability to do some serious editing.
Depth of Options
Here is, simply, where PRE10 pushes more basic competitors into the dust.
For more experienced Premiere Elements users, the newest release of Premiere Elements, they've unveiled some nice new additions, like the ability to:
Quickly find and organize your media through Object Search
Easily access that media via the Project Bin in the Editor
New themes have been added
Easily enhance footage color and make independent color correction in specific areas
Get HD quality movies on standard DVDs
Export in AVCHD
For new users, by clicking on the "edit" tab – a world of effects, titles, themes and clip art become available. Literally dozens of each and hundreds of clip art.
And, as simplicity stays at the fore, it is only a matter of "drag and drop" onto the clip.
Besides the editing options that are pretty basic (brightness, contrast, color correction) there are also some effect options that mirror the image, create a wave effect, different matte effects, keying effects and more.
Beyond the effects for the video image – there are audio effects (increasing the bass, reverb and others). Note: There are no sound effects included with the collection, so third-party sound effects such as train whistles or gun shots will need to be added later. (Since Adobe has decommisioned their Soundbooth software, which came with a number of helpful sound effects options, perhaps those effects will eventually trickle their way down into a future edition of Premiere Elements!)
While the most common forms of transition are still cuts, followed by straight dissolves, and then, rounding out the trio, dips to black, this doesn't mean there aren't more out there. And PRE10 is packed to the gills with lots of fun transitions which are more ideally suited to family films or innovative behind-the-scenes featurettes. (But, even in these areas, go with caution. You really CAN use the page flip transition way too much, regardless of where you use it!)
Finally, there are a multitude of themes to choose from. Simply click and drag a theme onto the footage in the timeline and the program will include effects, transitions, music, sound effects and more to create a basic "instant movie." Frankly, I don't know how often someone would use these – especially anyone who wants to have a certain modicum of control over their footage. In a pinch, these would work for creating bumper type sequences to lead into a piece you'd edited. But, again, Adobe is walking that fine line between basic and professional. Some things are very simple, while others – though a bit more complicated – give the user more control over their footage.
However, the options don't end in the editing field. The user has dozens of options in terms of rendering. This borders on a bit complicated as there's no simple avi, mov, mpg option. Instead, they're more "end product" creations – and there are a lot of them to choose from. PRE10 defaults to the best option based on how you want to use it and gives the user a bunch of info on what is to be created.
Performance
Loading and viewing clips was a breeze and there was no lag time in terms of looking at footage, inserting changes, adding effects on my machine.
When I chose to add a theme, the system slowed down and the clip viewed was choppy – but PRE10 has a pop-up warning explaining that a rendered clip would run better – giving the option right up front to process.
To really get a feel for performance, one must render the footage. In most programs this is the big question mark. An editor may spend hours collecting 10 minutes of footage only to have the system run for an hour rendering it. For my three minute video – PRE10 took approximately 15 minutes to render it for Multimedia Distribution (ie "Usage on another Computer").
Value
If one wants to throw a quick video together – then, yes, there are cheaper, more basic programs that may satisfy their needs. But this program (especially when paired with Adobe Photoshop Elements at an amazing price point of $149.99 for both) is an exceptional bargain. Simple enough to get one going quickly and easily, not so intensive as to wipe out an entire hard drive or system, but detailed and thorough enough to give the user more control, more options over their footage. With all the options at play, and for the ease of use – these two programs are a great value.
Final Comments
Premiere Elements 10 does a masterful job of just skirting the line between professional and consumer friendly. Enough elements for a seasoned pro to explore, but simple enough for someone to slap together some footage and get it rendered quickly. Certainly there are moments where one might feel a bit overwhelmed with the myriad of options – but the program's ease of use should quickly put those fears to rest.

| | |
| --- | --- |
| | |
| | 9.0 |
| | 10.0 |
| | 8.0 |
| | 9.0 |
| Overall Score | 8.8 |