Book Review
Something Startling Happens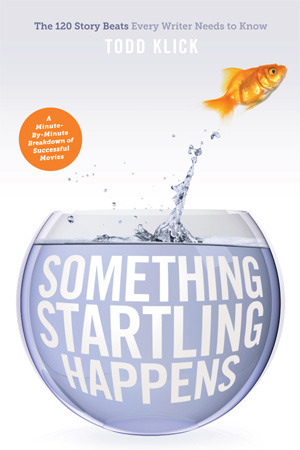 Author: Todd Klick
Topic: Screenplay Story Beats
Publisher: Michael Wiese Productions
Available Formats: Print/Epub
Page Count: 201 pgs.
MSRP: $24.95
Expected Release: Available Now
Official Website: http://www.mwp.com
Sample Chapter: Click Here
Special Discount: Click Here
Critique Issue: Issue #73 (01/12)
Reviewed By: Matthew Terry
Final Score: 8.6
"Something Startling Happens" is a book that looks at what the author calls the 120 story beats in a screenplay/movie. Basically breaking down a film, whether it's 90 minutes long or 200 minutes long, in one minute increments.
Using films as diverse as "Juno" and "The Godfather" (and pretty much everything in between) Mr. Klick shows how each film – in their own way – has the same beats.  Even if the genre is completely different, or the director is George Lucas or Woody Allen, there are similarities in place here that you may not see (and probably DON'T see).  But they are there.
I recently finished a screenplay and sat down with the script on screen, this book in my hand, and went page-by-page to see if I had the "beats" down.  Lo and behold, I would say I was about 103 out of 110 beats (my script is 110 pages long).  The ones I missed may have come on the page before or the page after – or they may have been missing altogether – but what this book gave me was a gentle reminder that maybe I should do something here, instead of having another half page of dialogue.  Or maybe my hero should be pushing the story forward, instead of standing there like a lump.
And that's where the brilliance of this book comes into play. 
Comprehension
Mr. Klick's usage of multiple films and examples makes the book very easy to comprehend. He uses a diverse group of five films as his set examples, including "The Matrix," "Little Miss Sunshine," as well as the aforementioned "Juno" and "The Godfather," and then sprinkles in other films to prove his points.
Depth of Information
There is quite a bit of information in the book as his break-down of films is pretty diverse and complete. Still Mr. Klick uses a number of film examples that go beyond 120 beats (The Godfather, Die Hard, Forrest Gump, etc.) and when the book ends at 120, it ENDS AT 120.  I would have liked to see him carry the book out until the 170 beats of The Godfather are done (or put them on a website or something).  And I certainly would not want anyone to feel like they need to force a reveal at page/minute 42 because there is supposed to be a "Surprise Reveal" – but, again, this book does an amazing job of hitting those beats that are so great and important to any story.
Interest Level
With the multiple examples, photos and exercises – this book will keep your interest from page one to 201. Once you begin to apply the minute-by-minute beats to your own story, it will help your story come alive, or help you realize where your story may need help. This is one of those "Pandora box" books that helps open up films and screenwriting, in a way that I haven't seen before.
Reusability
This is where the book really pays off. I can imagine picking this book up after every screenplay and using it as a guide to see if I'm on the right track or if I'm missing something along the way. For screenwriters, it's a great way of figuring out the beats; for film-goers, it's a great way of seeing how a story is constructed.
Value vs. Cost
Where some books should be read and placed on a shelf, I feel this is a book that should be referenced whenever a screenwriter has completed a script. Every screenwriter should have this book in their collection as it's well worth the cost for the insight it provides.
Closing Comments
If you're a first time writer – it gives you the beats to work with BEFORE you start – to help form your mind and put you on the right path.  If you're a veteran writer – it gives you gentle reminders of what beats you need to be hitting and will greatly help any re-write going forward.
| | |
| --- | --- |
| | |
| Comprehension | 8.0 |
| Depth of Information | 9.0 |
| Interest Level | 8.0 |
| Reusability | 10.0 |
| | 8.0 |
| Overall Score | 8.6 |